Kader Khan's Son Breaks Down In Cemetery:
www.mangaloretoday.com
January 7, 2019 - Sarfraz, elder son of Kader Khan, could not control his grief at the cemetery in Toronto where the legend was laid to rest on Friday. Sarfraz started literally sobbing while reminiscing about his father. This happened when he recounted an incident from the hospital, saying that he asked Kader saab for a kiss on his cheek during his last days. Kader saab moved his lips and tried to lift himself- but failed.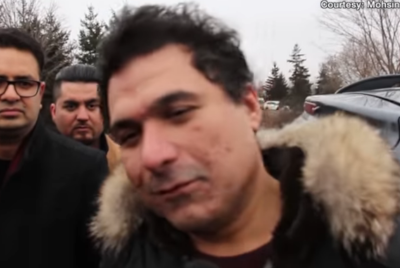 Sarfraz also said at the cemetery that Govinda, David Dhawan and Shakti Kapoor had called him after hearing about Kader saab's demise. The senior actor's mortal remains were buried at 12 midnight on Friday. Several people had gathered to watch his last journey, clearly indicating that the man was very famous not just in India but in Canada as well. A source tells us that all those who came to know in the hospital that he had been admitted wanted to see him and made lot of efforts to fulfill their wish.

Kader Khan's health issues began after he fell on the same knee after getting a knee surgery done in Mumbai. Post that, he contracted PSP. Progressive supranuclear palsy (PSP), also known as Steele–Richardson–Olszewski syndrome is a degenerative disease involving the gradual deterioration and death of specific volumes of the brain. The condition leads to symptoms including loss of balance, slowing of movement, difficulty moving the eyes, and dementia. This health issue is extremely rare, though.

Watch Video
courtesy - Spotboy