Hrithik Roshan Sends Legal Notice To Kangana Ranaut, Kangana's Response Will Shock You!
Mangalore Today News Network
Mar 15, 2016: Bollywood actors Hrithik Roshan and Kangana Ranaut who were allegedly ex-couples, have got into an ugly fight since Kangana addressed the actor as her 'silly ex'. Well, the cold war between the two is nowhere ending and has taken an ugly turn once again, but this time legally.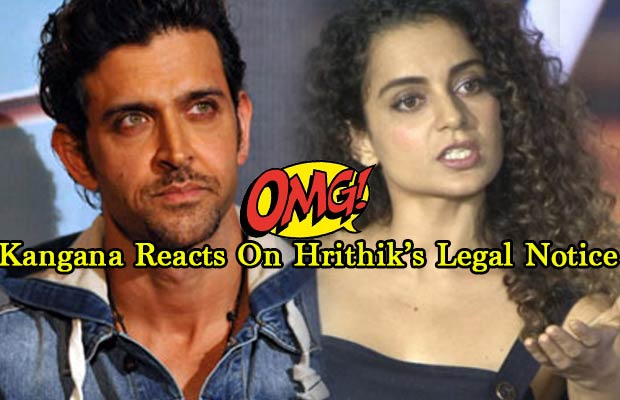 According to the recent reports, Hrithik Roshan has slammed Kangana by sending a legal notice through his lawyer, for spoiling his image and has asked actress to render an apology by calling a press conference or else he would make all her correspondence to him public.

Well, Kangana who is known for her outspoken attitude, didn't sit quite and decided to send a legal notice in response to Hrithik Roshan's claim. The 'Tanu Weds Manu' actress responded him by sending legal notice, charging him with intimidation and threat under sections of the Indian Penal Code.

Reports also suggest that Kangana Ranaut didn't take Hrithik Roshan's name publicly, then how it could be termed as defamation? Reportedly, Kangana has given 5 days time to Hrithik to respond.

The ugly fight between alleged ex-couple started when Kangana called Hrithik her 'silly ex'. In an interview, Kangana was asked if she was aware about Hrithik ousted her from Aashiqui 3. To which she had replied, "Yes, many lame rumours are doing the rounds, even a dumba*s can tell where these rumours are coming from. I don't know why exes do silly things to get your attention. For me, that chapter is over and I don't dig graves."

The fight turned nasty after Hrithik replied to Kangana's statement in an insulting way on twitter. Hrithik Roshan replied on Twitter, "Ther r more chances of me having had an affair with d Pope dan any of d (Im sure wonderful) women d media hs ben naming. Thanks but no thanks (sic)."

Well, this seems to be a new way to deal your problems publicly!