Deepika Padukone or Sonam Kapoor - Who makes The plunging neckline with a gorgeous neckpiece
Manglore Today News Network
July 11, 2019 : Sonam Kapoor just received a tremendous competition from Deepika Padukone in the fashion arena. The global icon has taken a leaf out of Sonam's previous fashion outing, to promote a jewellery brand. And needless to say, Padukone is certainly rocking the look as she apes the plunging neckline ensemble. Of course, having noticed the look, it did take us back to Sonam's look. It's an uncanny look where both the divas are wearing pristine white ensembles with plunging necklines and sporting a piece of jewellery that is the highlight of their look, Yahoo reported.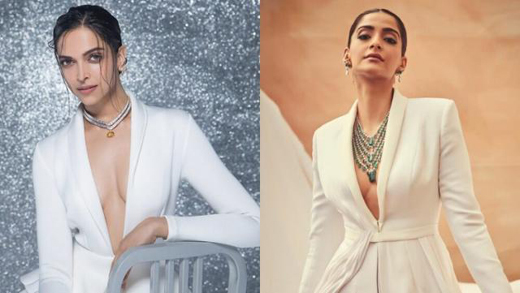 Deepika Padukone's stylist recently shared a picture of the actress done a lovely look by the actress, who endorses a jewellery brand. Of course, the neckpiece worn by Padukone should have been the highlight of the ensemble but can anyone ever get past Deepika's flawless skin and looks? Anyway, her look was completed with a wet hair tied up in a bun. Just a few strands of hair fell on her face which further made her sultry. DP looked too good for words. You can check out the look below!


We were reminded of Sonam Kapoor's Cannes look from this year as the actress too, wore a white suit with a plunging neckline. As this year, Kapoor endorsed jewellery brand Chopard for her Cannes Film Festival appearance, the diva chose her favourite, Ralph and Russo couture. With her edgy suit, Sonam completed her look with an emerald cascading Chopard neckpiece and earrings, Jimmy Choos and hair tied up in a bun. Do you see why their looks are so uncanny? Both are literally the same looks with just a slight change in the personality honing the look and the hairdo. Check out Sonam's look below. Cannes Is Over But Sonam Kapoor Continues to Look

We are at a bind here as we cannot tell who does more justice to the look. Hence, we chose to make it a poll and ask you, folks, to let us know who made the look work like a charm. So don't wait up and quickly cast your votes!