Deepika Padukone Made Heads Turn Yet Again
Mangalore Today News Network
Apr 25, 2018: Alongwith with changing times and more influential actors like Deepika Padukone, Alia Bhatt, Priyanka Chopra and Kangana Ranaut or Anushka Sharma coming to the forefront of the industry, we have these women making a bigger change in the industry.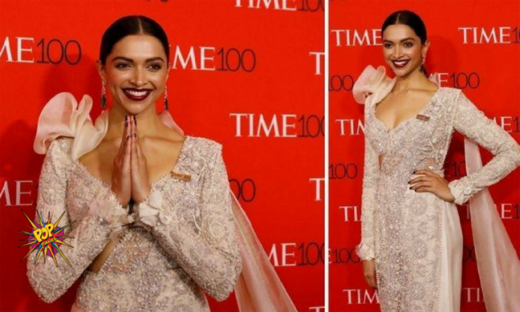 Bollywood industry has finally started addressing issues that have plagued it from a long time like casting couch, pay disparities and many other such issues.

All of this is possible only because now, we have some really powerful and influential women at par to the usually male dominated industry. The most important dispute of all times in not just Bollywood but any industry is pay disparities in-between a male and a female actor or individual.

Actors and actresses have both called out such kind of disparity prevailing in the industry. They have equally made efforts into bringing in skills or experience as the focused factor of difference in pay rather than making it gender biased. We have both forward thinking actors as well as actresses like Shah Rukh Khan, Varun Dhawan, Deepika Padukone or Priyanka Chopra or Kangana Ranaut, they've all addressed this issue and made attempts at mending this disparity.

Recently, at the Time 100 Gala 2018, Deepika Padukone, who has been named as the only Indian actress to have been placed in Time's 100 most influential people, addressed this prevalent issue of Bollywood industry.

Looking absolutely breathtaking in an Anamika Khanna saree, the queen dazzled everyone with not just her appearance but also her words. Here's what Deepika Padukone had to say – "You can feel a sense of — am I stepping over the line, do I deserve it? But if you believe you deserve it, then you do. For years, we've been made to feel we should be OK with settling for less, with sometimes a promise of getting something more later on. But I think you should get what you think you deserve. It's OK to fight for it, and it's OK to feel uncomfortable initially, because that's just the way we've been made to feel for so long."

It isn't first time, Deepika Padukone isn't just words and no action, this queen of hearts has made a gigantic difference through her work. Earlier this year, when she was asked if she was paid more than Ranveer Singh and Shahid Kapoor for Padmaavat, she confirmed that she was. That moment defined the reality of our Bollywood industry today, it made us realize that the women in Bollywood are literally fighting and fighting head on for their right!
Courtesy: Yahoo.com