Abhishek Bachchan Miffed With A Photographer For Taking Unfavourable Pics Of Wife Aishwarya Rai Bach
Mangalore Today News Network
Nov 10, 2017: Abhishek Bachchan is seldom ever rude. He is known for his sarcasm, and believe us when we say that he is one of those few celebs who doesn't lose his cool that easily and is always a delight to speak to. So imagine our shock when we got to know that the man lost his cool.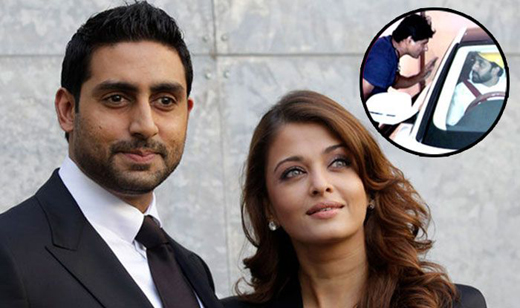 However, when we got to know why he did it, we were even more impressed and would like to clap for him. Well, a photographer had been clicking Aishwarya Rai Bachchan's pictures from the wrong side when Jr Bachchan saw it and pulled him up for it. The video of him taking the photographer to task has been doing the rounds.

The incident took place a few days ago when Aishwarya and Abhishek met up with friends Karan Johar and Manish Malhotra for a small get together. The pics of them hanging out had been doing the rounds over the internet. Coming back to the video, one can see the couple leaving with Abhishek getting into the car first, followed by Manish escorting Aishwarya to the car. She is seen speaking to the designer, before hugging him and sitting inside the car. While doing so, Abhishek noticed one of the photographers taking pics from all the wrong angles. He called him over to ask him why he did so, to which the photographer was seen convincing Abhishek that he had taken no such pic. Abhishek then let him go with a warning. All this while, Aishwarya was seen confused as she couldn't figure out what was happening and why Abhishek seemed to be losing her cool. Check out the video below:

Isn't he the best husband ever!! It's been a while since we saw them translating their real life romance on screen. There were rumours of him being approached Anurag Kashyap's Gulaab Jaamun but Aishwarya reportedly didn't find the role challenging enough and thus declined it. Furthermore, there's a buzz in the air that the couple will feature in the Abhimaan remake but no confirmation on the same from either of the parties has been received this far. We hope the two say a yes to it very soon. Meanwhile, Aishwarya is busy shooting for her upcoming film, Fanney Khan alongside Anil Kapoor and Rajkummar Rao. Abhishek on the other hand has been approached for RAW and Sanjay Leela Bhansali's Gustakhiyan.
Courtesy: Yahoo.com