Aamir khan and Chidambaram among Time's 100 most influential people in world
www.mangaloretoday.com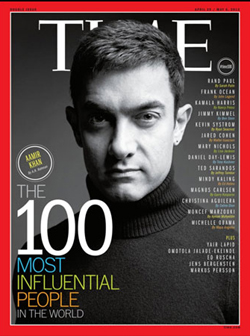 London, April 19, 2013: Bollywood actor Aamir Khan and Finance minister Mr Chidambaram have been named by Time magazine among the 100 most influential people in the world in its annual list of global achievers.

Amir's tv show, 'Satyamev Jayate', is "part journalism and part talk show" and confronted India's deepest social ills, from sexual abuse to caste discrimination. Describing Indian politicians Chidambaram as typically being "warm and fuzzy, chronically late and terribly imprecise", Time says Chidambaram, 67, is "detail-oriented, works from 8 to 8 and has a reputation.

The Time 100 list also includes "leaders" Barack Obama and Pope Francis, "pioneer" Yahoo CEO Marissa Mayer, "titans" Jay-Z and Sheryl Sandberg, "icons" Malala Yousafzai, Aung San Suu Kyi, Michelle Obama, Daniel Day-Lewis, Justin Timberlake and Kate Middleton, and "artists" Jennifer Lawrence and Steven Spielberg.