Why Do We Fail To Control Malaria?
Mangalore Today News Network
By Dr. Raghavendra Bhat
Mangalore, Sep 19, 2014: Malaria is an ancient disease. It is a shame that Malaria still kills and kills more people than AIDS does. It is a disease produced by the malarial parasite (a unicellular organism), which should by sheer chance find a female anopheles mosquito at the right time for its very survival. This mosquito thus infected (vector) has to bite a human being at the appropriate time to inject the half developed malarial parasite into the blood of a human being so that the development is continued. There is no need to overemphasize the "strength" of the parasite as we are well aware that the infections mainly by the Plasmodium falciparum can be lethal because of damage to multiple organs (kidney, brain, liver being the commonest).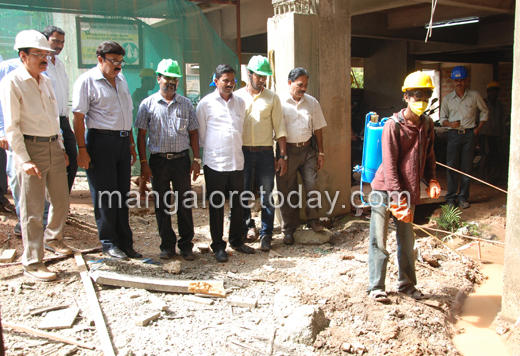 Don't we have medicines strong enough? We do! Don't we have government support?We do! Then what is the problem? Why are we failing? Well I am ashamed to tell you why. As you have rightly understood, this disease can be compared to a chain with 3 links - the malarial parasite at the bottom of the evolutionary scale; the female anopheles mosquito a little above that with some independent abilities but still needing sheer chance to come into contact with 2 different species at the right time for continuation of the cycle; and the human being on the highest scale of evolution who has tremendous knowledge and intelligence and can work wonders if he wants to. But there is a strange fallacy - these two "lowly evolved" species work single minded for their survival while the human being overwhelmed by greed works at cross purposes mainly to undermine and destroy others of his own species.

New constructions have boomed everywhere. Cheap labour is imported who also have untreated or partly treated malaria. Treating them would cost very little to the builder but is never done (and they have the malarial parasite in their blood always). Water is added and kept for curing of the concrete which provides ideal conditions for mosquito breeding. Adding guppy fish will control this but is never done basically due to the mentally of the builders. Naturally malaria is rampant around new construction sites. No wonder then the maximum attacks and repeat attacks are found in construction industry. Now, you know one of the reasons why malaria is not being controlled. The other important reason is that we have evolved backward in our civic sense while we progressed forward economically. We get a pleasure out of throwing garbage into our neighborhood - in fact anywhere as long as it is outside our compound! Also drugs are not taken properly by the patients - self (mis)treatment is rampant. Chemist assisted mistreatment is more dangerous. Non reporting of the cases denies opportunity for a proper control. If we humans do not mend our ways, forget about eliminating malaria, the parasite will one day succeed in eliminating the human race! Let us wake up to hard facts. It is still not too late!
---

Dr. Raghavendra Bhat: A gold medalist in studies, the author is a professor and medical practitioner, has 5 medical books and an anthology of poems to his credit. Also an eminent speaker, Dr. RV Bhat, practices at Chitra Clinic, Hampankatta, Mangalore. The author can be contacted at: nita2005bhat@yahoo.co.in
---