Vinayak Baliga Murder: Why are our elected leaders suspiciously silent?
Mangalore Today News Network
Mangaluru, April 11, 2016: The brutal murder of RTI activist Vinayak Baliga is one of the most sensational crimes to have taken place in DK district in recent times. Not only was a public spirited individual ruthlessly slaughtered, but also the motive for the crime threatens to be both scandalous and deeply disturbing. Also lying exposed is the deep rot that has set into our local politics.

It is now twenty days since Baliga was hacked to death in a side lane close to his house near Kalakunj Road in the city. Hired killers had slashed his neck and cracked through his skull in the wee hours of the morning of 21st March.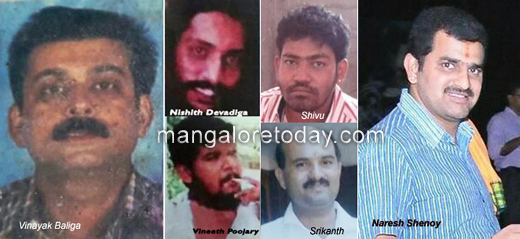 At that time, few knew the real significance of the murder as the victim was a virtually unknown man. Though Vinayak Baliga was a fierce RTI activist, he was a bit of a lone ranger and fought his battles alone without any fanfare. Hence it initially passed off as just another crime, soon to fade from public memory. With very little to go by way of evidence or witnesses, it seemed that the crime would never get solved, nor would anyone care for it.

It was only after activists like Prof. Narendra Nayak, President of Federation of Indian Rationalists Associations, took up the cause that Vinayak Baliga murder case gained a new profile in the public domain and jerk started the justice delivery mechanism.

It is also to the credit of the police department that the new Police Commissioner M. Chandra Shekar immediately grasped the magnitude of the offence and decided to personally take charge of the investigation. Since then he has been pursuing the matter with an iron grip and the case has made much progress. Two of the culprits - Vineeth Poojary and Nishith Devadiga – revealed to be contract killers have been arrested.

Police have also released lookout notices for Srikanth and Shiva alias Shivu said to be accomplices in this case. Srikanth had reportedly contacted Shivu to engage the contract killers. The police have now narrowed down to a Sangh Parivar linked Yuva Brigade founder, Naresh Shenoy, as the mastermind and prime suspect.

Meanwhile it is learned that Vinayak Baliga was a relentless RTI activist who had meticulously collected a treasure trove of data on irregularities committed by the who's who of the city. He was a fearless, yet silent, crusader who had earned many deadly enemies thanks to his activism. It is out of this list of the city's rich and powerful that the police narrowed down their focus to the alleged financial irregularities at Shree Venkatramana Temple, Car Street and Naresh Shenoy's alleged role in it. It is expected that once all the suspects are nabbed and the crime is solved, skeletons may roll out of the cupboard of many famous persons.

Amidst all this, what is worrying is the ominous silence of the ruling classes.

In normal circumstances, a fallen crusader like Vinayak Baliga should have been hailed as a hero and sympathy should have poured from all quarters. In this case there seems to be a studied silence. Common people in general are speaking in hushed tones, perhaps out of fear of falling out of the good books of Naresh Shenoy, who was a powerful youth leader and close to some of the more audacious and ferocious outfits of the Sangh Parivar.

Sangh Parivar outfits which jump into the ring at the drop of a hat too are conspicuous by the silence. When Bajrang Dal activist Prashanth Poojary was murdered in Moodabidri some months back, they tried to blow it into a national issue. Yet when a fellow Hindu – and a devout one at that – like Baliga has been killed for issues allegedly relating to a temple, these self appointed right wing outfits have no word to utter. This only exposes their double standards and unholy social agenda.

Then eye brows were raised when after a long lull, some friends of Naresh Shenoy made a vain attempt to project him in different light and alleged that he was a being unjustly victimized by a vindictive Congress government and their police force.

But when rumours began to circulate that certain Congress leaders were entertaining and even obliging requests from BJP-Sangh Parivar quarters to influence the outcome of the police investigations, all alarm bells went ringing.

Why is it that politicians are conspicuously silent on the killing?
So far, apart from State Health minister U. T. Kadhar no important politican has bothered to visit the victim's family, his aged parents or his unmarried sisters who have just lost the man of the house. Vinayak Baliga happened to be a bachelor and the family is truly ruined.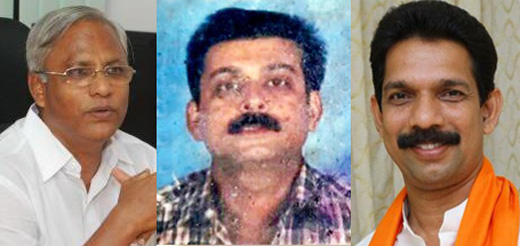 City MLA J. R. Lobo had nothing to say and it is even alleged by some that he had attempted to lobby with Home Minister Dr. Parameshwar to take it easy on the murder probe.

The local MP Nalin Kumar Kateel's silence may be understandable; after all he was best friends with Naresh Shenoy. Those who followed the election trail even identify Naresh Shenoy as the architect of Nalin's election victory.

Janardhan Poojary who is usually full of rants galore had nothing to say about Baliga despite hosting at least one press conference after the tragedy took place.

Only District In charge minister B. Ramanath Rai and Youth Congress leader Mithun Rai have raised their voice and accused BJP leaders of being involved the crime – that too after they were prodded by a media release issued by Prof. Narendra Nayak alleging that the Congress was working hand in glove with BJP in trying to bury the case.

So have our elected representatives forgotten their duty to the citizens? Do all our political parties have something to hide? Are the ruling party and the opposition in an unholy alliance to protect each other's interests? Why is it that MLA J. R. Lobo is tongue tied? Why is MP Nalin Kumar Kateell making himself scarce?

Have our leaders lost all sense of shame? Or are they just impotent to do what's right for the citizens? And do they know the difference between right and wrong at all?

They have a lot to answer for. Or else, come the next election, and the voter's response to them might be less forgiving. It is time to break the politicians' cozy club.