Saint Supreme - Srimad Sudhindra Thirtha Swamiji
Mangalore Today News Network
By Mahesh Nayak & Jayashree Sudhir

Photo Collections: Manju Neereshwallya with archival sources
Mangaluru: Sainthood is the highest stature one can attain in the world of divinity. It is an exclusive honour reserved only for those who personify unimpeachable virtue. That Srimad Sudhindra Thirtha Swami, the 20th Pontiff of the Varanasi based Shree Kashi Math Samsthan deserves this lofty title is something that millions of devotees will heartily agree with. Now as he lives out his 90th year on this planet, they have in fact decided to go a step further to celebrate his era with befitting pomp and gaiety.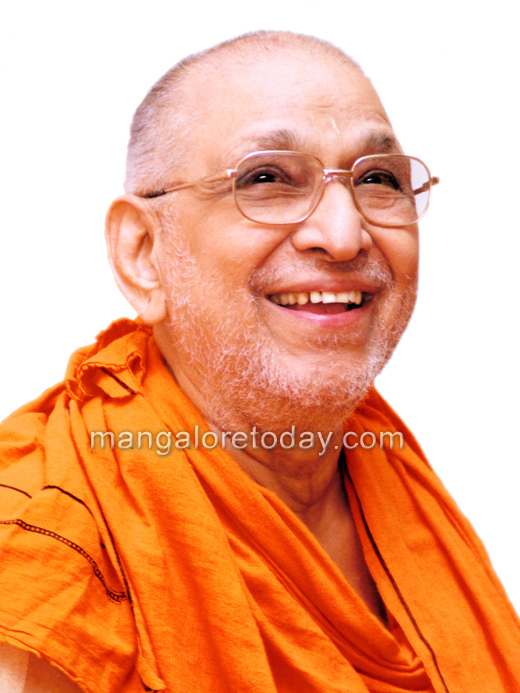 The Navati Janma Mahotsav – The 90th Birthday Celebrations - of Srimad Sudhindra Thirtha Swami due to be observed in the first week of April promises to be an event of unprecedented splendour for his devotees from among the Gauda Saraswat Brahmin (GSB) community. This community which has strong roots in Mangalore has even chartered an entire train to ferry the revellers from the city on a 2774 km ride to Haridwar in Uttarakhand for a tryst with their beloved 'Guru Maharaj'.

Though based at Varanasi, the venerable swami's presence is most powerfully felt in this part of the country where the 5-million strong GSB community is settled along the coastline of Maharashtra, Goa, Karnataka and Kerala. Hence it is only natural that we too join in the festivity with an in-depth picturesque profile of the momentous life and times of His Holiness Srimad Sudhindra Thirtha Swami.

Hindu Dharma prescribes Ashrama system as the road map for ideal living. This traditional module identifies four stages of living: Brahamacharaya (the bachelor-student), Grahastha (the family man), Vanaprastha (the retired elder) and Sanyasa (total renunciation and detachment). Dutifully observing these stages ensures a systematic fulfilment of all our worldly desires, hopes and expectations and prepares one for attaining Moksha, the final liberation of the soul. However for those rare individuals who are born to fulfil a different role in life – that of a swami or spiritual preceptor – the path is cut short to only two stages: the first and the last, the intermediate stages being considered redundant. In practical terms, it is like having to pass through the spiritual equivalent of an interstellar wormhole, for an innocent child to transform into a supremely enlightened being - the ultimate dimension of life.

It was such a brave journey that a young boy of 18, called Sadashiv Shenoy chose to undertake on May 24, 1944 when he accepted Sanyas standing waist deep in the flowing waters of Shambhavi river at Mulki, near Mangalore. Born at Ernakulam on March 31, 1926, as the fourth son of Draupadi and Ramdas Shenoy, a trustee of the local GSB community temple, young Sadashiv had completed his schooling at St. Albert's High School, Ernakulam. He was learning for his intermediate class (I group) at Maharaja's College, with Natural Science, Physics and Chemistry as his subjects, when the call came from the 500-year old pontifical order of Shree Kashi Math Samsthan.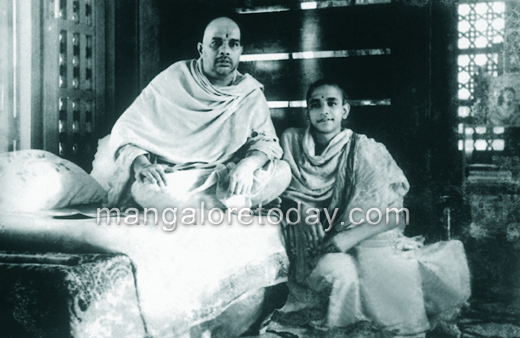 With his Guru Sukrithindra Thirtha

Tradition has it that the identity of the successor is first revealed to the Matadhipathi of Kashi Math in a dream. A background check of the chosen one is then rigorously done. It is mandatory that his horoscope should indicate both Sanyasayoga (destiny of asceticism) and Rajayoga (destiny to be a king) as his future role would embody both these qualities. Srimad Sukrithindra Thirtha Swami, the 19th Pontiff of the Samsthan is said to have been very impressed with the boy's sense of devotion and immediately decided to take him under his wings.

After the Sanyas Sweekar ritual at Mulky, Sadashiv Shenoy instantly became Srimad Sudhindra Thirtha, thereby forever relinquishing all his worldly attachments. Then began an extended period of rigorous religious training in preparation for his future role. As a disciple he underwent training in Sanskrit and Dharmas Shastras at Sri Bhuvanendra College, Karkala. Having studied the Brahma Sutra, Bhagavad-Gita and the Upanishads, he is also acknowledged as a great scholar in Dwaita philosophy propagated by Sri Madhwacharya. His quest for knowledge had surprised even his teachers.

Sudhindra Thirtha accompanied his Guru to various places and received his personal mentoring in his future responsibilities and immersed himself in the age old traditions of the Math. His earnestness and willingness to learn won him the love of his Guru.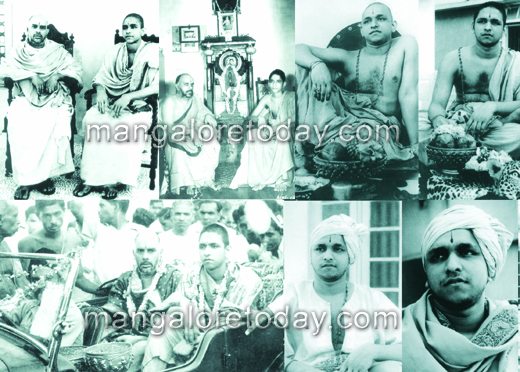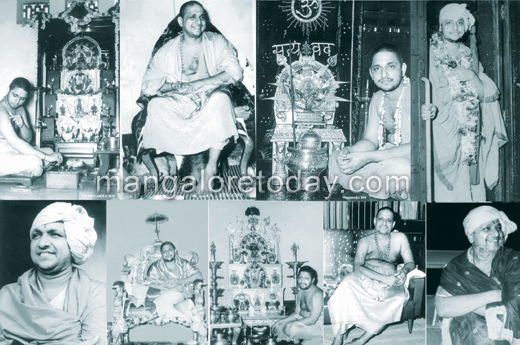 A photo montage of various facets of

Srimad Sudhindra Thirtha Swami's life as a monk


When Sudhindra Thirtha was informed of the deteriorating health of his Guru in Kochi, he rushed to be at his bedside. When Sukrathindra Swami passed away in 1949 at Kochi, Sudhindra Thirtha dutifully accepted his new role and took over the reigns as the new Matadhipathi of Shree Kashi Math Samsthan. Since then he has been leading the Samsthan and guiding the community as a spiritual leader with great care and devotion. Kindness, compassion, generosity and farsightedness are the hallmarks of his personality, which invite the steady admiration of his followers.

Unlike the relaxed pace of life of laymen, the role of the Matadhipathi is a very demanding one. It is a 24x7 commitment with no space for rest. Being a monk, he is not privileged to permanent residence and he has to be on the move visiting town after town to meet and interact with his followers. GSB community claims its origins to the banks of the mythical river Saraswati in north India. Thousands of years ago, when this river dried up, the community was forced to relocate to new pastures. This resulted in mass migrations from time to time, which finally culminated in them settling along the Konkan coast of Goa. But advent of the Portuguese and their infamous Inquisition once again put them on the move and today they are widely scattered along the west coast of India. It is perhaps due to this historical reason that the GSB community lays a premium on their faith and in the institution of swami, whom they fondly call 'Guru Maharaj'.

In every town where GSBs are settled in large numbers, a community temple is built and the entire community's social life and cultural life revolves around this temple. Independent of these temples are the three Math Samsthans or pontifical orders. Apart from Kashi Math, there are also the Kaivalya Math and Gokarna Parthagali Math, each headed by a Matadhipathi. While allegiance to the Maths is rather loose and all three Maths are revered with equal devotion, Kashi Math is more popular in Dakshina Kannada and Kerala, while the other two Maths have a larger following in Uttar Kannada, Goa and southern Maharashtra. Through glorifying this system of community temples and Maths, the GSB community has sought to preserve its social and cultural identity.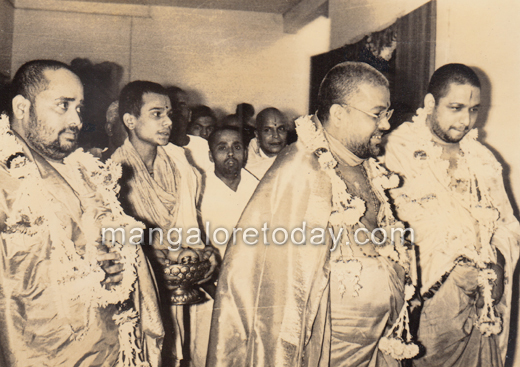 Sudhinda Thirtha Swamiji during a meeting of the swamis of the three maths - Kashi Math, Kaivalya Math and Gokarna Parthagali Math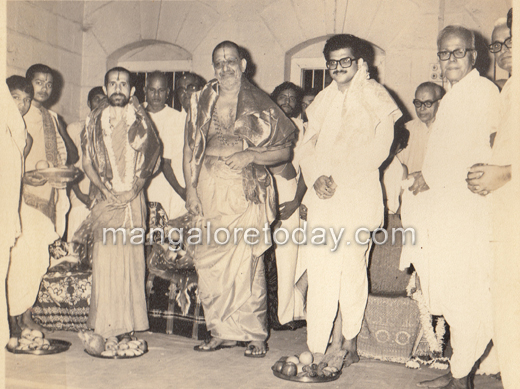 Sudhinda Thirtha Swamiji with Sri Vishvesha Thirtha Swami of Sri Pejavar Math, Udupi and Dr. D. Veerendra Heggade, Dharmadhikari of Shri Kshethra Dharmasthala


Hence the swami's role in this elaborate system is both unique and paramount. Continuous mass contact and engagement with devotees is essential for the swami to remain connected with the flock. Typically it is the swami who is invited by the community leaders of the different towns. The swami obliges them by camping in the community temple for a few days. An elaborate system of protocols governs this entire process and the swami is to be accorded the highest respect by the laity on these visits. The high point of the annual cycle is an extended camp lasting for about two months when the swami observes 'Chaturmasa Vritham'. The different towns get into great competition with each other for this honour.

For the great personal sacrifice made by the individual in being head of the Samsthan, the community reciprocates with unquestioned devotion. The swami is considered to be infallible and his words are treated as the gospel truth. The Matadhipathi of Kashi Math has the bounden duty to perform 'Trikala Pooja' – thrice a day prayer is offered to his patron deity Vyasa Raghupathi. Apart from this he has to regularly give spiritual discourse and also give personal audience to the devotees while he is camping in the different temples. An austere life of personal poverty and chastity along with high intellectual and spiritual demands are a part of the Swami's everyday routine, a superhuman pursuit indeed.
Holy dip in the river Ganga with the sacred idol of Vyas Raghupathi, the patron deity of Shree Kashi Math


In the final analysis the role of swami is a complex mix of being a spiritual guide, a philosopher, an inspiring community leader, a far-sighted visionary, a communicator and a compassionate healer. He is an icon, a human institution and the glue that binds people together, lifts them above the law of averages and ennobles their living with meaning and purpose. In his tenure lasting the better part of the past seven decades, Srimad Sudhindra Thirtha has accurately understood this role and steadfastly performed it to perfection, keeping the community completely focussed even amidst the chaotic influences of modern times.

His reformist and progressive bent of mind has shined forth in every quest he has pursued. When Sudhindra Thirtha Swami took over the reins of the Samsthan in 1949, the financial position of the Kashi Math was far from satisfactory. Sri Sudhindra Thirtha who was just 23 at that time, soon realised that people paid little interest to religious matters as the nation at that juncture was greatly attracted towards Gandhian ideologies. A determined Sudhindra Thirtha made every possible effort to encourage community members to develop devotion. He kindled a resurgence of interest in Dharma and Dharmic issues. He travelled widely, camped wherever his devotees invited him and blessed them. When members of the community prospered and progressed in business and various fields and when they achieved name and fame across the globe, the seer ensured that they maintained a strong bonding back home. Devotees today agree in one voice that all this was possible due to the guidance of the revered swami.

Alongside, he also undertook great expansion activities. If the Kashi Math had only 13 branch Maths when he took charge, the number has today risen to 35. Understanding the role played by temples in spiritually uniting the community, Srimad Sudhindra Tirtha Swami, like his predecessors, has performed installation or reinstallation ceremonies in innumerable community temples too.

Sri Sudhindra ThIrtha Swami also proved to be a good organiser after he initiated the concept of Grama Sabha in Kerala in order to bring about amity among members of the community at village level and encouraged people's participation. Later he ensured formation of committees at district and state level and thus was instrumental in the formation of a good organisation.

In another move he ensured observance of Vasantha Maasa and celebration of 15 day Vyasotsava which gave the opportunity to temples in small towns to organise the programmes. He tried to personally attend such programmes and his visit has always brought about a sense of unity among members of the community and in turn promoted amity and brotherhood. Initially he used to camp at one shrine for about 15 days, but later his popularity rose so high that he reduced his days of stay to four days so that he could accept invitations to visit more places.

His small initiatives have also made a big difference. Whenever the Swami camped in a town, there was a tradition wherein he offers Gandha Prasada to the devotees. Gandha Prasada is first given to the Managing Trustee, the Seva offerers and then to the devotees. The swami brought about a change to the practice and began to first offer Prasada to a senior member who is present at the time of the Pooja, thus revealing his true concern for the welfare of society.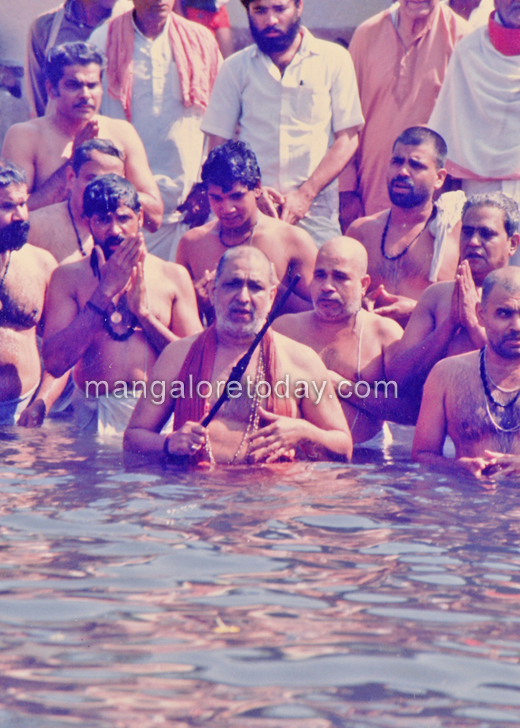 Such programmes have helped in bringing the temple, the Gurupeetha and the community together. He blesses every single devotee who approaches him and his connect with the laity is amazing. Gifted with a phenomenal memory and sharp powers of observation, he is known to astonish his devotees by correctly recalling names and family antecedents. His ability to interpret complex spiritual concepts with simple metaphor never fails to amaze the masses.

Despite these good deeds, the unthinkable happened in the early 90's when for the first time he had to endure the pain of betrayal. In July 1989, Sudhindra Thirtha had anointed a boy called Shivananda Pai as his successor and given him the title of Raghavendra Thirtha. In view of his advanced age, he also gave him full charge of the Math. This proved to be a tragic mistake, as Raghavendra Thirtha became rebellious and soon lost the confidence of the people. It is said that he was controlled by a coterie and his audacious defiance of his own guru did not go down well with the followers also. The resulting acrimony threatened to fracture the community and destroy the institution itself.

The matter ended up in court, where thankfully, the ruling favoured Sudhindra Thirtha. A 500-year old institution was saved in the nick of time, but it was still a long battle to recover the sacred paraphernalia comprising 27 idols including the holy idol of Vyas Ragupathu. The delinquent disciple was refusing to part with these, despite court orders. Following the recovery of the idols, a grand reinstallation ceremony was organised in Mangalore to restore faith in the deity. Meanwhile, on June 20, 2002, Sudhindra Thirtha anointed a new successor Umesh Mallya, who was rechristened Srimad Samyamindra Thirtha and is now poised to succeed the guru as the 21st Pontiff of the Samsthan.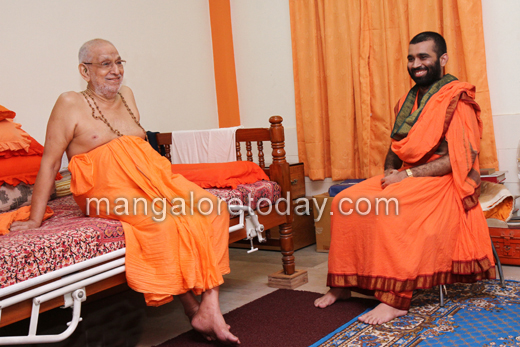 The entire episode, though a dark chapter in GSB history, earned further admiration of the community for Sudhindra Thirtha. For even in the darkest hour, and at the ripe old age of 80, he had proved his great inner strength to reinvent himself and rebuild the institution from shambles. This singular achievement will perhaps be seen as his most glowing contribution to the community, inspiring generations to come. Like in all cases of true greatness, adversity only elevated him to legend.

Now completing 90 years on 31st March, Sudhindra Thirtha continues to guide the community to tread the path of righteousness. He has been heading the community and guiding it for about five generations. He has completed 71 years of Sanyas Ashrama and 66 years as Mathadipathi.

These are unique events in the Samsthan. The first pontiff Yadavendra Thirtha's Sanyas Ashrama and Mathadipathya was about 66-67 years. Sudhindra Thirtha has already surpassed that period in Sanyas Ashrama. The second pontiff Keshavendra Thirtha's Mathadipathya was about 62 years which has also been surpassed by Sudhindra Thirtha. In another year, Sudhindra Thirtha's Mathadipathya would be 67 years surpassing all records in the Math.

This is indeed an occasion for the community to rejoice. To this end, the Navati Janma Mahotsav (90th Birthday celebrations) will be held at Sri Vyasashram, Haridwar from April 1 to April 6. The celebration will include an array of religious rituals, spiritual engagements, festivity and gaiety, a celebration which is a fitting tribute to an exemplary soul.


Kashi Math Samsthan: The Supreme Edifice
The Kashi Math Samsthan is one of the three religious seats of the GSB community, the other two being Kaivalya Math and Gokarna Parthagali Math. Kashi Math was founded in 1541 AD by Sri Vijayendra Thirtha Swamiji of Kumbakonam Math who gave Deeksha to the first pontiff, Srimad Yadavendra Thirtha Swami.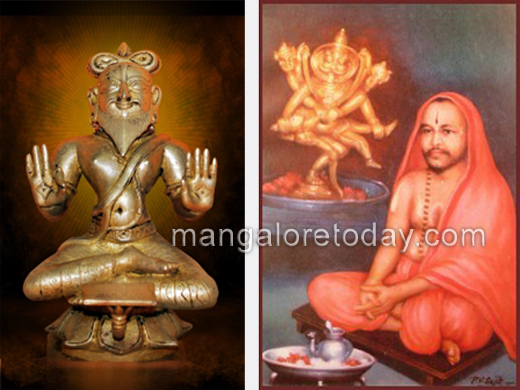 Left: The idol of Lord Vyas Raghupathi, the Patron Deity
Right: Sri Vijayeendra Tirtha of Sri Kumbakonam Math, founder of Sri Kashi Math


Historians and research scholars of Shree Kashi Math are of the view that the Math was established at the instance of the community members of Cochin. Available evidence suggests that they made a request to Sri Vijayeendra Tirtha, the junior Swamiji of Sri Kumbakonam Math to give 'sanyas deeksha' to a suitable Gowda Saraswat 'vatu' to start a religious seat of their own. As directed by him they purchased a place in Varanasi, built a Math and started a pontifical lineage under the name of Shree Kashi Math. He had selected Varanasi as he was proceeding to that pilgrimage centre after concluding his Chaturmas in Cochin. He also obtained approval and recognition from his preceptor Sri Surendra Tirtha as evidenced by a copper plate inscription and "rayasapatram''. History says that Sri Kumbakonam Math gave two idols of Lord Rama and Lord Vyasa to Sri Yadavendra Thirtha along with the rights to guide the GSB Samaj in spiritual matters.

The second pontiff discovered the idol of Lord Veda Vyasa in River Ganga in the 17th century and this idol is today the patron deity of the math. Shiva Purana mentions that Lord Shiva had requested Lord Vishnu to assume Veda Vyasa avatar to preserve and propagate the holy word that is Vedas. Sri Adi Shankaracharya worships him as Lord Vishnu while Sri Madhwacharya giving his mantra states that by worshipping Sri Vyasa alone one will get all round knowledge. According to Bhagawat Purana, Sri Veda Vyasa is the seventeenth incarnation of Lord Vishnu. He was born 5000 years ago as the son of Parashara and Satyavati. Vedavyasa recompiled the sacred texts of the Vedas so that they might become more easily understandable to men.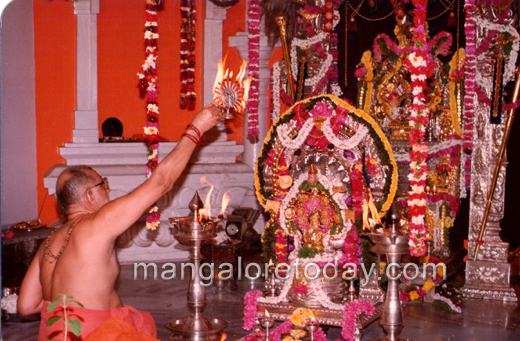 The Kashi Math Samsthan is headquartered in Kashi or Varanasi and owns 35 temples spread across India. The imposing edifice of Shree Kashi Math stands on Brahma Ghat of the River Ganga in Varanasi. The Math is housed in a spacious building and has about 110 rooms. A legend says that the Math was constructed and gifted by the ruler of Kashi to one of the seers of Shree Kashi Math who resolved the problem of sudden disappearance of the bangles kept by the princess while taking a dip in Ganga. Sri Kashi Math follows Dwaita philosophy, which propounds that the Soul is separate from Soul Supreme God. The Math belongs to Vaishnava Sampradaya that submits to the supremacy of Lord Vishnu. Inside the Math there are four small shrines in which the following deities are installed and worshipped: (1) Sri Rama installed by 1st Guru, Srimad Yadavendra Thirtha; (2) Sri Gopalkrishna installed by 3rd Guru, Srimad Upendra Thirtha; (3) Sri Lakshmi Narasimha by 5th Guru, Srimad Raghavendra Thirtha; and (4) Sri Bindu Madhava by the 7th Guru Srimad Madhavendra Thirtha.

Srimad Sudhindra Thirtha undertook the renovation of the original Kashi Math at Varanasi in 1977 and in 2011 the sanctum sanctorum of Lord Narasimha was reconstructed and Punar Pratishta performed by the Swamiji. The seer also held his Chaturmasa Vritha here in 1977 and since then has made it a practice to camp at Varanasi for a few days every year.

A dormitory has also been built for GSB pilgrims visiting Kashi. Vrindavans (mausoleum shrines) of earlier seers Upendra Thirtha, Raghavendra Thirtha and Vishnu Thirtha have been renovated.
The Samsthan building is definitely a heritage site for all GSBs and more so for Shree Kashi Math followers. Every seer of the Guruparampara has carved a name among the saints of the GSB Samaj.


Shree Vyasashrama: A Splendid Structure
Shree Vyasashrama, the venue for the 90th Birth Year Celebration of Sri Sudhindra Thirtha, commemorates Bhagavan Shree Vedavyas and is built at Haridwar on a 8.5 acre land under the initiative of the seer and as requested by a senior community member, late Kudpi Srinivas Shenoy.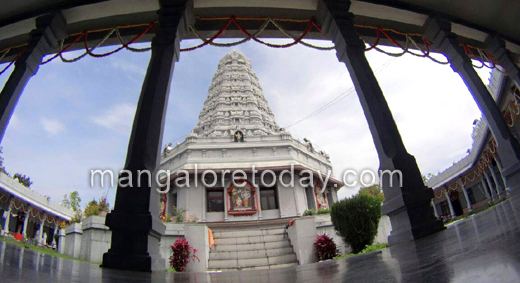 The Vyasashrama has an auditorium, Yatri Nivas and a hospital in memory of seventh Guru Madhavendra Thirtha. The clinic has outpatient facilities and also space to accommodate 12 in-patients, a lab and x-ray unit. The hospital is managed by Sri Vedavyasa Charitable Trust and offers free food for a large number of sadhus who visit the place daily. Visitors are offered breakfast, lunch and dinner. A goshala for 50 cows has come up.

Since 1989 the seer has made it a point to visit the place every year on the occasion of the Pratishta Vardanthi and bless the devotees. In 2001 June, Srimad Sudhindra Thirtha consecrated Sri Balavedavyasa Mandir at Kalpi, the birthplace of Lord Shree Vedavyasa on a ten acre land.
Welfare ACTIVITIES
Sri Sudhindra Thirtha Swami has spearheaded many welfare projects aimed at overall community development.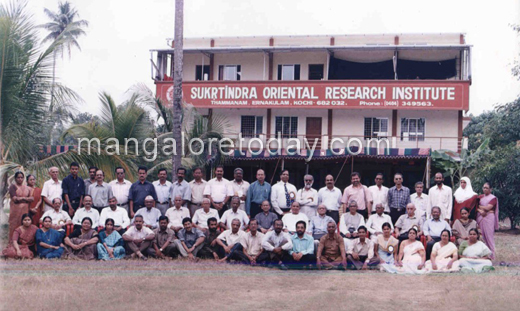 The following are some of the institutions run by him.
* Shree Keshavendra Charitable Trust: Was founded in 2009 to give scholarships to students aspiring for higher education.
* Sri Kashi Math Welfare Fund: Was instituted in Udupi in 1956 with the objective of solving social and economic problems of the community.
* Sudhindra Medical Mission: Runs a full-fledged hospital in Ernakulam.
* Sukrathindra Oriental Research Institute: Based at Ernakulam, this unit is dedicated to conserving Sanskrit language and has a good collection of palmleaf manuscripts, a library and research facilities.
* Shri Bhuvanendra Balakashrama: Was established at Basur in 1965 with fifteen students. A second unit was started by the Swamiji in Karkala in 1974 in memory of his Guru to accommodate more students. The third Balakashrama in the name of Varadendra Thirtha was later set up at Ernakulam.
* Srinivas Nigamagama Patashala: Situated at VT Road, Mangalore, it grooms Brahmin children for priestly profession by teaching them Sanskrit, Hindu pooja rituals and Vedic studies.
* Sri Bhuvanendra Kripaposhitha Vridhashrama: A shelter for senior citizens, disabled and destitute people in Kochi, it accommodates 20 inmates. In 2010 another similar old age home was set up in Basrur.
* Matha Sharada Nilaya: This museum, established at Dahisar Shree Kashi Math on 23 March, 2012, houses ancient artefacts which were until then scattered in different branch Maths. Devotees can visit this museum during specified visitor hours.