Mumbai: Artists centre conducts winter art camp in Virar
www.mangaloretoday.com
Mumbai, Jan 10, 2015: An 'Art Camp' was organised by 'Artists' Centre' in collaboration with Hindustan Petroleum Ltd, at Virar - eminent artist the Late Chiru Chakravarty's bunglow and at the adjascent bunglows in Mumbai. It was held from 25 to 29 December 2014. Participants were mostly senior students from art schools and institutions of different regions of Maharashtra.

There were discussions in the open space with natural surroundings as well as indoors. Experts communicating with students on art, aesthetics & thesies.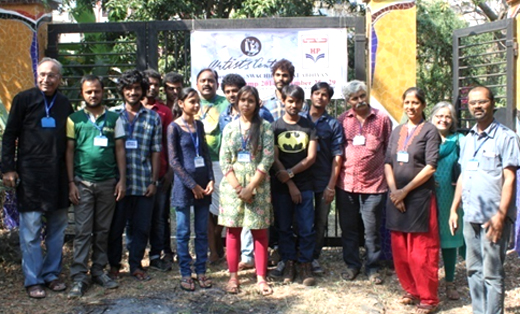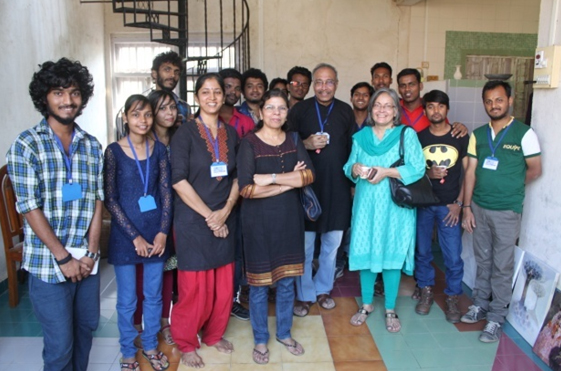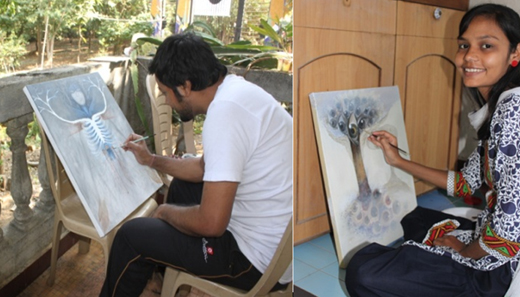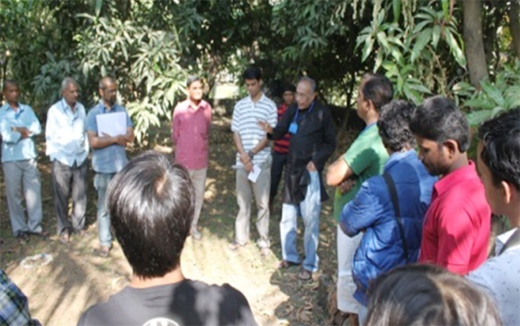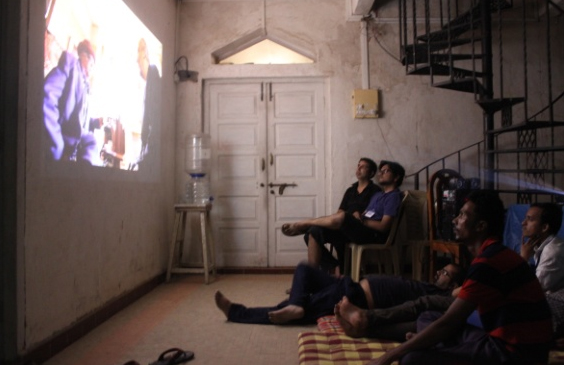 'Winter Art Camp' - a brain-child of Dr. Saryu Doshi and Tripti Ayyar, executed by Saroj Satija, Vivek Das and Anand Prabhudesai was organized by "Artists' Centre", in collaboration with "Hindustan Petroleum Ltd" (HPCL) recently. (25-29 December, 2014) "Chakravarty Bungalow" was the main venue, along with "Das Bungalow", "Kamath Bungalow" and "Majgaonkar Bungalow" at Kalagram, Chandansar, Virar - the picturesque, lush green, foot-hills region of Mumbai suburbs. Tucked in the backdrop of a tall hill with a temple on the top, it was a revelation to the artists and art students who had hailed from the nooks and corners of Maharashtra, as an ideal abode of artistic pursuit. The Late Chiru Chakravarty had built the three storey bungalow for making it a 'Residency for artists' from the world over. As a renowned ceramics and mosaic expert, Chiru Chakravarty was the most sought after artist to create and execute mosaics and murals at various prestigious arenas like 'Abu Dhabi international Airport', 'Shanmukananda Hall', 'Mumbai Airport' and others. He was commissioned by renowned architects like I.M.Kadri. His wife, artist Rachna Chakravarty and family members were the perfect hosts, along with the families and staff members of veteran artists Vasudeo Kamath and Prof. Vivek Das.

The art students hailed from well known art schools and institutions of Maharashtra-Nagpur, Aurangabad, Pune, Nasik, Kolhapur, Sangli, Sawarde, Raigadh, Vasai and Thane. The professionals were from Safale, Thane and Mumbai. They were into two batches of 15 each and created paintings of various genres and aesthetic contents. Senior artists-Ashutosh Apte, Narendra Pawaskar, Prof. Paul Kohli, Prof. Vivek Das, Madhusudan Kumar, Rajshree Karkera Apte, Anand Prabhudesai, Surekha Shetty, Pramila Salian, Mridula Singh, Ranjit Singh Kurmi and Aurobindo interacted and inspired the emerging talents with demonstrations of paintings and in-depth conversations and talks. Certificates of participation and mementos were distributed in the open air venue, under the shades of the trees with chirping birds. The hospitality extended with home food - breakfast, lunch and dinner- prepared by the Kamath family, comprising of variety of menu (Indian and Chinese vegetarian cuisine) which were relished by one and all, with tea and coffee served at intervals. Many students continued to paint during the cool nights of winter!

Also, it was a unique learning experience for one and all, as biographical films were screened during the evenings. Documentary films featuring Hussain, Ram Kumar and Rembrandt were screened; along with a Hollywood feature film "Lust for Life"- on the life of great Dutch expressionist artist Vincent Van Gogh (starring 'Spartacus' Kirk Douglas as protagonist and Antony Quinn as his friend Paul Gougen) as the highlights. The bonding created during the four days' 'Winter Art Camp' will be cherished by all the participants! The exhibition of paintings created during the 'Art Camp' will be held at 'Artists' Centre Art Gallery' from 26 January to 1 February 2015 - 11am to 7pm - 'Ador House', 6 K.Dubash Marg, Kalaghoda,Mumbai.


History of ARTISTS' CENTRE
"ARTISTS' CENTRE" was established in 1950 by Austrian art lovers and critics - brothers R.V. Leyden and S.V. Leyden, as an off-shoot of "Bombay Art Society Salon" (1925 - Sassoon Building - Radia House - Ador House, Kalaghoda, Bombay) for funding artists to explore the world of art. Originally as 'ARTISTS' AID CENTRE', it was renowned as the nursery of the "PROGRESSIVE ARTISTS GROUP" - spearheaded by young and fiery Francis Newton Souza, Krishnaji Hovalji Ara, Maqbool Fida Hussain, Syed Hyder Raza, Hari Ambadas Gade and Sadanand Bakre.

Also, "ARTISTS' CENTRE" (1964) gave birth to the "BOMBAY GROUP" with artists V.S.Gaitonde, Deolalikar, K.K.Hebbar, N.S. Bendre, Tayeb Mehta, Shivax Chavda, Mohan Samant, P.T.Reddy, D.G.Kulkarni, S.B. Palsikar, Baburao Sadvelkar, Krishen Khanna, Homi Patel, Nirmala Patwardhan, Shrikant, V.N.Bhat, Devassy, Palande and others.. Artists Jehangir Sabavala, Mehilli Goboi, Gieve Patel, art critics Nizzim Ezekeil, S.V. Vasudev, Dnyaneshwar Nadkarni, A.R Kanangi, R.T.Shahani, O.K. Joshi, A.V. Raman and ace art collector Jehangir Nicholson paid frequent visits to the Centre.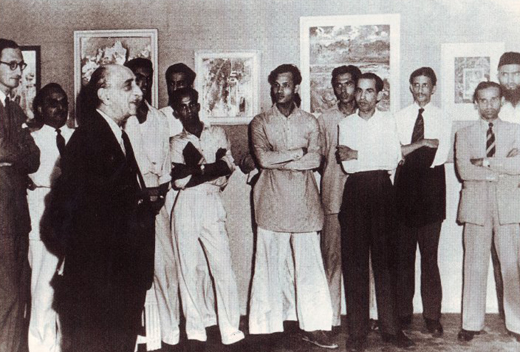 During the British Raj, "Bombay Art Society Salon' had hosted an exhibition of prints of 5th Century German artist ALBERT DUERER and 'renaissance' artist LEONARDO DA VINCI, organized by the German and Italian Consulates respectively. It was graced by eminent persons like Taya Zinkin, Gerard, R.R. Bharadwaj and others. Also, 'Lalit Kala Academy, New Delhi' had organized a prestigious exhibition of 'Indian Contemporary Art' at the Centre, which entrusted the task of publicity to Ratan Batra, Samar Dasgupta and P.N. Sharma who pioneered and owned advertising agencies. They were supported by Prof. Walter Langhammer (Art Director, The Times of India) Rudy Von Leydon (Art critic), F.Mulla and Ram Chatterjee. Abhay Khatau and G.S.Pohekar arranged exhibitions of 'wood-cuts' and prints from Japan. "Asian Art & Cultural Freedom" held many important exhibitions at the Centre.

The gallery was visited by many artists from various regions of India and abroad. Eminent men and women like Dr. Homi Bhabha (Director, Tata Institute of Fundamental Research - TIFR ), M.C. Chhagla, DR. Mulk Raj Anand, Sir Cowasji Jehangir Bart, Schelsinger, actor Ashok Kumar, P.K. Roy (Editor, The Times of India), Aruna Aasaf Ali (freedom fighter), Gallery owners Sudhakar Dixit (Chetana art gallery, held exhibition of paintings by 'Progressive Artists Group') ), Kekoo & Khorshed Gandhy (Chemould Art Gallery) and Kali Pundole (Pundole Art Gallery)) were the patrons of the artists. Many famous musicians performed in the art gallery from time to time. Pannalal Ghosh, Ustad Ali Akbar Khan, NikhilL Ghosh, Ravi Shankar, Manna Dey, Geeta Dutt, C.H. Atma and others gave musical recitals at the art gallery.

The world renowned artists like Hussain, Ara, Souza, Raza and others had their first shows at the "ARTISTS' CENTRE" (1948). It was on their suggestion Sir Cowasji Jehangir had laid the foundation for the construction of the famous 'Jehangir Art Gallery', in tandem with the 'Prince of Wales Museum', through a donation in 1950. It was opened to the public in 1953. The Centre has hosted works of eminent painters and sculptors like Anjolie Ela Menon (1999), Badri Narayan and Prafulla Dahanukar. A prestigious exhibition of paintings by the "Progressive Artists' Group" was held at the Centre in 2002. In the same year, an 'Art Camp' was organized at Sawarde, Ratnagiri, which is being spoken about as one of the truly interactive and beneficial platforms for those participant artists and sculptors, who are successful today. The camp was supported by 'Lalit Kala Academy, New Delhi'. INTACH showcased an exhibition of black and white archival photographs of Hindu, Buddhist sculptural splendors of Elephanta and other regions of Maharashtra, presented by Tasneem Zakaria Mehta. A joint show of photographs of the Allahabad 'Kumbh Mela' by photographers Sudharak Olwe and Rajan Chowgule was held, which was graced by Suniel Shetty.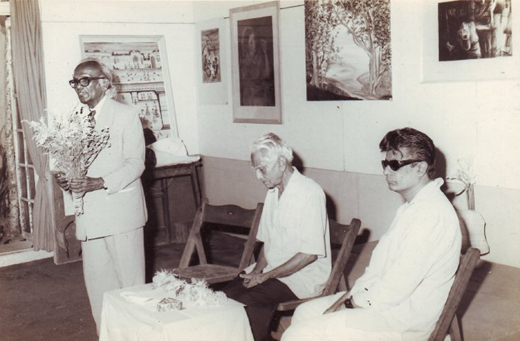 Artists Jitish Kallat, Baiju Parthan, Sudarshan Shetty, Senaka Senanayake, Vijender Sharma, Suhas Roy, Sunil Das, C.D.Mistry, Natubhai Mistry, Shankar Ghosh, Tapas Sarkar and a host of others showcased solo and group shows from time to time at the Centre. Artists from across the country and overseas have showcased their works of art round the years. Poetry readings in English and Marathi by Ranjit Hoskote and Santosh Kshirsagar were arranged by artists Dilip Ranade and Madhav Imartey at the Centre for packed houses.

"ARTISTS' CENTRE" is frequented by top political leaders like the former Prime Minister of India V.P.Singh, Governor Kona Prabhakara Rao, Jawaharlal Darda, Chief Minister Vilas Rao Deshmukh, Chhagan Bhujbal, Harish Shetty, Ram Naik and recently by Chief Minister of Maharashtra Prithviraj Chavan. Celebrities who had graced events include Sushmita Sen, Suniel & Mana Shetty, Jackie Shroff, Gracy Singh, Mugdha Godse, Pritish Nandy, Kumar Ketkar, Pheroza Godrej, Adi Jehangir (Jehangir Art Gallery), Ardeshir K. Dubash (Concern India Foundation), Sabhyasachi Mukherjee (Director, Prince of Wales Museum) ace architect I.M.Kadri, theatre and film personalities Alyque Padamsee, Raell Padamsee, Dolly Thakore, Quasar Padamsee, Shaily Satyu, Atul Tiwary, Pallavi Sharda, Nadira Babbar, Juhi Babbar and a host of others. Cricket legend Dilip Vengsarkar, Alexie Novikov - Consul General of Russia, singers, music directors, choreographers, martial art experts Preety Bhalla, Viveck Shetty, John Hunt, Longine Fernandes, Padmini Haldankar, Sandhya Shetty, Kaushik Shrimankar and others graced the Centre during the 'Annual Members' Art Exhibition'. Entrepreneurs Shekhar and Kiran Bajaj, Anant Bajaj, Kamal Morarka, Dilip Dahanukar, Anand Nair, Ajay Ruia, Dr. Rishikesh Pai, Chhaya Arya, Pradeep Gidwani, Nargis and Salomi Roykapur took part in the weekly art exhibitions held by artists and sculptors.

"ARTISTS' CENTRE" is currently headed by a dedicated group - DR. Saryu Doshi (Chairperson), Saroj Satija, Brinda Chudasama Miller, Narendra Pawaskar (Hon. Joint Secretary), Ami Patel, Amisha Mehta, Tripti Ayyar, Prof. Vivek Das, Anand Prabhudesai (Hon.Treasurer), Vikrant Manjrekar, Prof. Anil Naik, Manohar Mhatre and Madhusudan Kumar (Hon. Secretary). Anjan Dave, Dnyaneshwar Nadkarni, DR.V.S.Gopalakrishnan and the Late Prafulla Dahanukar were the earlier Chairpersons of the Centre. Rajashri Birla (in memory of Aditya Vikram Birla), 'Morcrafts' and 'Kalaghoda Association' headed by Maneck Davar have extended their ardent support for the upkeep of the Centre, from time to time.


ARTISTS' CENTRE, ADOR HOUSE, 6 K.DUBASH MARG, KALAGHODA, MUMBAI - 400001.
Tel: 91 22 22845939 Email: artistscentre@gmail.com, www.artistscente.in