Maa: touching video of Indira Gandhi talking about sons, family
mangaloretoday.com / Sujata Anandan/HT
The Congress might seem like a laggard this century when it comes to the use of the social media for campaigning, but 30 years ago it was way ahead of the rest.

In 1984, it was the first party to outsource campaigning to an agency and make use of the electronic media, as it existed then, to good effect.

With only Doordarshan around, the Congress did use that monopoly to good effect during the 1984 campaign.

Following the assassination of Indira Gandhi, images of a pensive Rajiv, with tears at the edges of his eyes, looking at the sunset framed against the background of the flames of his mother's funeral pyre, was telecast across India.

This is said to have wrung the heartstrings of almost everyone in the country and swept Rajiv to power a few months later.

Before she was shot down by her security guards, Mrs Gandhi was preparing to launch Rajiv in a big way that year. A part of the arrangement with the agency to whom the campaign was outsourced was to make a film on the rising son `Amethi Ka Suraj'.

Mrs Gandhi was killed halfway through that effort. Before her assassination, the producers had filmed and canned an extensive interview with her. She spoke mostly about her sons, made a passing reference to her grandson (Rahul Gandhi) and revealed some hitherto unknown facts about the soon-to-be Prime Minister's early childhood years.

Later when Rajiv Gandhi, along with closest advisors Arun Singh and Arun Nehru were going through 'Amethi Ka Suraj', they saw in that interview the extreme emotional potential of an independent film on her and asked the producers to hive off her footage to make a shorter presentation which they titled simply `Maa'.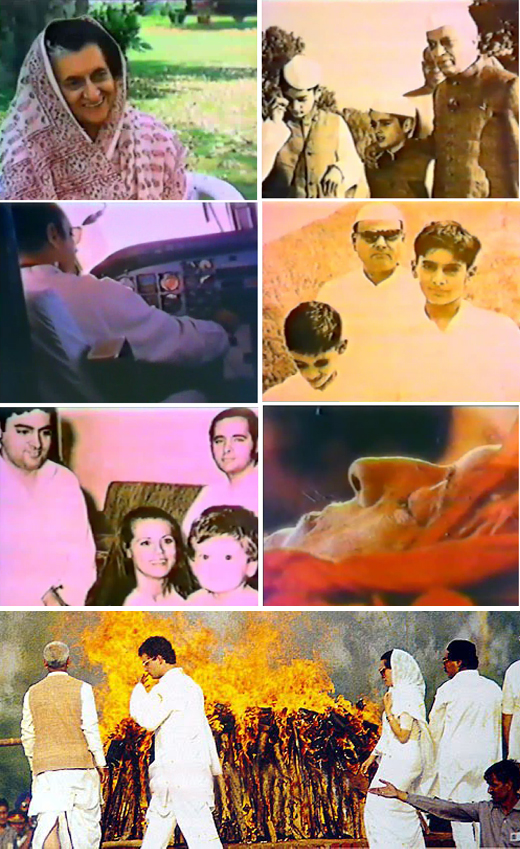 That film was shown only to the villagers in Amethi. Rajiv decided against airing it on Doordarshan. His sister-in-law (brother Sanjay Gandhi's widow) Maneka Gandhi was contesting against him from Amethi and making all kinds of wild allegations about how badly Rajiv had supposedly treated his mother.

The trio thought the villagers would be convinced with what Mrs Gandhi actually thought about Rajiv to realise that Maneka was making up stories and 5,000 copies of the 20-minute film were distributed across Amethi.

Rajiv's resounding victory in the December 1984 polls and Maneka's ignominious defeat is attributed in large measure to 'Maa'.

Congress vice-president Rahul Gandhi was just 13 years old when his grandmother was assassinated and his father became PM.

He knew of 'Amethi Ka Suraj' and, I am told, wanted to make use of it in his election campaign this year as it had remarkable footage on his father. Actor Simi Garewal used portions of this in her film on Rajiv.

But with almost everybody associated with the film including its director no more, no one knew who might have a copy of the original tape and negatives. Was it lost to posterity?

It might well have been, but for one man.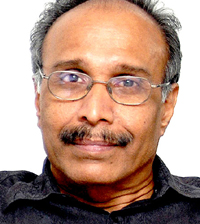 The production co-ordinator on that film, Madhusudan Kumar, himself a filmmaker, painter and sitarist, did manage to retrieve `Maa' – only one VHS tape from the 5,000 prints distributed in Amethi has survived. He is the Special Correspondent of Mangalore Today at Mumbai

He restored the film rather painstakingly and made sure that both the picture and the sound quality were not damaged. Hindustan Times now has exclusive access to the restored version.

Congressmen of today were at first highly excited at the find because Mrs Gandhi's interview — entirely on her family and not on the issues troubling the country — brings out rare facets of her son: his compassion, his devotion to work, his skills, both as a pilot an a general handyman around the house.

This is not a side known to the common public. When Krishna Hegde, MLA from Vile Parle in Bombay presented a CD to Rahul Gandhi some months ago, that was the last anybody heard of it.

I asked Hegde if the film was handed over to Rahul personally or might have been lost somewhere in the Congress vice-president's office. "I gave it to Rahulji personally. But I do not know if he has seen it yet," Hegde responded.

But Kumar, who has been waiting for weeks now for Rahul and the Congress to take a decision on re-using it as campaign material, thinks he knows the reasons for Rahul's silence — the voice-over in the film.

It is an extremely tender and emotional commentary — by none other than Amitabh Bachchan, the leading actor and most distinctly the voice of the Nehru-Gandhis in the early 1980s.

When Sonia Gandhi first arrived in India to marry Rajiv, she stayed at the home of the Bachchans in New Delhi. Amitabh was Rajiv's closest friend at the time. Rajiv even gave Amitabh a ticket to the Lok Sabha from Allahabad. He won hands down.

Mrs Gandhi's interview in the film was conducted by noted film personality Kamlesh Pandey, but his voice was masked out by Amitabh's voice-over. The Congress leaders then thought that Amitabh would lend it a suitable tenor.

Now, that clearly is a thing of the past. Much water has flowed under the bridge. Kumar believes the real stumbling block in relaunching the film is today Amitabh is seen more as associating with Narendra Modi than with the Nehru-Gandhis, even though the actor has made it amply clear on several occasions that he only endorses Gujarat tourism and not the Gujarat government per se.

A controversy erupted some months ago when Amitabh's voice (reading out a poem on a new dawn) was used without his permission by BJP strategists to promote Modi's prime ministerial pitch. The actor raised serious objections to it on Twitter. Since then even much of the tourism ads have now gone off television.

Today, the Congress feels far too uncomfortable about the Bachchans to pronounce ownership of `Maa' even if it contains hidden gems.

For instance, like how while holidaying at Pahalgam in an era when nothing was available in either in India or Kashmir, Rajiv demanded of his mother to send him "as many bottles as possible".

When a flummoxed Mrs Gandhi reached Kashmir with those bottles and asked him why, he said, "Dispensaries here do not have bottles and the people are too poor to buy them. Consequently, they do not get to take home their medicines. So I thought we will distribute these empty bottles to them for that purpose.''

Mrs Gandhi also talks of both her and Rajiv's commitment to ensuring equality and justice to minorities and other deprived sections of the society. "A certain amount of protection must be provided by the government. But the larger part of this has to come from their neighbours. We have to ensure that happens in the villages. Rajiv is completely committed to this."

The larger part the interview runs with Mrs Gandhi sitting in her lawns at her Safdarjung Road residence in New Delhi. It opens with a long shot of her walking through the connecting passage between her residence and her office.

"There was a gate in between the two buildings. It was a longer shot than you can see in the film. Unfortunately we had to clip it when she was assassinated,'' says Kumar.

Why? Because Beant Singh, the man who fired those fatal shots at her, had been inadvertently captured in the shot. He was the guard at the gate in the shot.

"We certainly could not let it go to the people with her killer standing there gawking at the camera. Otherwise it was a beautiful shot of her walking towards the camera through the gate and then away from the camera into the office. But Beant Singh spoiled the cinematics of it all,'' says Kumar.

Kumar says he can work over the Congress's queasiness at having Amitabh's voice-over in the commentary with the use of modern technology to mask it and use another voice artist, though the emotional rendering today might not be the same.

Not surprising, for no one can equal the tender emotion of Amitabh's tone in the film. In the end he asks what would Mrs Gandhi like the nation to call her. Mrs Gandhi smiles equally tenderly and says, "Maa".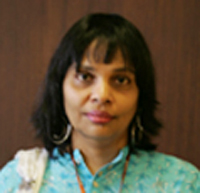 Sujata Anandan was brought to political reporting by an old-time editor, kicking and screaming. She soon began to have fun, though. Today that kicking and screaming is mostly directed at her — by the politicians she writes about, with rarely a good word for anyone (there could be exceptions). But she is never meaner or nastier than the subjects themselves and so lives to see another day, every day. Otherwise, she enjoys her job as the Political Editor of the Mumbai edition of Hindustan Times.
Video: Rare interview footage of Indira Gandhi