Is My City Dying?
Mangalore Today News Network
The story of Mangaluru's Degeneration

By S. Nandagopal with Ramesh Perla
Mangalore, Jan 1, 2015: We take pride in proclaiming ourselves on top of the list among most literate towns in the country. But we also have the highest cases of Malaria. We are queuing up to become a smart city without having footpaths and pedestrian crossings. Our businesses range from local to global but our market places are still dingy and congested. The costliest cars hit the roads every passing day but there is craving for proper parking lot. Welcome to the city of contrasts which boasts of a history of over 2000 years.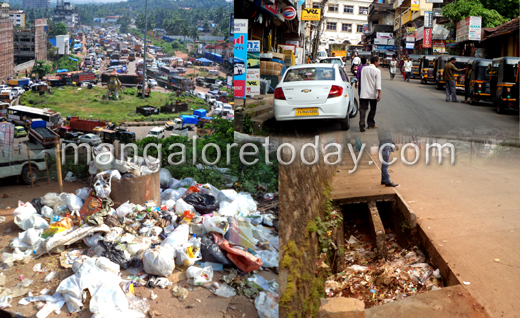 A testimony to this contrast is clear from the statement of Deputy Commissioner A B Ibrahim who on assuming office remarked that `the "unplanned" and "vision-less" growth of Mangaluru has led to a grim situation where the city will "die" if development could not be taken outside the present business areas of the city'. His statement on his maiden interaction with members of Kanara Chamber of Commerce and Industry after assuming office, is significant for the fact that he has seen it all since being the Commissioner of Mangalore City Corporation about 15 years ago.

The lack of town planning had led to numerous civic issues, including narrow roads, lack of footpaths, accumulation of debris and garbage. "With the city growing only between Kottara and Pumpwell circle, there is bottlenecks all the way", Ibrahim said.

Then came the observation of U. Ramadas Kamath, Executive Vice-President of Information Technology giant Infosys Technologies.

With bad infrastructure and connectivity, the government has ignored Mangaluru as a destination for growth of industries, especially the Information Technology sector. Mr. Kamath, who is also a member of the IT vision group in the State, recently opined that it was a "tragedy" that a "literate city" such as Mangaluru contributed just two per cent of the total IT exports from the State.

Train connectivity is bad. National Highway works are going on at snail's pace, city roads generally bad, airport connectivity being not satisfactory and airfare being fancy, makes Mangaluru a forbidden city for most techies who do not find progression or reason to shift to Mangaluru from Bengaluru, Mr.Kamath lamented.
There hasn't been a whisper from Mangalureans on developmental issues, who otherwise voice every trivial issues connected with cast, creed, religion, cow, dog and women. The 'Mainstream' Media, especially the electronic, has also not played a constructive role in this regard. It seems to be busy glorifying the said trivial incidents which only incite the public sentiments, often not in the interest of the societal harmony.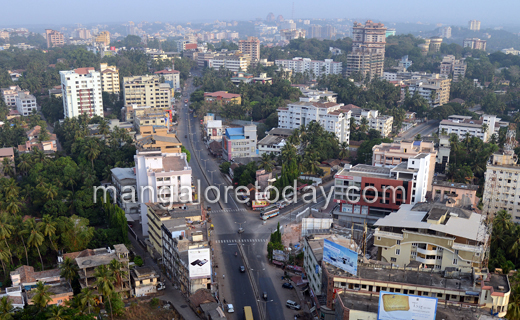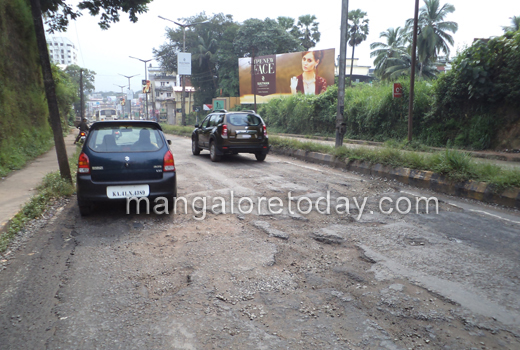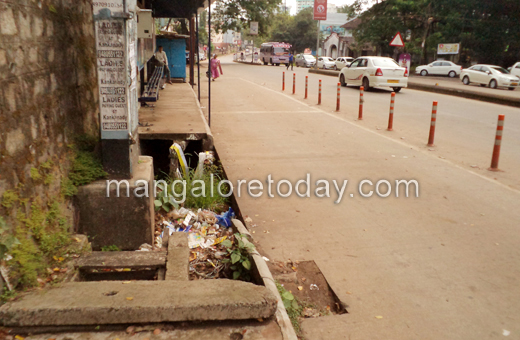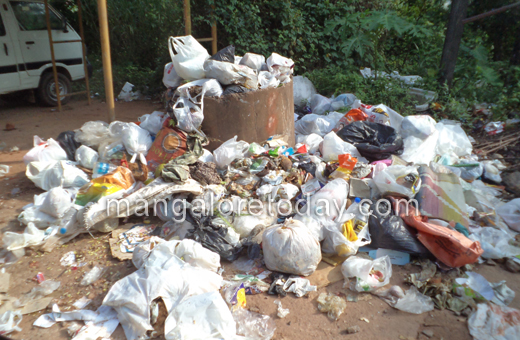 The so-called "people's representatives", pro active politicians of both the class- from publicity mongers to power brokers, the cool babus of the city (bureaucrats), the intelligentsia, youth brigades of different kinds and others who matter are surprisingly mum on the `Grim' situation that the Deputy Commissioner once referred to.

Viewing the present situation, an obvious question that comes to one's mind is – "Is Mangaluru a Dying City?"

The only visible attribute to the word `development' here, is the changing skyline that replaces the large spreads of coconut groves with multi-storied apartments. With concrete spirals of residential flats and a couple of malls here and there, there is nothing that can constructively explain the development of this B-tier city which is often wrongly construed as the fasted growing city in the state.

The historically significant port city is crying for a farsighted approach in city planning with restoration of lung spaces (Parks), decongestion of traffic, widened roads with proper shoulders and footpaths, clean and spacious market places, hawker zones, public toilets, bus shelters, multi level parking lots among a host of basic civic amenities.

In simple terms, this is a city where most of the facilities are temporary, may it be the bus terminus or the fish market places and even the Central Market. Even the maternity ward of the Lady Goshen Hospital functions temporarily following the goof-up by the authorities to demolish the hospital on a promise by a donor who later backed out.

Imagine a city without a full-fledged permanent City or Sub-Urban Bus Stand. While the City Bus Terminus encroaches the part of a motorable road, the sub-urban buses actually ply from a facility that is otherwise allocated for a Hockey Ground and was built as a temporary shelter 22 years ago. There is none to question though consistent lobbying and vested interests have time and again stalled the relocation of the bus terminus.

The list of woes for the city goes quite at length. The century old, British built Railway Station which is part of the city's heritage, is yearning for a facelift and modernisation. Sadly, the second railway station of the city, the Mangaluru Junction has been yet another eye sore to the city as its location remains ill connected by road to reach to different parts of the city. No one seems to be complaining.

Every other city in the world has its own classical parks and gardens for children and the elderly. But, Mangaluru has not only failed miserably to maintain its old parks in good condition but also develop new parks that could be much needed lung spaces in this fast changing city landscape. The infamous Kadri park and Tagore park are testimony to the pathetic taste of administrators of this city. Tagore park with Light House is now completely shadowed by a multi-storey commercial cum residential building without proper approach road or civic sense.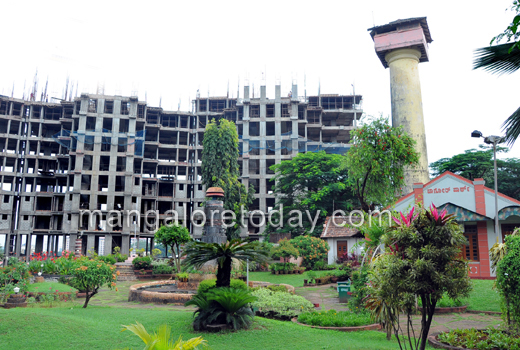 The state of affairs of most of the traffic circles is testimony to the gross lack of accountability and callous attitude of the people's representatives and the bureaucrats alike. Some of the circles are death traps for the motorists with vehicles clandestinely moving around with all rules thrown to wind.

There is hardly any respect and basic human rights left for pedestrians in Mangaluru city as there are 70% roads sans foot path and others encroached by petty merchants with the help of politicians and police. In the name of easing traffic in Hampankatta circle the City Traffic police completely ignored the poor pedestrian making him vulnerable in the hands of merciless drivers as there is no path way to cross the road from Wenlock Hospital to old bus stand area and vice versa. This is only one of numerous examples of literal Road Blocks.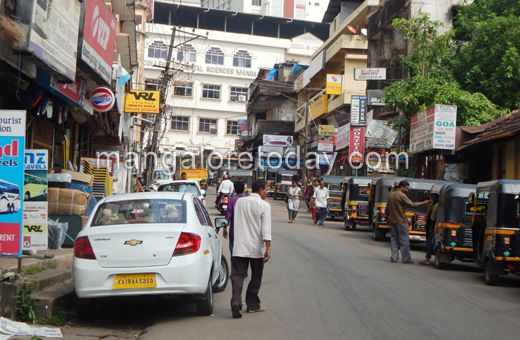 The four decades old issue of shifting APMC activities from old Bunder area to Baikampady APMC yard yet yield any desired result. The crores of rupees spent on the Baikampady yard and its dilapidated condition today, speaks volumes of enormous power that the wholesale traders of Bunder area command and the helplessness of the officials and politicians who have succumbed to the pressure.

"A city like Mangaluru requires not less than 100 toilets in various places. There is none in 24 hour live junction like Pumpwell. Forget toilets there are no foot paths to walk safely", says German returned former Vice Chancellor of Hampi Kannada University & Karnataka Open University and Scholar Prof.B.A.Vivek Rai.

The district administration, sub divisional magistrate and taluka offices are in pathetic condition and they could not build a taluka revenue office in a span of seven years. There was a talk of shifting of Deputy Commissioner office for the last two decades and nothing has moved an inch this far. The vast expanse of land at Bangra Kuloor which once was allocated to Mangalore Stock Exchange but now back with the administration was ideally suited for the purpose. Instead, the District in-charge Minister B Ramanatha Rai has recently indicated that the Deputy Commissioner's office complex would come up near Padil, the land in possession of the Forest Department. However, this too may end up as a miscalculated move.

It is actually the unholy nexus between the politicians and bus operators that is ruining the prospects of a better city life. To please a very small group of foot path vendors, scrap dealers, bus operators and a section of quick buck real estate agents, the politicians of this district are unjustifiably victimising more than six lakh law abiding citizens.

"Mangaluru City vies for development in right direction. But, What can I and you do in this situation?", asks Mohammed Badruddin, KPCC member and a strong contender for Chairmanship of Mangalore Urban Development Authority (MUDA).

The urban development activists opine that MUDA is also one of the reasons for the present day pathetic condition of Mangalore city. Large scale corruption, lack of structured town planning and vision, lack of pro-people policy, incapable nominated members and officials at the helm of affairs also contributed to the total collapse of system of urban administration, opine experts in town planning.

The incompetent officials in charge of Town Planning sections of both MCC and MUDA aggravated the problems of the city, opine senior official. If we are able to close down Town Planning section in MCC most of the problems will be solved, laments a senior Corporator. However, the political class chooses to remain silent.

Ineffective solid waste management: The lack of sanitation and in-effective solid waste management is another major problem facing Mangalore City Corporation as of now.

In Pune, the city corporation earns about Rs. 14 crore a year from urban wastes by converting biodegradable waste into manure and recycling non-biodegradable wastes. Here in Mangaluru, the authorities are spending not less than Rupees 11 crore per year for "Mis" managing the solid waste. All the relevant rules laid out under the Solid Waste Management (SWM) Rules 2000 have been violated under the very nose of officials of Karnataka State Pollution Control Board (KSPB), which is a much powerful body appointed to regulate pollution and three powerless so-called Environmental Officers appointed by Urban Development Department in the Mangalore City Corporation.

Except Pune City Corporation, for all others SWM is a golden goose to mint money by stinking the city with garbage spill all over the city. The Irony is that the Supreme Court itself through the High Court is supervising the implementation of SWM Rules by conducting Divisional level Lok Adalats chaired by a sitting High Court Judge. This Adalat, a quasi judicial hearing, deals with other pollution aspects including river and industrial pollution other than SWM. Even after Deputy Commissioner of each district submitting sworn affidavits before the Judge on behalf of all stakeholders, the officials concerned just do not bother to implement the SWM Rules. And, Mangaluru is no exception.

Mayor Mahabala Marla says that general public should also co-operate in dealing with garbage problems of the city. "We had elaborate meeting with Central Market merchants in order to keep the market surroundings clean and dispose the solid waste in time", he remarked.

Now, the City Corporation has agreed to shell out more for Swachcha Mangaluru from Rs 11 to 17.62 crores and appoint a Mumbai based company for solid waste management of the city and three shorelines of Mangaluru. The company will take up door-to-door collection of garbage and look after transportation, street sweeping, divider cleaning, vegetation cutting and other sanitation work from this December for seven years.

But, some of the officials in the urban development department are sceptical of success of garbage disposal by the new company as they are bound to face resistance from those contractors who are disgruntled over losing their garbage disposal contracts.

But, the big question is - Where have the Asian Development Bank (ADB) funded Karnataka Urban Development and Coastal Environment Management Project (KUDCEMP) funds gone?. Of the Rs 420 crore fund sanctioned for Mangalore city Rs 30 crore is said to have been spent on SWM in Mangalore city alone. But, the end result is pathetic.

When the second round of ADB funded SWM and other projects proved futile the government is contemplating Rs. 450 crore KUDCEMP phase two project with ADB loan, while first phase of KUDCEMP - Under Ground Drainage project warrants Central Vigilance Commission (CVC) monitored Central Bureau of Investigation enquiry. In reality, the UGD network in Mangalore is yet to be fully commissioned.
City Mayor Mahabala Maarla has initiated a slew of works from widening of 22 roads to up-gradation of 19 traffic circles (see boxes) and construction of vertical parking space in old Hampankatta Bus Stand site, improvements of some of the busy markets, clearing of encroachments including demolition of building with large scale violations.

Marla also points out lack of sufficient number of officials and staff including full time commissioner and huge amount of fund for major projects.

The administrative set up in the MCC needs to be strengthened by delegating duties and establishing full fledged zonal offices with adequate powers. Presently, most of the powers are vested in the hands of Commissioner and Town Planning officer. Even the zonal commissioner who is working in the Corporation has not been delegated powers and duties.

Is there any hope of revival of developmental works in the city? This is a million dollar question. The long list of developmental works announced by Mayor and work allocation to MUDA along with some of the initiatives, has rekindled a ray of hope for better living space in Mangaluru city. But, major works like bus stands, markets, parks etc require greater emphasis. The city is crying for pro-active political leaders and responsible citizen groups to see a better tomorrow.


Reaching the 250 Mark
The records from the past reveal that Mangaluru has a history of 228 Years of Urban Administration. Municipal Council of Mangalore came into existence on 23rd May 1886 with the ratification of the Madras Town Improvement Act in 1865.With 7 members as public representatives constituting the Municipal council, the Vice President assumed the role of the Administrative Officer.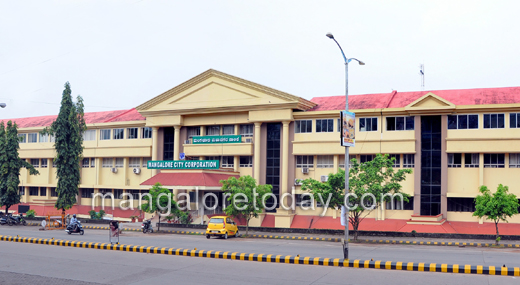 The population of Mangaluru city was estimated to be around 28,000 as in 1866 with dwellings numbering 6,619 houses within the Municipality limits.A general purpose dispensary was established in the year 1868, located at the Lady Goshen Hospital.

Mangaluru turned into a City Municipality in the year 1920 and continued to be so till the constitution of The Mangalore City Corporation in 1980. The Corporation limits constantly expanded with the inclusion of Surathkal Town Municipality, Baikampady, Panambur, Kulai and Hosabettu villages in 1996. During the year 2002, the Corporation limits extended further to villages of Kannur, Bajal, Thiruvail and Kudupu on the eastern side.


Facelift for Traffic Circles
Traffic congestion is a major challenge that Mangaluru encounters. Karangalpady, Kankanady and Karavali junctions which face frequent traffic bottlenecks are among 19 traffic junctions in the city which the Mangalore City Corporation (MCC) has proposed to develop with an estimated approved budget of Rs. 13.69 crore. The other circles identified for development are Rao and Rao Circle; Clock Tower junction; Lower Bendoor junction; Kavoor junction; Circuit House junction; Navabharat junction; Avery junction; City Hospital junction; PVS Circle, Bunts Hostel Circle, Mallikatta junction, Hampankatta junction, Ambedkar (Jyothi) Circle, Bondel junction and Nandigudde junction.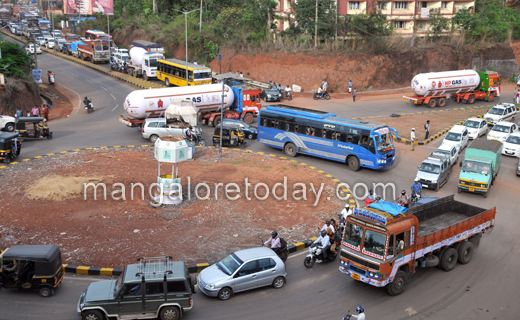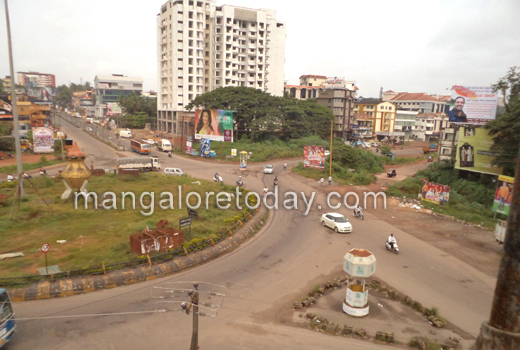 Nirmiti Kendra would take up the widening works of the PVS and Hampankatta junctions and Ambedkar Circle. The Council of MCC which met recently has resolved to develop these junctions using the FAR (Premium Floor Area Ratio) Fund. The Fund has been collected from buildings adjoining roads leading to these junctions.

A sum of Rs 2.26 crores is likely to be spent on three major circles. Of the total amount, Rs 76 lakh is likely to be spent for development of PVS Junction, Rs 80 lakh on Ambedkar(Jyothi) Circle and Rs 70 lakh on Hampankatta Junction.