Illegal banners - The Bane of Mangaluru
Mangalore Today News Network
Mangaluru, May 12, 2017: Section 3 of the Karnataka Open Places (Prevention of Disfigurement) Act, 1981 states as below:
"Whoever by himself or through another person, affixes to, or erects, inscribes or exhibits on any place open to public view any advertisement without the written permission of the local authority having jurisdiction over such area, shall be punished with imprisonment of either description for a term which may extend to six months or with fine which may extend to one thousand rupees or with both."

This literally means that anyone who puts up a banner or a flex board in public places without consent from the local administration will face imprisonment or penalty. But, how far this Act has been implemented in letter and spirit ? It can be stated without an iota of doubt that the authorities here in Mangaluru have given a pleasant go by to this Act by allowing the illegal banners, flexes and posters to dot the city's landscape, no matter the inconveniences caused to pedestrians and motorists alike.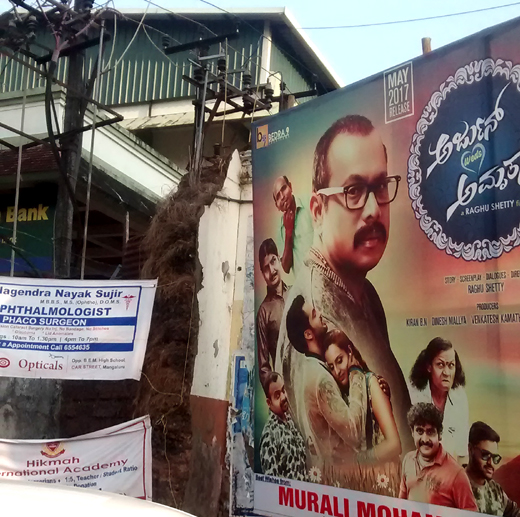 Time and again the authorities, particularly the MCC has been pressurised to remove the illegal banners and hoardings. There have been action at times, but mostly the corporation has preferred to sit over the problem.

Mayor Kavitha Sanil who took charge in March had promised a drive to clear all illegal banners and hoardings, but nothing much is coming through.

Cleanliness activists who are on a Clean Mangaluru drive recently along with an NGO named Ugly Indians tried to wake up the MCC from its slumber, by removing all illegal banners near Lalbagh and dumping it in front of the MCC office.

Banners have been a bane not only to Mangaluru but to many cities. There have been times when some colourful banners and hoardings have distracted the drivers' attention also posing danger of accidents.

"Is there any road that is free from hoardings and banners in the city? The Karnataka High Court had posed this question to the BBBMP a couple of years ago while hearing a petition seeking action against illegal banners and flex boards. The question seems to hold good even to Mangaluru where there may not be a single road free of this menace.

The unbridled use of city spaces is shocking and citizens have thin hopes of getting relief from the almost pervasive ugliness of their city. Illegal hoardings are a round-the-year problem in all cities. Be it a religious function, arrival of a political leader, a festival, a new appointment, banners come up in no time, mostly without any requisite permission, thanks to the apathy of the authorities.

And do not forget, getting these colourful posters or banners done is no big deal and a couple of witty sentences or slogans and photographs are all that is needed to get them ready, provided the payment is made on time to the banner makers.

Thus banners appear in various places overnight taking undue advantage of the blind eye turned by the authorities who speak big about beautifying the city, but do nothing much on ground to translate their words into deeds.

While mentioning of the banner menace, one has to also say about the failure of the administration to implement the plastic ban effectively. Though a systematic, modern garbage collection and management system is launched, it is a pity that several street sides are still littered.

If this is the case in Mangaluru city, the situation elsewhere in the district, is not worth mentioning. Heaps of wastes are strewn alongside the highways as also on several stretches of roads. It is also shocking to know that most gram panchayats in the district do not have garbage dumping yards with many stating that the places chosen by them face opposition from locals.

Though Swachha Bharath campaign is underway in full thrust in many areas, the bitter truth is that the campaign can succeed only when there is public co-operation. If people continue to litter public places after a cleanliness drive, then the very purpose is defeated.

It is only awareness that can work towards a clean city and clean district. Awareness at the school level against littering in public places is also a must.

A city can be clean only when its citizens make up their minds. It is a collective responsibility and each and everyone should realise this and acts accordingly. The issue of illegal banners too need to be taken seriously by the city people who should remind their respective corporators about the menace and prevail upon them to raise the issue in the Corporation meet and ensure that MCC gets into action.