IFFI Goa 2014 - Film Bazaar Review
Mangalore Today News Network
By Madhusudan Kumar
Goa, Dec 2, 2014: 45th International Film Festival of India (IFFI)-2014 was inaugurated by India's Super Star Amitabh Bachchan. He ended his speech with a poem by his father, Harvanshrai Bachchan. His father he said, used to watch a film every day and when asked why did so, he replied," Son, films offer 'poetic justice', which in reality we would never experience in our lifetimes!" The opening film was 'The President' by Iranian Director Mohsen Makhambahl, whose films' package was one of the most sought after retrospectives of the film festival, along with those of veteran Polish Director Krystoff Keizlovsky and South Korean Director Jean-Soo-il. Tamil Nadu mega Star Rajnikant was hunoured with 'Centenary Award' for 'Indian Film Personality of the Year', with a cash prize of Rs.10 Lacs, Certificate, shawl and Peacock Medal.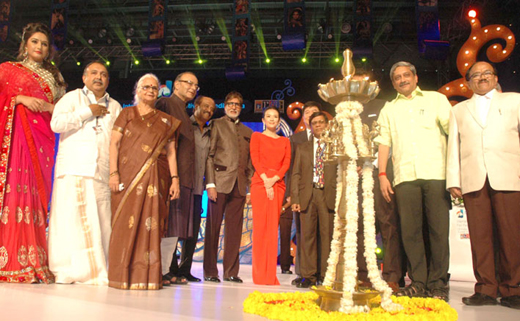 As a special tribute to the late Richard Attenborough, his 1983 Academy Award record breaking film 'Gandhi' was screened by IFFI. The International films showcased many gems, including Mike Leigh's 'Mr. Tuner'- a poignant biography of great marine artist William Turner. Many films dealt with the theme of the protagonists searching for their roots or a parent, which reflects the human aspects in a changing world. Films from France, Japan, Turkey and Greece were screened for packed houses. The film by Germany's director Wim Wenders was big draw.

Among the Indian Diaspora of films, biopic 'Lokamanya - Ek Yugpurush' by Om Raut and 'Dr Prakash Baba Amte -The Real Hero' by Samruddi Porey, regaled the Delegates for their forceful depictions by actors like Subodh Bhave and Nana Patekar respectively. 'Swapaanam' by Shaji N Karun was an acclaimed film, along with Rajat Kapoor's 'Ankhon Dekhi', Avinash Arun's 'Killa', Mahesh Limaye's 'Yellow'. Rajendra Talak's 'Rainy Day', Jeethu Joseph's 'Drishyam' and Ananth Narayan Mahadevan's 'Gouri Hari Dastaan'. The other films in the 'Panorama' were 'Njaan', 'Munnariyippu', 'Jodi Love Dile Na Praane', 'Njaan Steve Lopez', 'Othello', 'Adim Vichar'. 'Bodhon', 'Ri: Homeland of Uncertainty', '1983', 'Punashcha', 'Kuttram Kadithal', 'Teenkahon', 'December -1' and 'North 24 Katham' . There were seven Marathi films in the 'Panorama' superseding the numbers of Malayalam films for the first time!

Assam's leading light, director Jahnu Barua's retrospective of eight films was a highlight of IFFI.

INDIAN PANORAMA 2014 was inaugurated with the Marathi film 'Elizabeth Ekadashi' by director Paresh Mokashi. 'Chotedar Chobi' (Bengali) by Kaushik Ganguly and 'Ek Hazarachi Note" (Marathi) by Shrihari Sathe was in the 'Competition Section' of IFFI.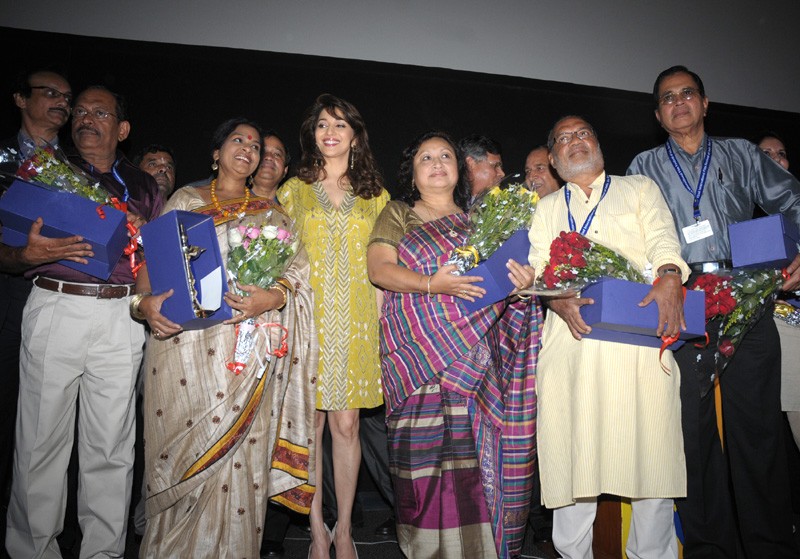 NFDC FILM BAZAAR has once again lived up to its charismatic endeavors by inviting film personalities from India and overseas countries for fruitful cinematic interactions! Film makers of yore like Gulzar, Shekhar Kapoor, Vishal Bharadwaj and Karan Johar enthralled the Delegates comprising of Investors, Producers, Directors, Writers, Actors, Technicians, Distributors, Exhibitors and the members of Electronic and Print Media, sharing their experiences and wisdom. Shekhar Kapoor gave an example of great singer Nusrat Fateh Ali Khan to find one's own self within, while connecting to the unknown. Karan Johar was quite forthright while stating that one needs the support of a Studio or Corporate House to realize one's dream in the current scenario. Producer- Director Shona Urvashi, Producer Nittin Keni of Zee Vision, Director General of Films Division, V.S. Kundu, Film maker Shabnam Sukhdev, representatives of 'Fox Star Studios', representatives of 'Zee Vision' and a host of others interacted with UK Critic Derek Malcolm, Lab Mentors Marco Mullar, Philippa Campbelli, Sumin Park, Francesca Calvelli and Gabor Greiner. NFDC Managing Director Nina Lath Gupta played the perfect host. She was ably supported by Shahab Narain, Raj Chinnai and Manas Malhotra of NFDC.

'The Lunchbox' by Ritesh Batra, 'Ship of Theseus' by Anand Gandhi, 'B A Pass' by Ajay Bahl and 'Miss Lovely' by Ashim Ahluwalia - All four successfully released films owe their origins to the FILM BAZAAR and 'Screen Writers Lab 2011'.

Nitish Bharadwaj, Sudhir Mishra and the international Market delegates attended special screenings of films like 'Elizabeth Ekadashi', 'Badlapur Boys' 'Vishwanath Master' and others. The J.W. Marriot Hotel hosted the many stalls put by film production and technical firms like 'Prasad' and 'Ultra' showcasing 3D technology.

Shankar Mohan, Director- DFF/IFFI- announced the approval and commencement of the futuristic IFFI Infra-structure to be built at Dona Paula, Goa. As the film festival is growing from strength to strength, with more numbers of people participating every year, it is imperative that the new venue would host the event under a single umbrella. It would felicitate the film lovers of India and elsewhere to immerse in their favourite cinematic areas and activities, whether of viewing films, talking part in 'Master Classes', participating in 'Open Forum' or delving in 'Film Bazaar', 'Press Conferences' ,'Media Interactions' and 'Star Interviews'.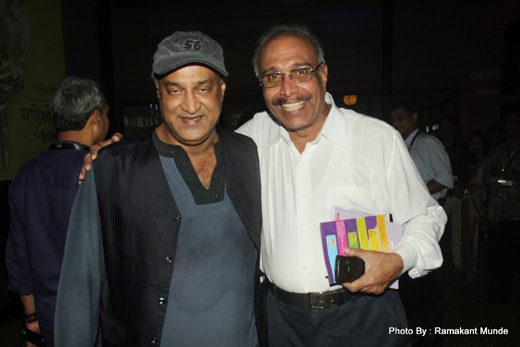 The 'Entertaining Society of Goa' (ESG) was the backbone of IFFI, whose relentless efforts to deal with the beeline of cineastes for the day passes. 'Marquinez' - 'INOX Multiplex Complex', at Panjim, Goa, was bustling with glamorous activities, animated discussions, along with food and beer at the assorted food stalls, including Goa delicacies. 'Kala Academy' screened films from China, Ireland, Russia and host of European countries to packed houses.

Russian director Andrey Zvyaginstev's survival drama 'Leviathan' won the coveted 'Golden Peacock'. Laviathan Star Alexel Serebriakov shared the best actor award with Dulal Sarkar for his double role in the Bengali film 'Chotodar Chobi'. The awards were presented by the Minister of State for Information & Broadcasting, Rajyvardhan Singh Rathod and actor Jackie Shroff.

The best actress award was shared by Cuban actress Arina Rodriguez for film 'Behaviour' and Israeli actress Sarit Larry for film 'Kindergarten Teacher'. The award was presented by Union Defence Minister Manohar Parrikar and veteran actor Nana Patekar. Nadal Lapid was adjudged best director for 'Kindergarten Teacher'.

Debutant director Shrihari Sathe's 'Ek Hazarachi Note' set against the backdrop of farmers' suicide in the Vidharba region of Maharashtra, created history at IFFI by winning the 'Centenary & Special Jury Award'.

The 'Lifetime Achievement Award' was presented to filmmaker Wong Kar-wai, known for his films like 'In the Mood for Love', 'Ashes of Time' and 'Chungking Express'. The internationally renowned auteur dedicated the recognition to his wife Chan Ye-ching. He said "I am humbled and honoured that my movie 'The Grandmaster' is the closing film of the festival. It's a great honour and a surprise. I hope it is not a sign for me to retire." he joked.

Arun Jaitley, Union Minister of Information & Broadcasting, Bimal Julka, Secretary, Ministry of Information & Broadcasting, Nirupama Kotru, Director (Films), Ministry of Information & Broadcasting attended IFFI GOA.

45th International Film Festival of India (IFFI Goa - 2014) organized by the 'Directorate of Film Festivals, New Delhi, Govt. of India', in tandem with 'Press Information Bureau (PIB) , Ministry of Information & Broadcasting - 'Entertainment Society of Goa' (ESG) and 'National Film Development Corporation of India' (NFDC) would be cherished by one and all!