George Fernandes - Treasures in SAC Library
Mangalore Today News Network
Compiled by I. J. Saldanha Shet
Mangalore, March 20, 2013: George Fernandes- the towering personality and great son of the soil needs no introduction. He is an iconic labour leader, politician, the brain behind the Konkan railway and the first Mangalorean to become Defence Minister twice.

On March 11, 2013, a virtual treasure trove, a collection of Books, writings, documentation and so on numbering more than four thousand were securely inducted into St Aloysius College Library and a formal inauguration was held. It was indeed a red letter day for the institution. The only sad part is that a lion heart called 'George' is ailing for some time now. The thoughtfulness of the donation is beyond words.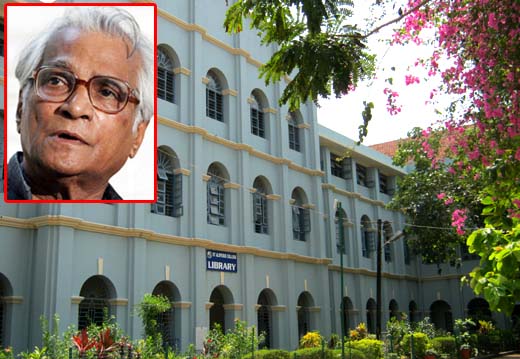 Here, it must be recorded that the generous gift to the intelligentsia of this region was made possible by three key personalities. Smt Laila Kabir, wife of George Fernandes, his trusted right hand and representative Sri Freddy D'Sa President of the Bombay Auto Rickshaw Drivers Association, Mumbai and last but not least legal and social luminary of Mangalore Clarence Pais.

This elder denizen explains how the great fortune came home, Chev. Clarence Pais, Advocate and Notary and a close associate of George Fernandes said, " My good friend Freddy D'Sa a trusted and empowered part of the Fernandes family at the word of the ailing George and his family members decided to donate the huge library and in particular "Record of Indian Parliamentary Proceedings" spanning about half a century and many other precious books/documents to a Catholic Institution of Mangalore. I considered Milagres Church/Parish for a Vatican type library at a time when it's centenary celebrations were in full swing - however, there was no positive response. This was a matter of great value. I immediately suggested St Aloysius College of which my friend and college mate George was ever proud as a past student; it was without hesitation accepted and appreciated by all concerned on both fronts. The idea was supported by the College Rector Rev Joseph Rodrigues S.J in consultation with Rev Swebert D'Silva S.J the Principal.Time went by to make proper space in the library and arrange for safe display cupboards with the Donors name and so on shown adequately and that day was Monday March 11,2013 of sacred memory".

A formal function marked the day; Fredrick D'Sa, Clarence Pais were the chief guests, who were suitably honoured. A large gathering was present.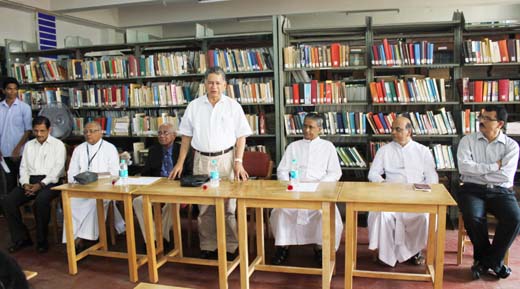 The donation of nearly 4000 books to St Aloysius College, the premiere education institution of the region, will prove to be a precious legacy to many generations to come. It will be a personal blessing from a great statesmen of India, whose roots are in Mangalore. Further, this was his 'Alma Mater' and moreover George's father J J Fernandes was a teacher at St Aloysius for some time.

The library got it's existing shape when the "Coelho Block" saw completion in March 1998. The main library has over 80,000 books and receives 160 journals. Completely automated, bar coding system is in use for movement of books. Catalogues and services are available on computer. The library has a reading room, a periodical section, and computer browsing and Internet facility for students and a reference section. Many rare books are preserved, oldest being the Christa Purana manuscript of Fr. Thomas Stephen dating back to1610 and the like. This library is a choice for historians for historical background of South Canara.

Recalling Tagore's words, "Man takes pride in costly treasures...among his possession. Of far greater value are the treasures of the store house of memory... That man is truly poor whose memory has stored little that is of lasting value". The donors collection consists

of a dozen subjects and over 35 subheads in different languages. Titles on India, Defence, Religion, Human Rights, Poverty, Women, Scams, Corruption, Labour, Railways, Languages, Biography, history and Geography, Gandhian thought, National leaders.. are some of the subjects.

Mangalore has truly become richer by this great gesture of a son-of-the-soil.