Yettinahole project benefiting only contractors and politicians, says Dinesh Holla
Mangalore Today News Network
Udupi, Sept 22, 2019: Dinesh Holla, environmentalist, said on Saturday that the Yettinahole project was benefiting only contractors and politicians. He was speaking at an interaction programme at the Udupi Press Club.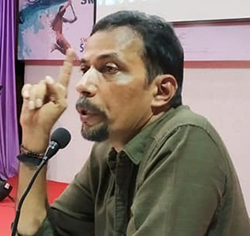 Mr. Holla said the Yettinahole project was being implemented overlooking objections from scientists. It would not benefit the people of the parched districts of South Karnataka for whom it was intended because of its unscientific nature.

It was also going to create more drinking water scarcity in Dakshina Kannada district. The way the Yettinahole project was being implemented it would take at least 25 years for it to be completed.

In short, it would be like the Varahi Irrigation Project in Udupi district, the first phase of which was completed after about four decades. All political parties were equally responsible for the Yettinahole project, he said.

It was time the people of Dakshina Kannada started questioning the elected representatives on the Yettinahole project.

The decline in agriculture and horticulture in the district could be one of the reasons for the lack of strong opposition to the project.

Whereas in case of Cauvery water and Mahadayi project, the opposition was strong as farmers there were totally dependent on it, he said.

Instead of Yettinahole project, the government should give importance to rejuvenation of lakes in the parched districts of South Karnataka. Such a move would provide a solution to the water woes there than the Yettinahole project, he said.

To a query, Mr. Holla said had the Union and State governments accepted the Madhav Gadgil Report on conservation of Western Ghats, the kind of devastation leading to loss of life and properties due to massive flooding seen in the districts of North Karnataka and Kodagu in the State, Maharashtra and Kerala this year could have been avoided.

The timber mafia, resort mafia, ganja mafia and reckless construction of resorts and homestays have been responsible for the destruction of forests in the Western Ghats.

It was over a month since the massive destruction due to floods, but the State government had still not ordered any scientific study on this matter, Mr. Holla said.

Courtesy: The Hindu


Write Comment
|

E-Mail
|
Facebook
|

Twitter
|

Print