Yenmakaje: Annual Pilichamundi Nemotsava held in grandeur.
Mangalore Today News Network
Perla, Kasaragod, March 5, 2019: The annual Pilichamundi Nemotsava of Yenmakaje was held with traditional fervour and passion at Yenmakaje near Perla in Kasargod district on Monday, March 4, 2019. It is a five day traditional festival starting from March 01 till March 05. The fourth day, the Pilichamudi Daiva comes riding a Pili (Tiger) to the People and listens to their woes and bless them and promises them his protection in the times to come.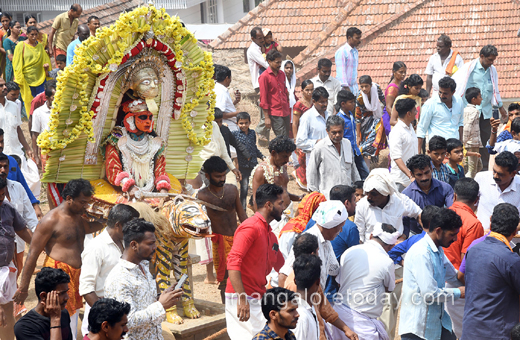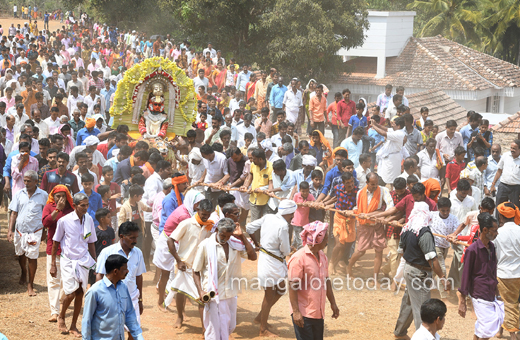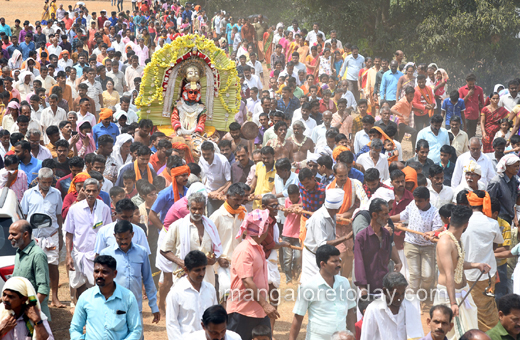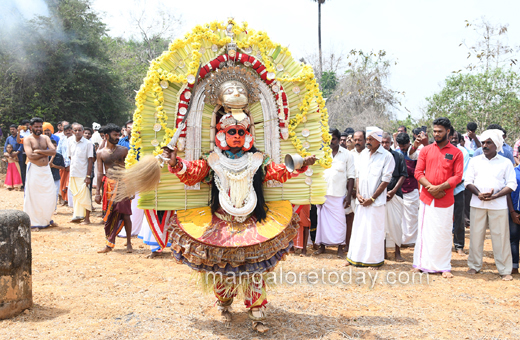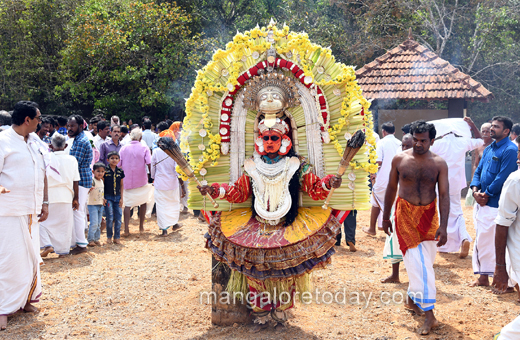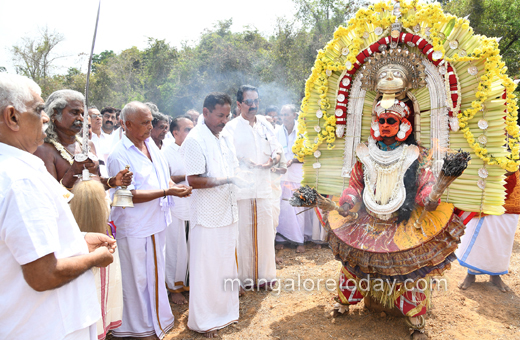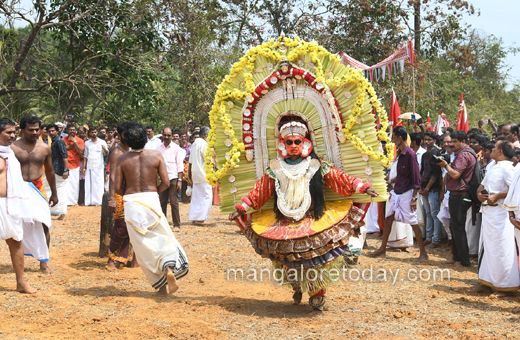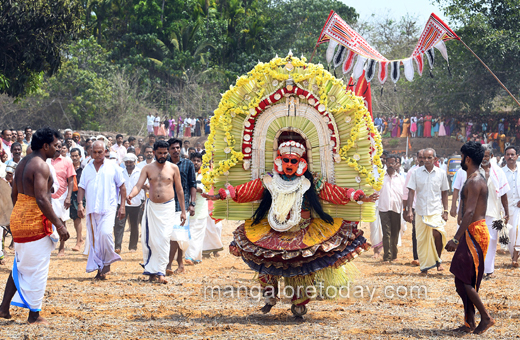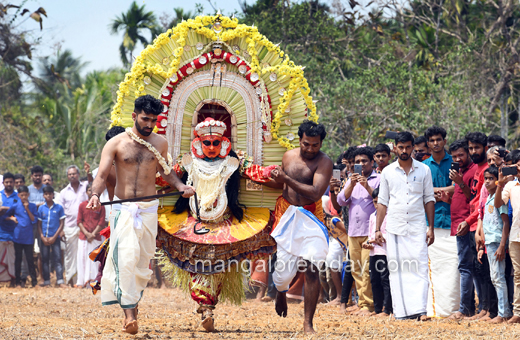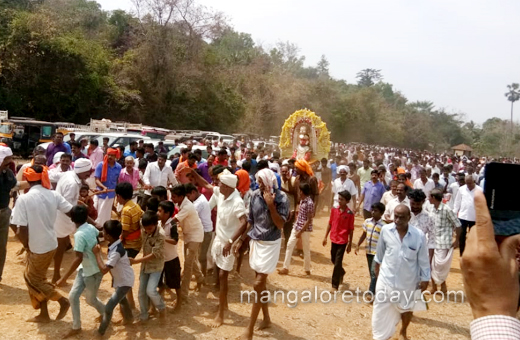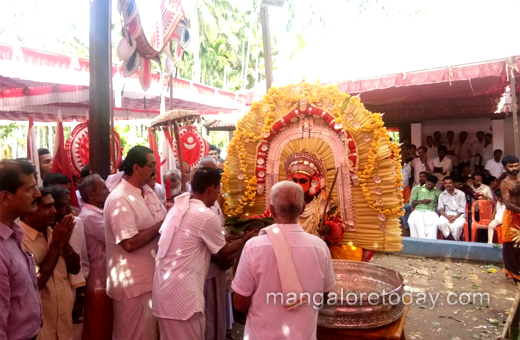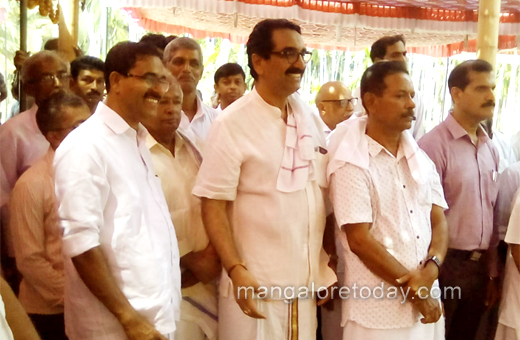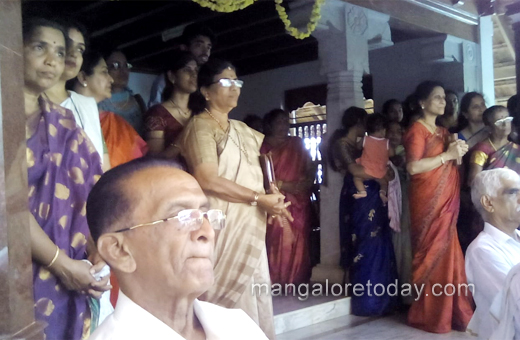 Yenmakaje is the hometown of Sudhir Kumar Shetty, President, UAE Exchange. His family has been organizing the festival since time immemorial.

Devotees from Perla, Seraje, Poovanadka, Katukukke, Padre, Sheni village of Yenmakaje Panchayath area came in large number to witness the Nemotsava. People from surrounding area and far and wide places like Kasaragod and Mangaluru participated in the Nemotsava and sought the blessings of Pilichamundi Daiva and receiving Sirimudi Arasina Prasada. Many devotees pleaded solace with Pilichamundi (Shree Vishnu Murthy) Daiva and Daiva offered words of wisdom and blessed them all his invisible support for them throughout their life.
Manjeshwara MLA Mr.P.B.Abdul Razak, Ex MLA, Mr.Kunjambu and many eminent personalities were present and sought the blessings of the Daiva. The 'Nemotsava' of Raktheshwri and Parivara Daivas was also held with much fanfare and grandeur as part of the five-day religious festivities at the Yenmakaje Beedina Mane, once the residence of Village Head.

The Nemotsava is performed in the first week of March every year under the headship of Yenmakaje Vishwanath Rai who represents the entire clan at all functions and religious ceremonies. Nemotsava became an annual event in 2004, when the temple, which was destroyed in a fire in 1994, was reconstructed under the support of Mr.Sudheer Shetty and his family members. During the course of the five-day event, meals and refreshments are served to the guests and locals.

Since times immemorial, Daivas of Enmakaje used to be worshipped by many Daiva Banas in Yenmakaje and Bedrampalla in Kumbla-Perla road. This used to be followed by Bedrampalla cock fighting and fair for five days and was one of the major festivals of the region. However, things were not the same for a few decades owing to rules and regulations of the administration.

Villagers are now immensely pleased with the Pilichamundi and Parivara Daiva Nemotsava being held every year.



Write Comment
|

E-Mail
|
Facebook
|

Twitter
|

Print