Yakshamangala gears up for full-fledged performance
Mangalore Today News Network
Mangaluru, Oct 5, 2016: As per reports it is noted that Yakshamangala, the yakshagana troupe of Mangalore University students, mentored by the Dr P Dayanand Pai and P Sathish Pai Yakshagana Study Centre, are keen for its full fledged performance and the preparations are in progress. During the current year, the third batch of students of Yakshamangala Yakshagana troupe are undergoing training at the Yakshagana Study Centre in Mangalagangothri.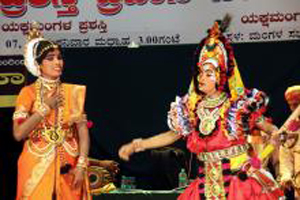 Yakshagana Study Centre convener and Kannada department assistant professor Dhananjay Kumble said the training will be for the duration of two years and goes hand in hand along with the academics. Sadashiva Shettigar and Jeevith Kotian are training the students. The troupe comprises both first and second year students. Small groups comprising senior and junior students are formed. One senior student in each group will monitor the practice sessions.

After 2 weeks of training, they will be assigned the characters to be performed in the play. Later, the training will be held once in a week. The students attain training between 4 pm and 5.45 pm. The training is imparted in terms of dance, make up and also review writing. The students will be involved in various activities of the centre, such as workshops and exhibitions. They will assist the project of creating a database of yakshagana artistes including amateur artistes, carried out by the Yakshagana Study Centre. The centre will award them a certificate after the completion of the training. University vice chancellor and registrar have been providing the timely guidance.

He said that the members of Yakshamangala troupe are also provided opportunities to perform both inside and outside the campus. Last year, the troupe had performed in the campus fests and also in Madanthyar. This year, yakshagana play 'Panchjanya' will be performed by troupe at Vidyarashmi Institute campus in Savanoor on October 15, during the 'Janapada Samskruthi Utsava' organised by the department of Kannada and Culture.

This time, there is a target to form a troupe of 100 students. There are plans to train students in Bhaghavathike (vocal accompaniment) and also maddale and chende accompaniments, Kumble said.

Dr P Dayanand Pai and P Sathish Pai Yakshagana Study Centre's research assistant Sathish Konaje said that now the troupe has around 75 students altogether and among them, 15 students have performed in the yakshagana plays organised by the centre last year. Girl students have outnumbered the boys. More students will be part of the troupe shortly.

The arlier two batches, only those students who had the background and primary knowledge of yakshagana were taken in for the troupe. But this time, all the students who are interested are given a chance. Applications from new students of the campus have been pouring in, Sathish added.

Write Comment
|

E-Mail
|
Facebook
|

Twitter
|

Print