Yakshagana in temples to rest after Besa month in monsoons
Mangalore Today News Network
Mangaluru, May 25,2017: Yakshagana troupes will rest from performances in temples and so on, after Pattanaje, the 10th day in the solar month of Besa (Vrishabha Maasa), which was on May 24, Wednesday.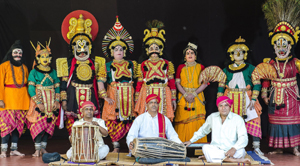 Starting the day of Pattanaje, the 'Nityabali' rituals in the temples and demi god-related rituals in the coastal regions too will come to a halt till the end of the rainy season.

Other than by professional and amateur troupes, Yakshagana performances are also organised by the devotees as offering to the deity, in order to fulfil their vows. Troupes generally move from place to place performing the plays.

To propitiate Goddess Sri Durgaparameshwari, the Kateel temple presiding deity, devotees pledge organising Yakshagana performances by the Kateel temple troupe if their prayers get answered. The Kateel temple has six troupes and the performances are booked till 2025.

"Performances by the Kateel Sri Durgaparameshwari Prasadita Yakshagana troupe holds the audience in awe for its spiritual value. People do not miss an opportunity to watch the offering performances by the Kateel troupe. Such plays will he held the whole night and are not time-bound," said the Temple's Sri Durga children's Yakshagana troupe manager Haridasa Asranna.

A time for rest: Pradeep Kumar Kalkura, president of the Dakshina Kannada district Kannada Sahitya Parishat and the Kalkura Prathishthana, told media that the Yakshagana performances by the Temple Yakshagana troupes as a part of 'Thirugata', chained programmes and 'Harake Yakshagana Mela' are booked by devotees but will commence only after the end of the rainy season. The period between Pattanaje and the end of monsoon season is considered to be the resting time for the artistes.

"During one of the three days immediately after Pattanaje, the last performance for the season is traditionally held by a troupe on the temple premises itself. But, this will be purely an offering to the Lord ('Seveya Aata') and not commercially orientated. The artistes perform for free and the play is conducted by the temple itself. At the Kateel temple, all the six troupes will perform on the temple premises, starting 8 am on May 27. The date of the last performance of the season is decided as per the temple traditions and hence differs for various temples. The process of ending the performance of the season is referred to as 'Mela Olage Hoguvudu' and the restart as 'Mela Horage Baruvudu'," explained Kalkura.

After the end of monsoon, an auspicious time (Muhurtha) is chosen to restart the Yakshagana troupe performances. The time generally falls between September and October, Kalkura added.

Write Comment
|

E-Mail
|
Facebook
|

Twitter
|

Print