Yakshagana art forms should not be tarnished by experiments
Mangalore Today News Network
Mangaluru, April 18,2017: Speaking after receiving Yakshamangala Award 2016 with three others at Mangala Auditorium at Mangalore University here on April 17, Monday. Senior Yakahagana artiste, critic and scholar Dr M Prabhakar Joshi held forth the caution that unnecessary experiments in Yakshagana are affecting the traditional folk art form.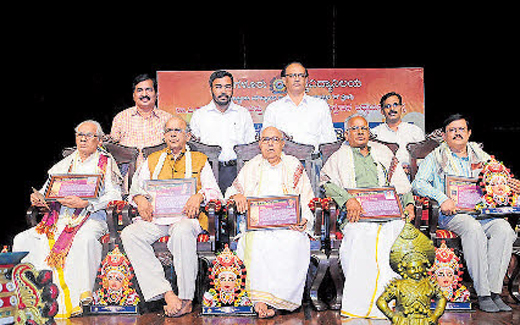 "Yakshagana provides a lot of scope for creative experiments. But artistes should take care that these experiments should not affect the art form by deviating from its original framework. It is necessary for various components to be proportionate," he said.

Joshi advised the university to start a diploma course in Yakshagana. He said he has drafted syllabus for the course long ago.

Yakshagana Study Centre convener Dr Dhananjay Kumble said the centre is providing training for postgraduate students of the university campus and has also formed a team called 'Yakshamangala'. The centre is equipped with a museum and library for research purposes. Thirteen books on Yakshagana have been published so far, he added.

Mangalore University SVP Kannada Study Centre professor Dr K Chinnappa Gowda said Yakshagana is a national art which took literature to public space. The literature in Yakshagana has poetic value and is also included in the syllabus, he noted.

Alva's Education Foundation Chairman Dr M Mohan Alva, who was the chief guest, lauded the contribution of Dr P Dayanand Pai and P Sathish Pai, the patrons of the Yakshagana Study Centre, who have set an example by showing that even private entities can contribute to the development of art.

Alva requested the university to include Yakshagana in degree syllabus and start a course on it. He batted for a cultural and sports policy by the government.


Yakshamangala awards

Mangalore University Dr P Dayanand Pai and P Sathish Pai Yakshagana Study Centre presented Yakshamangala awards to Balipa Narayana Bhagawat, Dr M Prabhakar Joshi, Airodi Govindappa and Gopalakrishna Kurup.

Yakshamangala Kruthi Award for the work on Yakshagana was conferred on Dr Vasanth Bharadhwaj for his work 'Yakshagana Kavi-Kavya Vihara'.

The awards comprises of a purse of Rs 10,000, a citation and a memento.

Registrar Prof K M Lokesh and Dr P Dayanand Pai and SVP Kannada Study Centre's Dr Rajashree were present.

Yakshamangala, students Yakshagana team of the campus performed the Yakshagana play 'Panchajanya' in the evening.

'Uphold sanctity of the art'


Dr M Prabhakar Joshi said a practice has been followed these days to make Yakshagana artiste perform a piece during stage functions such as felicitations, to greet the achievers. Also, Yakshagana songs are also composed with special lyrics for the occasion. This is not proper with respect to the sanctity of the art, he said.

Yakshagana artistes will enact God's characters and they bowing before the awardees will not be appropriate. The art should not be used to praise the awardees. The performance can be held separately to honour the awardees, Joshi said.

His comments came on the wake of a Yakshagana performance by two students during the presentation of Yakshamangala Awards.

Write Comment
|

E-Mail
|
Facebook
|

Twitter
|

Print