Xavier Trust holds endowment Lecture on 'Entrepreneurship'
Mangalore Today News Network
Mangaluru, may 19, 2016: Xavier Educational Trust (Regd) has set up a "Late Rose and Sebastian Vas Memorial Charitable Fund" hosted a Memorial Service in honor of Mr. and Mrs. Vas and also an Endowment Lecture on Entrepreneurship by Gerald Colaco, Partner - Financial and Investment Consultant firm 'Colaco and Aranha' on May 15. The memorial for Late Mr. and Mrs. Vas was Celebrated at St Aloysius Chapel by Rev Vincent Crasta - Registrar of Papal Seminary, Pune and Rev Swebert D'Silva - Principal of St Aloysius College, Mangaluru. Later, a formal function and the endowment lecture was held at the St Aloysius College Hall.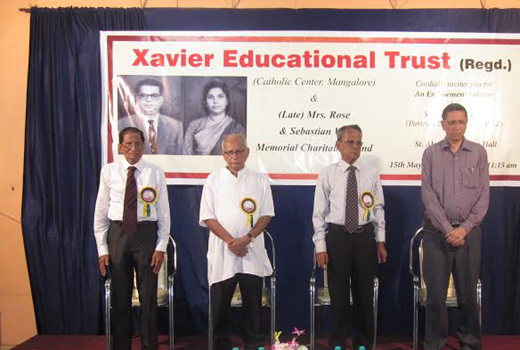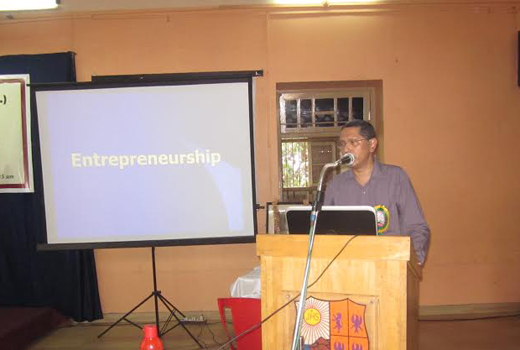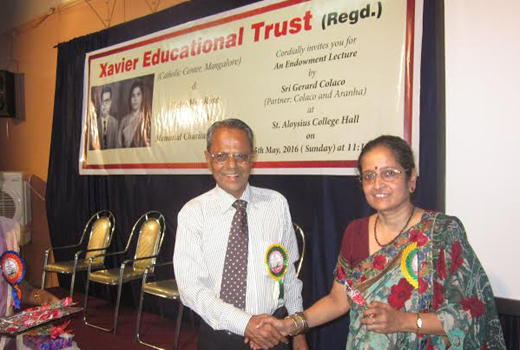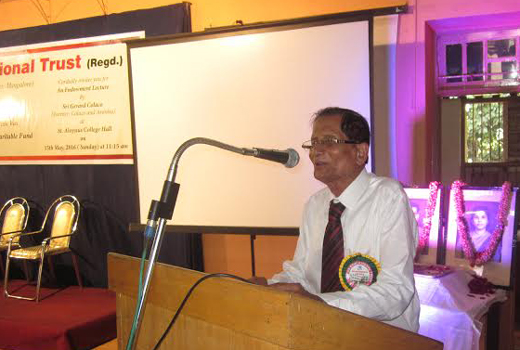 The chairman of Xavier Educational Trust (XET), well-known Advocate and Christian Marriage Registrar, JJV Fernandes welcomed the gathering. The dignitaries on the occasion were Michael B.Fernandes – Chairman of Lawrence Fernandes Foundation and Trustee of XET, Chief Guest – Gerard Colaco, JJV Fernandes - Chairman of XET and Mr F.M. Lobo-Secretary XET.

Marina D'Souza, close relative of the Vas family said, "It is pride and honour for the Vas family because one of the Projects has been dedicated to the memory of Late Rose and Sebastian Vas. Rose Vas (Of Mona Vas Bakery fame) took an active part in the family business with an entrepreneurial spirit after her husband's demise and cared for the welfare of her family at the same time. Late Rose Vas, was socially a concerned person, very compassionate and caring, charitable and kind, generous especially to the poor and needy, less fortunate and the downtrodden members of society.

Twelve meritorious students of XITC were presented with scholarships from the Lawrence Fernandes Foundation. Lawrence Fernandes foundation set up by the brothers of Lawrence Fernandes. The objective of this scholarship program is to identify deserving students with meritorious academic history and holistic achievements in skills at XITC, Xavier Industrial Training Centre. Micheal B. Fernandes (Brother of Former Defence Minister, George
Fernandes) and Chairman of Lawrence Fernandes foundation presented the scholarships to the deserving and meritorious students.

The Endowment lecture on - 'Entrepreneurship' was delivered by Gerard Colaco. Highlighting the significance of entrepreneurship, Mr. Colaco stated that the youth should start entrepreneurial ventures and should become job providers than job seekers. He acknowledged with gratitude the great contribution of Late Rose and Sebastian Vas who were indeed true entrepreneurs. One of the essential inputs in any economic advancement of a country isentrepreneurship. The more entrepreneurship activity the more will be the economic development. Entrepreneurship puts new business ideas into practice. In doing so, it creates jobs that facilitate personal development. With their innovative and disruptive ideas, entrepreneurs can tackle economic problems. It's a worthy pursuit to consider.

The lecture was appreciated by the knowledgeable gathering. The vote of thanks was delivered by Dr Meera Aranha (General Manager of Karnataka Bank), and the function was professionally compered by Dr Prakash Pinto (Dean – MBA - St. Joseph's Engineering College), both trustees of XET.

Write Comment
|

E-Mail
|
Facebook
|

Twitter
|

Print