World 'Elders abuse awareness day' marked in city, June 24
Mangalore Today News Network
Mangaluru, June 25, 2016:In line with world wide awareness actions, Mangaluru city's senior citizens welfare social action groups joined in to mark "Elders abuse awareness day', this year as well. In spite of the inclement weather there was a good turnout at the Lions Seva Mandir at Kadri Market.


The pioneer 92 year old Dr. Olinda Pereira who has been in the fore frount of organising welfare of the senior citizens and the 'Elder's Helpline -1090' at Pandeshwar police station under the banner of Vishwas Trust was the motivator in chief. She gave an introduction to the programme. It was followed by Prof. Lidwin Lobo, Co-ordinator, gave a brief recap on how the 'Elder's Helpline' is progressing and the type of cases that are note worthy received at the Helpline. She narrated the plight of the very aged who face regular harassment at the hands of not just care givers, but even from their own children.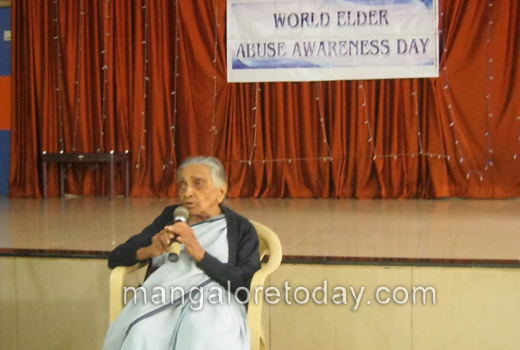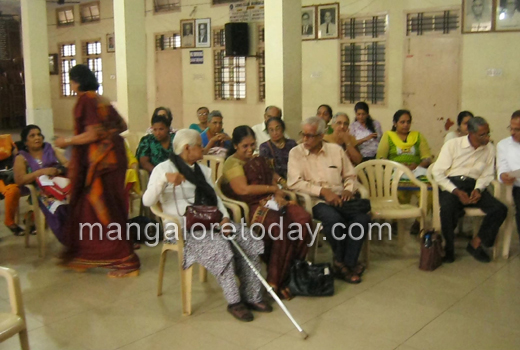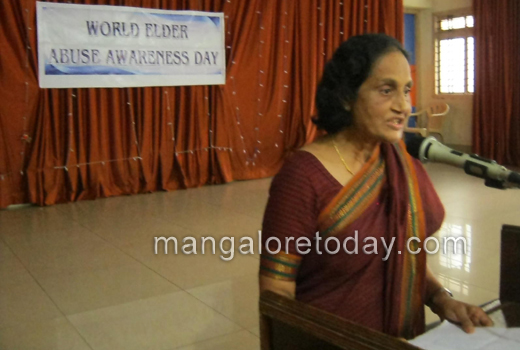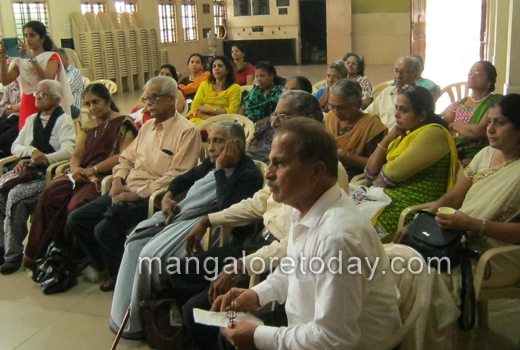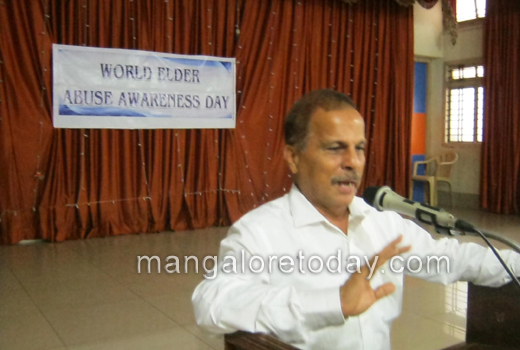 It is very essential as life in this city progresses on it's way to be a Smart city. The 1090 helpline was set up in 2005 and to date over 8200 cases have been dealt with. The police presence is a very essential component and the DK SP would be very keen on follow up and maintaining support to elders. Often elder abuse is kept in the dark, to protect family honour.


Dr.Prabha Adhikari the Director of 'Asraya' elders association at KMC Attavar said some of the abuse she has seen personally of late is shameful, that humans can treat so badly their own parents who have given them all they had is unbelievable. Greed for property and money particularly among the rich class has blinded all norms of civilisation in the manner that elders are looked after.


She suggested that it can be requested that police personnel go along with social activists periodically to visit and check on the treatment received by elders in suspect families. One participant suggested that a commission should be in place to visit houses and old age homes to check on the elderly. People especially the young must be sensitized to alert the activists when they come across depressed aged persons in their surroundings.


Former corporator and social activist Suresh Shetty who is a key person in the efforts of Viswas Trust and 1090 help line stressed that it is needed to put in place concrete remedies rather than discuss statistics and causes. He keenly suggested participation of more numbers to go to the field and assist the suffering aged. the problems that children and families face too should be studied and remedied.


K Ramesh Rao Secretary, Mangaluru Senior Citizens Association, who attends to needs of the aged, particularly to get 'Senior Citizens Govt ID cards' welcomed the aged persons who need ID cards to come to the MCC offices at Lalbagh for full assistance on Tuesday 2.30 to 5.30 pm only. He said guidence and a range of pamphlets were available for the elderly, family and care givers.


Pioneer Dr. Olinda Pereira told this correspondent that she is all set to meet the DK DC soon and renew the process to have a dedicated empowered committee to look into matters troubling the elderly with clear powers to help sort out their matters in a very effective way, as matters have gone too far and the condition of elders is going from bad to worse on all fronts for old and helpless people in this city too, where at one time care of elders was a matter of pride in families of all levels and communities but is no more so and welfare monitoring has to be in place like other matters.

Write Comment
|

E-Mail
|
Facebook
|

Twitter
|

Print