Workshop on development of scientific temper held at St.Aloysius College
Mangalore Today News Network
Mangaluru, Feb 3, 2020: A one day workshop on Development of Scientific Temper jointly organized by the St.Aloysius College (Autonomous) and Aid Without Religion Trust was held at the auditorium of the college on Sunday, Feb.2, 2020.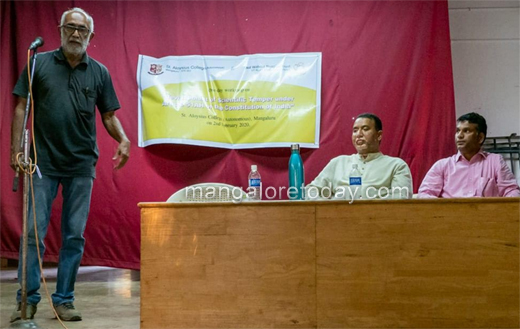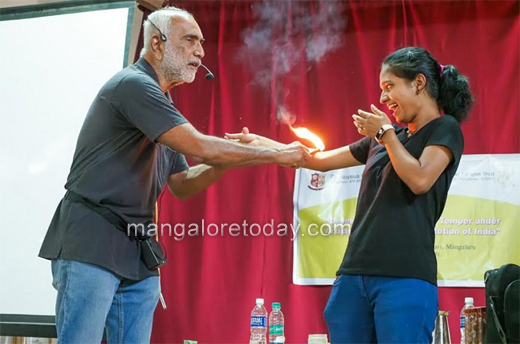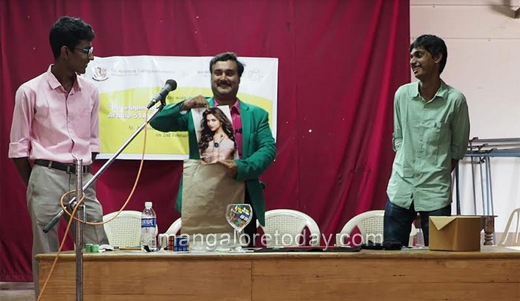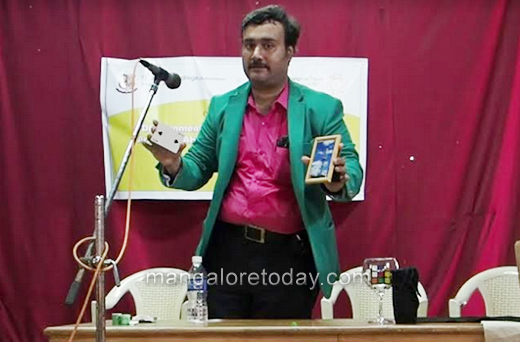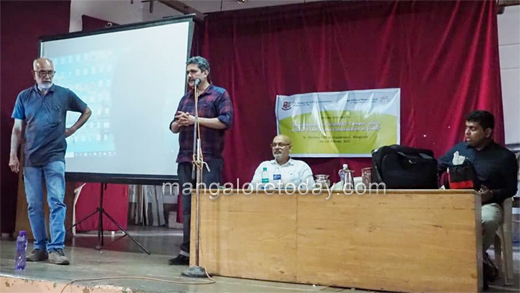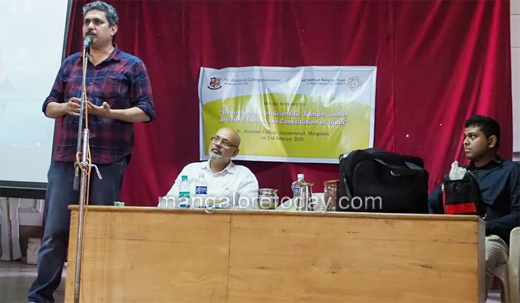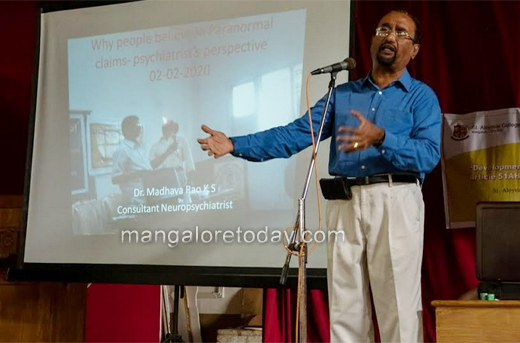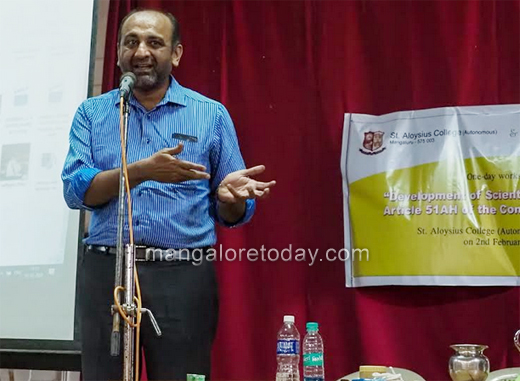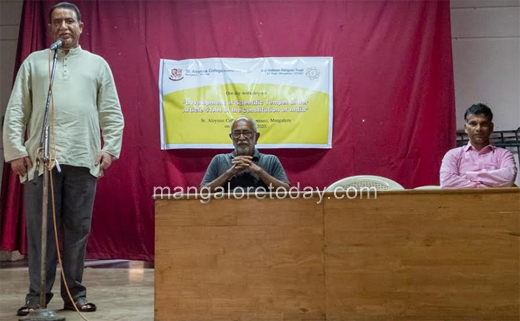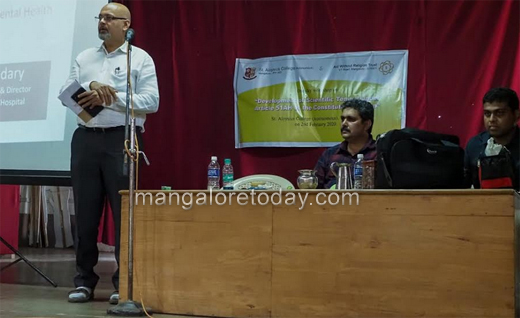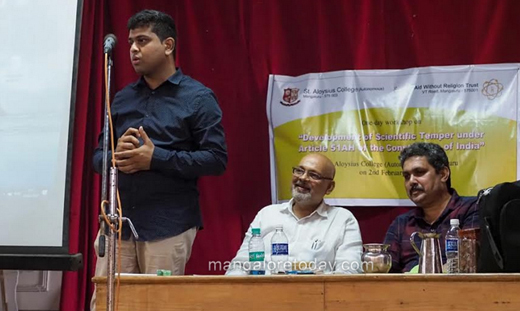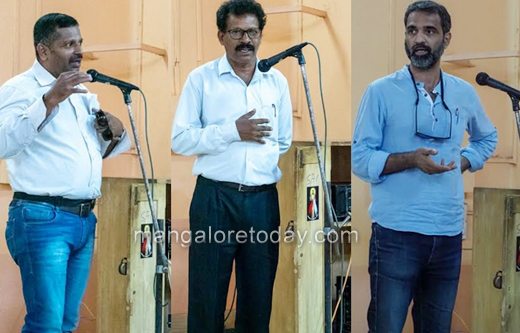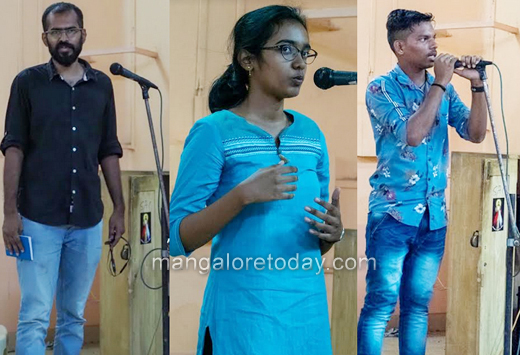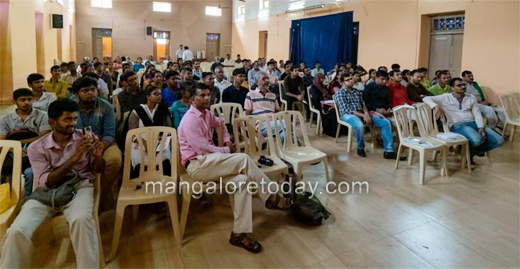 Starting with an invocation- recital of the preamble to the Indian constitution by Jahnavi Vivek a teacher who had recently started her career, the first session was about development of critical thinking.

Outlining the same the resource person Narendra Nayak, President of Federation of Indian Rationalists Association spoke on the need for critical thinking and questioning under article 51 Ah of the constitution of India. Starting from the pathetic state of this in our country he went on to outline why the country is so backward in the field of science.

He also took examples of a few outstanding scientists who had done path breaking research work after going abroad as evidence that it was the atmosphere of this country that was holding them back from attaining their level of achievement which they could accomplish in a better place. He also went on to demonstrate a few older generation so called 'miracles' like producing objects from thin air etc before passing on the new generation ones like demonstration of effects of a concoction called as Shakti drops by a so called spiritual at IIT, Kanpur and demonstration of cleansing power of gaumutra(which was done by adding sodium thiosulfate to a solution of iodine) which ironically is plagiarized from a video of evangelist Christians demonstrating the power of Jesus to clean the self colored by sin! In this video a clear liquid labeled as you is allegedly contaminated by a red liquid turning you into red! To this clear liquid from another contained called Jesus is added and it gets decolorized allegedly a demonstration of the power of Jesus to cleanse the sinner! These and a number of concoctions from alleged systems of alternative medicine are peddled by the conmen who are supported by the high and mighty in positions of power and authority. The tragedy of our country is that while such are promoted by the cream of the society the victims are the gullible from the socially and economically backward sections who think that these work because of these testimonials. None of those recommending these concoctions or systems use if on themselves in situations where there is proven treatment in evidence based medicine the exploited spend their hard earned money on these! The root cause for this is the lack of critical thinking.

The second session was by Dr.K.S. Madhav Rao a psychiatrist and the President of the Dakshina kannada Rationalist Association. He spoke about what makes people believe in irrational things and explained the mechanisms behind them with examples and demonstrations. This was followed by a magic show by the renowned magician Munawar Pasha who goes by his stage name as Magic Munna. He kept the audience enthralled with his apparently supernatural powers and all the while sticking to his stand that such do not exist. His demonstrations were a challenge to the audience to think critically and at the same time showing that the tricks of god men claiming such powers are pretty trivial in comparison to what he demonstrated.

The post lunch sessions were those on media and critical thinking. In this Narendra Nayk demonstrated how media had hyped many petty incidents and how he had used the same media to debunk them. In this session there were videos and demonstrations many of which were on members of the audience. The next session was a panel discussions by three doctors- a Psychiatrist Dr.P.V.Bhandary who demolished many myths about treatment of mental illness. He also narrated instance where he had taken on some of the big wigs of his own profession when they had claimed non science as evidence based treatment only to receive clarifications as to that was not what they had actually said but had been misquoted by the media! But as he said the damage had been already done because the clarification would be in small print in some corner while the first one would have been as headlines in the front page! Dr,Krishna Mohan a surgeon who runs his own nursing home at Mudubidre spoke about superstitions in medical treatment in rural areas and also invited questions from the students. Dr. Sandeep Nayak who is a physician practicing community medicine in US spoke about some common myths passing off as science and how many life style diseases can be treated by the diet alone.

The final session and the most important one was that of the participants expressing their ideas of taking the message to others. This was attended by the Principal of the college Dr. Prof. Praveen Martis and the Dr.Dinesh Nayak faculty in the department of Kannada. The students expressed how their understanding of many phenomena was changed by attending the workshop. Some of them explained that though they knew very well what was happening they had to remain silent because of pressure from their parents and other elders. Some remarked about the promotion of such non science by their own teachers. One office bearer of a newly formed political party expressed that development of scientific temper was one of the main subjects in the manifesto of his party. A leader of a farmers organization said that he wanted to organize such programs to educate his members. There were words of encouragement from Rev. Fr. Praveen Martis who said they would support such moves to develop critical thinking among students and himself being from the field of chemistry would welcome any such meetings for his students. Dr. Krishna Mohan explained with great clarity as how a personal belief which would not infringe on others human rights was a personal matter, those expanding into the domain of medicine, science, economics and education would vitiate the whole society. Dr. Dinesh Nayak proposed the vote of thanks. Aid Without religion Trust would like to organize such workshops for young people if invited.

Write Comment
|

E-Mail
|
Facebook
|

Twitter
|

Print