Will Malekudiyas stage legal fight for Kukke temple?
Mangalore Today News Network
Subramanya, Oct 23, 2017: The Malekudiya tribal community has warned the government that they will launch a legal fight to gain control over the Kukke Subramanya Temple if the state government bans 'made snana'.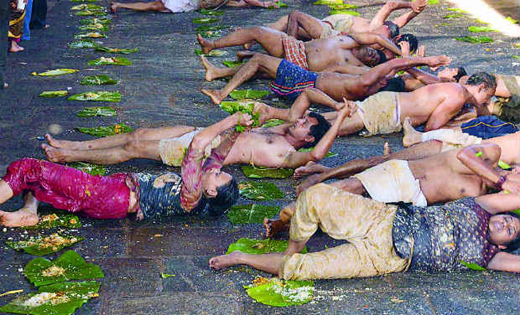 The community, an integral part of the Champa Shashti festival, has sent a letter to minister for muzrai (Religious Endowment) Rudrappa Lamani and revenue minister Kagodu Thimmappa, who is also head of cabinet sub-committee, urging the government not to ban the decades old practice of made snana through through the Karnataka Prevention and Eradication of Inhuman Evil Practices and Black Magic Bill, 2017. The bill will be tabled in the legislature during the winter session at Belagavi in November.

Rajya Adivasi Budakattu Hitharakshana Vedike president Bhaskar Bendodi said the participation of the Malekudiya community in Kukke temple is as per tradition. "Banning Made Snana will have repercussions and the Malekudiyas will have to fight legally against the government. It is not right on part of the government to ban made snana through Karnataka Prevention and Eradication of Inhuman Evil Practices and Black Magic Bill, 2017 when a writ is pending in the Supreme Court. Further, the temple and the tribal community have historical connections. In the distant past, the temple was being worshipped by tribal communities of 'Kukke' and 'Linga'. Traditionally, only Malekudiyas have the right to offer 'panchaparva seve' and preparation of Brahma Ratha and Panchami Ratha during Champa Shashti. A team of 50 Malekudiya community members will commence the ratha decoration work after 'Kutti Muhurat ' on November 4," he said adding that it will take 15 days to complete the ratha preparation work.

On projection of made snana as an inhuman evil practice, Bhaskar said that it is a decades old tradition which was followed not only by triabls, but devotees from all sections of society. "We have sent letters to the ministers and are waiting their reply. If they do not consider our request, we will move the court to get our ancestral rights over the temple back. We are not against the proposed anti-superstition bill. But they should not ban made snana which has religious significance," he said.

The festival this year will begin at Kukke Temple, about 105km from here, with Panchami Rathotsava on November 23. While Champa Shashti will be held on November 24, rituals will continue till Kiru Shashti festival to be held on December 24. Made snana will be held for three days during the festival.

What is made snana?

Made snana is a controversial practice in which devotees roll over plantain leaves which contain food left behind by the Brahmins. This practice had drawn criticism from rationalists and progressive thinkers in the past few years. While those supporting the practice argue that participating in made snana is voluntary and in sync with the right to religious faith and belief, progressive thinkers dismissed it as a 'casteist claim based on blind beliefs.'

Progressive thinkers have been mounting pressure on chief minister Siddaramaiah to ban the practice under the anti-superstition bill.

Write Comment
|

E-Mail
|
Facebook
|

Twitter
|

Print