Where are the other accused behind the Vinayak Baliga murder case?
Mangalore Today News Network
Mangaluru, July 5, 2016: After the arrest and remand of the accused no 1 Naresh Shenoy in the RTI activist Vinayak Baliga murder case, the further processes in the investigations seem to have become slow. Is it due to the transfer of the investigation officer ACP Tilakchandra? Or as one gets the slight doubt whether these are being influenced by forces behind the scenes? It is obvious that the accused no 1, could not have been at large for more than three months without the support of others. Who were those behind the scenes arranging finance and logistics? Only one person has been arrested and released on bail for that and it pretty clear that he was not the only one.Was the well planned murder of Vinayak Baliga a single handed or rather a single master brained crime? The needles of suspicion point to a number of others too. The Baliga family and all of us are waiting for the full revelations in this case and we are sure that the present Police commissioner Sri Chandrashekar is very capable of getting it done by his staff under his able directions.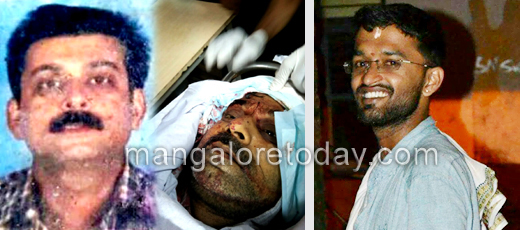 Vinayak Baliga murder accused Vignesh Nayak (Right)
One of the accused Vignesh Nayak has been now missing since the 26th of March and his mother is pretty distraught about it. She is a widow having a petty job as a collector of daily deposits for a co-operative bank and one can imagine how much that should be paying. Her only child has been now missing since three months and that must be a cause for concern for any mother .He is alleged to be the 'owner' of one of the vehicles used for the crime as it was registered in his name though the de facto owner was the accused number 1, Naresh Shenoy. It is has been alleged that many shady financial transactions have occurred through his bank account. He was also an employee of Naresh Shenoy which could be a reason for him to be a party to his criminal activities. Is Vignesh on the run, hiding or has he been silenced for ever is a question that haunts us. Those who had murdered Baliga have absolutely no qualms in silencing voices of those who know things which are inconvenient to them. So, could Vignesh Nayak's voice also, have been silenced for ever?

The well planned murder of Vinayak Baliga executed in cold blood shows a deep lying conspiracy with more people involved. While the police want to subject Naresh Shenoy for narco analysis and brain mapping investigations and have submitted an application to the court, he seems to be unwilling. Though the results obtained by these processes cannot be considered as evidence in a court of law, they could be certainly used for getting information which could be used to search for evidence to nail others involved in this apparently complex, complicated plot. If it was not to be so and the accused is innocent, he should have no hesitation in subjecting himself to this process. The very fact that he is unwilling shows that he must be having a lot of things to hide. It could be that there is a lot of existing evidence which could nail him which he did not succeed in destroying when he was on the run.Again a perusal of a number of files of Baliga shows that he had antagonised a number of powerful vested interests. Since the preliminary charge sheet has been already filed with a plea for permission to file additional charge sheets, we do hope that all behind the dastardly crime of this RTI activist will be brought to book.


By Prof. Narendra Nayak, For the Deshapremi Sanghatanegala Okkuta for Justice for Vinayak Baliga.

Write Comment
|

E-Mail
|
Facebook
|

Twitter
|

Print