Week 9 'Shramadan' RK Mission Swacchata Abhiyan, Feb 3
Mangalore Today News Network
Mangaluru, Jan 04, 2019: Ramakrishna (RK) Mission Swacchata Abhiyan's 9th week Shramadan of 5th phase of was carried out in the Nagori area February 3, Sunday.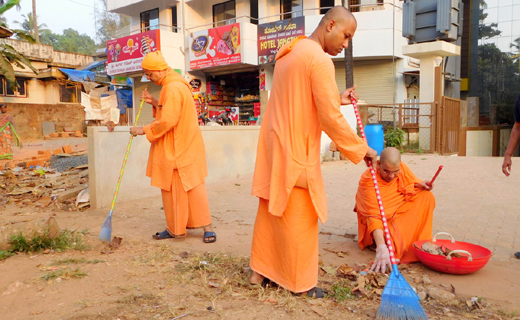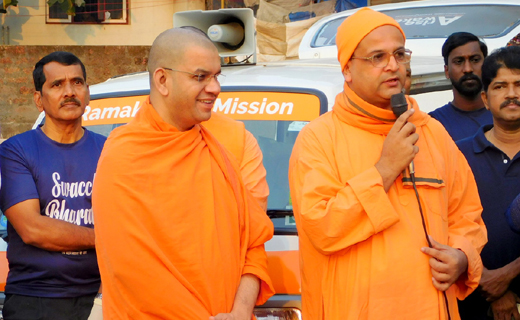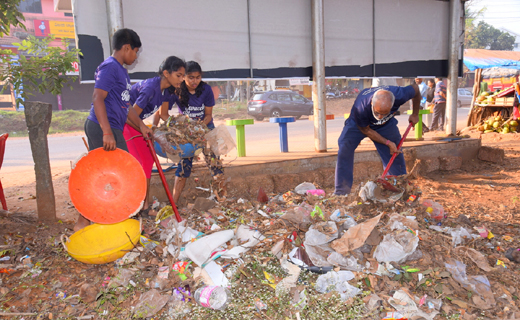 The Shramadan was flagged off at Nagori Market area at 7.30 am by Swami Triguneshanandaji of Ramakrishna Mission Headquarters and Swami Bhaktisudhanandaji of Ramakrishna Mission, Ayodhya. Garodi Billava Sangha President Sri Dharmapala, Subhoday Alva, MCC Health inspector Rakshitha, Sandip Garodi, Subhash Padil, Sandip Pumpwell, Puja Raj and others were present on the occasion.

Speaking on the occasion, Swami Bhaktisudhanandaji said, "Knowledge liberates an individual. Knowledge dawns in an individual only after Chitta Shuddhi. Primary need for Chitta Shuddhi is external cleanliness. We are glad Mangaluru Ramakrishna Mission is conducting this work for the last 4 years consistently. If this activity is considered as a worship of the Divine and not mere social service, then much more good will come out of this."

Sharamadana: Volunteers were divided into 5 groups and shramadan was carried out in 5 places from Pumpwell to Nagori Padil. Garbage dumped near Nagori market was cleared.

The compound wall behind Nagori market was washed and cleaned. Black spot there was beautified and flower pots were placed. Coordinator of the Abhiyan, Dilraj Alva, Uday K P, Prakash Garodi led the team and guided them. Another group of volunteers under Sheshappa Amin, Sudhir Vamanjur, Umakanth Suvarna and others cleared another heap of garbage in front of Pumpwell Flower Market. Third group of volunteers guided by Ramachandra Shetty, Kamalaksha Pai cleared the heap of garbage opposite Gallery Apartment near Aranya Bhavan. Vittaldas Prabhu, Prashanth Yekkur, Balakrishna Naik and other volunteers cleaned the area around Padil circle.

Bus Shelters cleaned: In the earlier phase a bus Shelter was erected by the RK Mission volunteers at Padil junction. Today it was cleaned and the seats and pillars were freshned up with paintings. Hoardings with awareness about cleanliness and pot compost designed with beautiful graphics has been displayed there. The area surrounding the bus shelter was also thoroughly cleaned.

Awareness Drive: Tons of garbage being thrown near Nagori market were removed using JCB and tipper. Local shop owners were urged not to litter in the spot and to maintain cleanliness in their area. They were asked to hand over their garbage to the MCC collecting vehicle. Health Inspector Rakshitha Durgesh, Praveen Chandra, Abdul Arish and others guided by MCC Environment Manager Madhu Manohar reached out to shop owners and street vendors and created awareness among them. Local corporator Asha D'Silva too joined hands with this initiative.

Aniruddh Nayak, Abhishek V S, Punith Poojary, Sowraj Mangalore and many other volunteers participated in the Shramadan. Members of Hindu Jagarana Vedike too actively participated. Coordinators Swami Ekagamyanandaji, Umanath Kotekar, Satyajith Surathkal & others were present.

MMRPL and Nitte institutions are sponsoring these initiatives.

Contact – 9448353162 - Swami Ekagamyananda, convener, Ramakrishna Mission Swacchata Abhiyan.

Write Comment
|

E-Mail
|
Facebook
|

Twitter
|

Print