Week 9 of 40 Shramadan for Swacchata Abhiyan on Dec 31
Mangalore Today News Network
Mangaluru, Jan 01 2018: Week 9 of the 40 weeks shramadan planned by Ramakrishna Mission's Swacchata Abhiyan took place on dec 31, the last day of 2017 with a lot of zeal with the New Year in sight.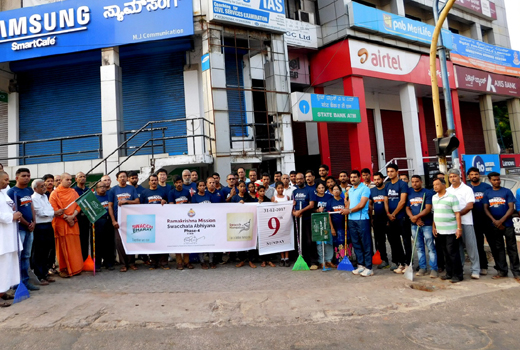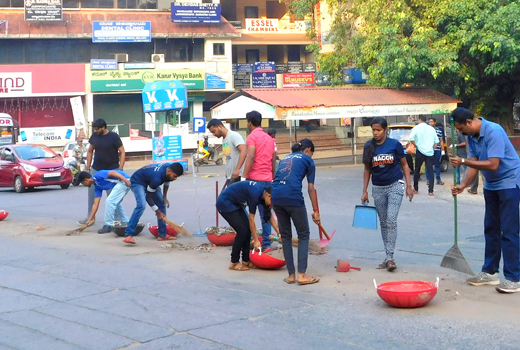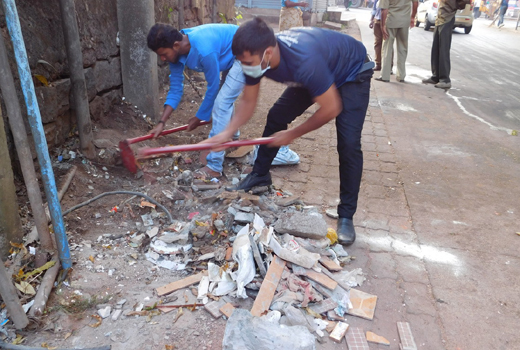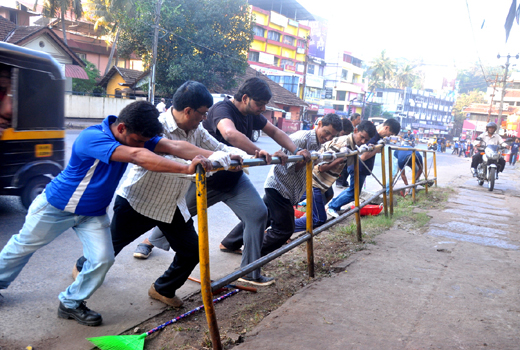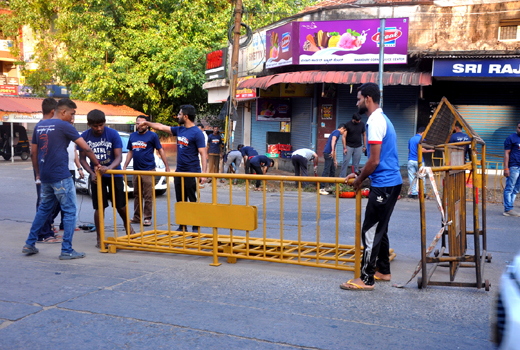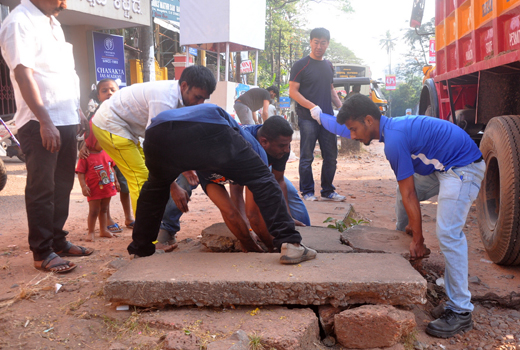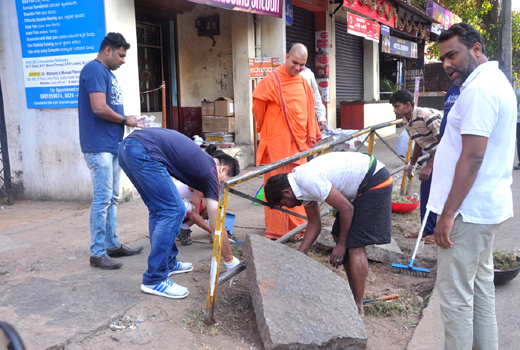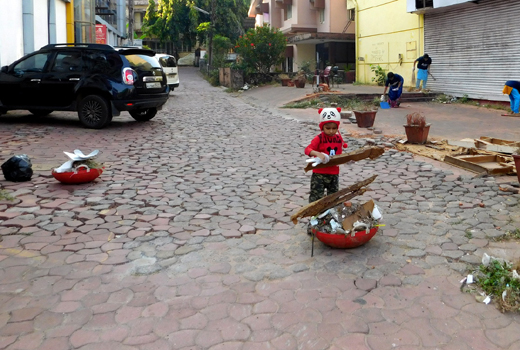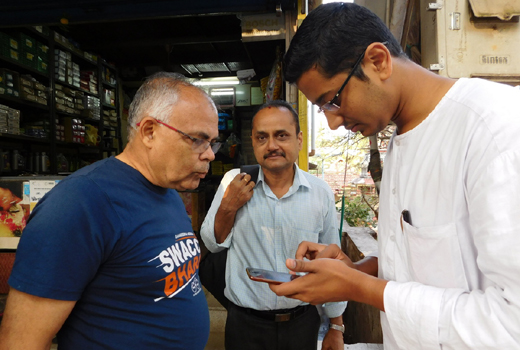 Bunts Hostel and Karangalpady area was the focus. Srinivas Patil of KPES Institution, Dharwad Sri Madan, SI of Bunder Police Station jointly flagged off the drive. Dr Satish Rao, Dr RajendraPrasad, Prabhakar Shetty and more than 100 volunteers were present on the spot.

Cleanliness Drive: Volunteers under the guidance of Sri Shobhoday Alva, Dr Satish Rao carried out the drive from Bunts Hostel circle. They cleaned both sides of the road and removed the grass and weeds from the footpaths. Prakash Garodi and team of volunteers removed the posters and handbills pasted on the walls and bus shelters of the Bunts Hostel and the walls were cleaned and painted anew. A spot in front of Karnagalpady market area was full of dirt & garbage thrown by the shopkeepers and public. That spot was thoroughly cleaned off the
garbage, dirt on the wall was washed and cleaned. Flower pots have been kept in that spot and the shopkeepers have been urged not to throw garbage in that spot and to maintain the cleanliness and water the plants. Dilraj Alva led the group of volunteers.

Erection of railings: The barricade put up in front of Karnagalpady Auto stand was badly maintained and was being shifted from time to time. It was occupying more space and was posing nuisance to traffic police & two wheelers. Dirt and garbage had piled up below the barricade and was an eyesore to the onlookers. Hence volunteers under Sri Kirankumar Poojari experimentally set up a thin railing which not only serves the purpose but also occupies less space.

Swacchata App Drive: Downloading using Swacchata App is a major component of the
public participation in the Swacch sarvekshan being undertaken by the Central Government. There was a very poor response from the citizens of Mangalore last year due to lack of awareness. Hence the volunteers of Ramakrishna Mission not only downloaded and started using themselves but are also urging all the public since last 4 days. Till last week, only 363 apps were downloaded and after the volunteers of Ramakrishna Mission took upthe task, about
2500 apps have been downloaded till yesterday and the number may cross 3500 before the deadline of 31 st December sets in. Dec 31, being the last day, volunteers are focusing public visiting City centre Mall, Forum Fiza Mall, Corporation Bank Head Office, Sahyadri College,SDM College and other places. They are also visiting door to door urging the public to download the app and start using. Young volunteers under the guidance of Souraj, Shishir Amin, Dhanush Shetty, Abhishek V S, Amit J, Anil and others were actively involved in this drive. Sri M R Vasudev, Umanath Kotekar led and coordinated the efforts.

Swacch Gram: Ramakrishna Mission Swacch Kayarthadka was flagged off by Swami
Jitakamanandaji at Kayarthadka. President of Village Panchayat, Smt. Sharada, President of SriUmamaheshwara Temple Sri Balanna Gowda & President of the local mosque Sri Abdulla participated. Members of Yuvashakti Kayarthadka, Kombashree Yuvaka Mandala & public participated in the cleanliness drive that lasted for nearly 3hours. Sri Yogish coordinated the drive. Drives were also carried out in Malavoor, Yedapadavu and other places.

MRPL is sponsoring this drive, Contact – Swami Ekagamyanandaji, Convener, Ramakrishna Mission Swacchata Abhiyan - Mobile at 9448353162 for needful.


Write Comment
|

E-Mail
|
Facebook
|

Twitter
|

Print