Week 6 Shramadan by RK Mission Swacchata Abhiyan on January 13
Mangalore Today News Network
Mangaluru, Jan 14, 2019: Ramakrishna (RK) Mission Swacchata Abhiyan's 6 th Shramadan was carried out at in the surroundings of Karnataka Polytechnic College (KPT) on 13 th January 13, Sunday.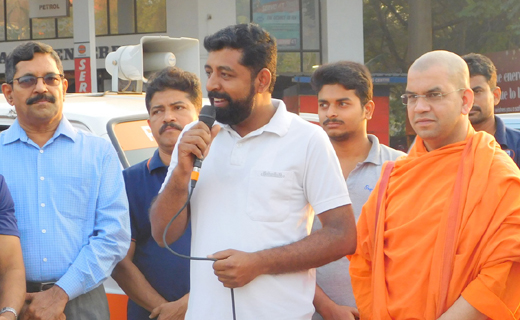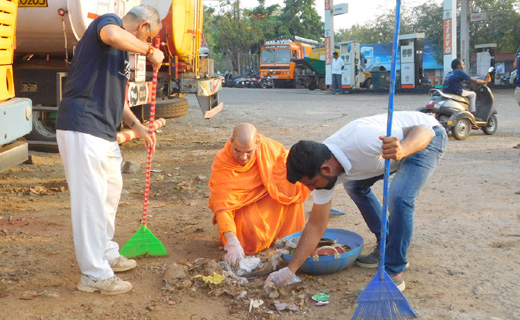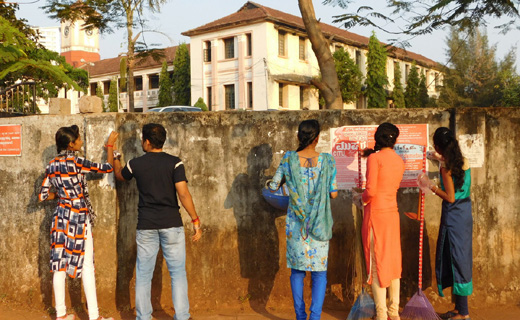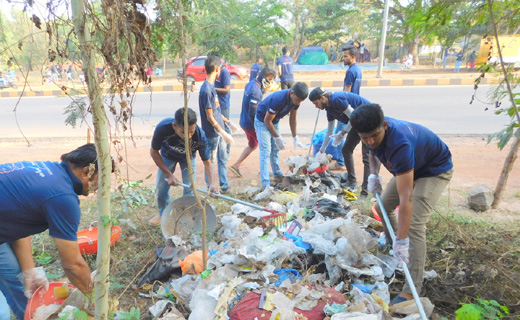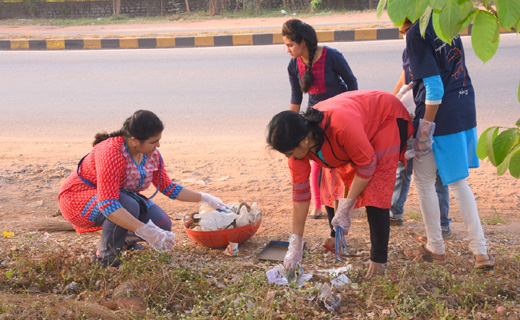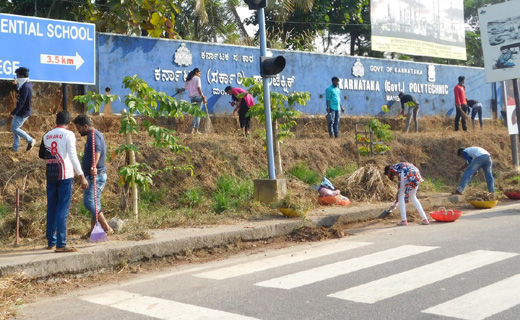 The Shramadan was flagged off at KPT junction by Madhu S Manohar, Environment Engineer of MCC and Sooraj P H, NSS Joint Coordinator of KPT. Speaking on the occasion, Madhu S Manohar said, "Even after MCC had arranged for collection of garbage from houses, few people had continued the bad habit of throwing it off on the streets. Thanks to the Abhiyan by RK Mission, awareness is setting in people and we are seeing marginal decrease in such cases of people throwing garbage on the streets.

MCC is spending Rs 4 . on disposal and management of 1 kg of garbage which is coming to about 30 to 40 crores per year. If pot compost being promoted by RK Mission is used by the common public, this will not only reduce the burden on MCC but also be a source of income for public. Hence MCC is eager to work with RK Mission in promoting pot compost and we are also thinking of introducing subsidy in garbage cess for the houses which manage wet waste." Captain Ganesh Karnik welcomed volunteers & guests. Swami Ekagamyanandaji, Coordinator of Abhiyan guided the volunteers. Jayakrishna Bekal, Usha Amritkumar, Gurudatta Shenoy, Smt. Mani Rai, Jagan Kodikal, Santosh Suvarna and others were present.

Cleanliness: NSS students of KPT under Rajendra Subrahmanya cleaned the area in front of KPT gate, Airport Road and footpaths nearby. Vasanthi Nayak & members of Nivedita Balaga removed the plastic papers & garbage on the road & footpaths from KPT towards Padua. Masahiro and other senior volunteers cleaned the KPT circle and surrounding areas. Lecturer Subhadra Bhat and other youths cleaned both the sides of highway. Students cleaned both the bus shelters on the airport road. About 2 tippers of plastic waste were removed from the area. Direction board which was broken was repaired, cleaned and reinstated in KPT circle by Uday K P, Souraj Mangalore and other volunteers. Overgrown grass & weeds in the circle were removed and heaps of sand were also removed.

Continued Work: Huge loads of building debris lying scattered on both sides of Padua – KPT highway were removed in the last Shramadan. As the task was not completed last Sunday, the work was resumed on this Sunday too. Akshith Attavar and other volunteers removed 6 tippers loads of garbage using 2 JCBs & 4 tippers. Heaps of mud were levelled. The street vendors in the area were urged not to throw garbage in the area and were made to clean the area around their shops.

Sudhir Noronha and Punith Poojary and others maintained several blackspots now converted into small parks in different parts of the city. Shashikanth, Sumith Devadiga, Lakshmish Srinivas and others of Hindu Warriors participated in the Abhiyan. MRPL & Nitte institutions are sponsoring these drives. Swacch Puttur: Under the guidance of Ramakrishna Mission Swacchata Abhiyan was organised in the premises of Govt. Hospital in Market Road in Puttur. Johar Nissar Ahmed and Dr M S Bhat flagged off the drive. Circle near Children's park and its surroundings were cleaned. The circle was painted and was given facelift. Puttur Town Municipal Member Jagannivas Rao, Sandeep Lobo, Zavier
D'souza, Principal of Women's College, Shankar Mallya, Suresh Kallare and many others joined hands in the Swacchata Abhiyan. G Krishna coordinated the Abhiyan.


Contact – 9448353162 - Swami Ekagamyananda, convener, RK Mission Swacchata Abhiyan.

Write Comment
|

E-Mail
|
Facebook
|

Twitter
|

Print