Week 21, 'Shramadan' by RK Mission, joyful with bride and groom, April 28
Mangalore Today News Network
Mangaluru, Apr 29, 2019: Ramakrishna (RK) Mission Swacchata Abhiyan's 21 st Shramadan of 5 th phase was carried out in Gandhi Nagar area, April 28, Sunday. The Shramadan was flagged off in front of Urva Press Club with Vedic invocation.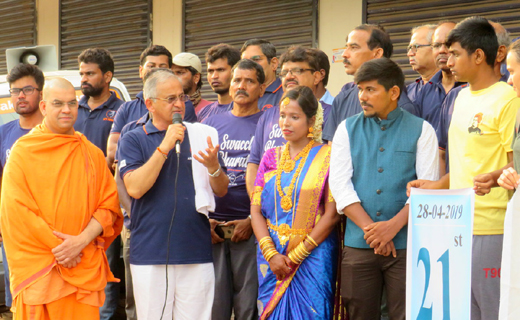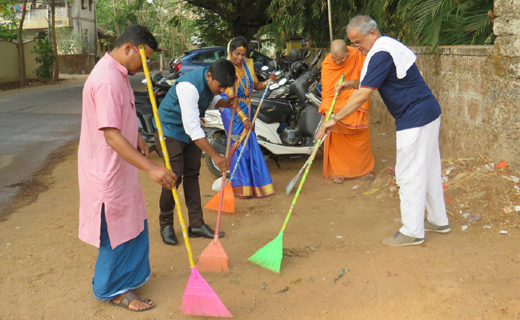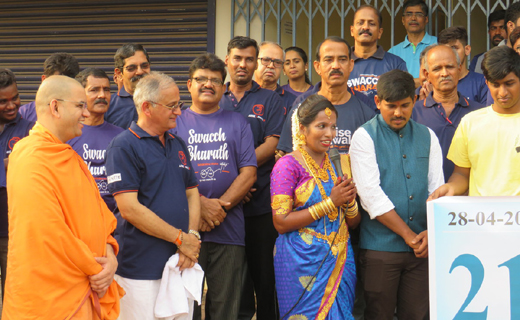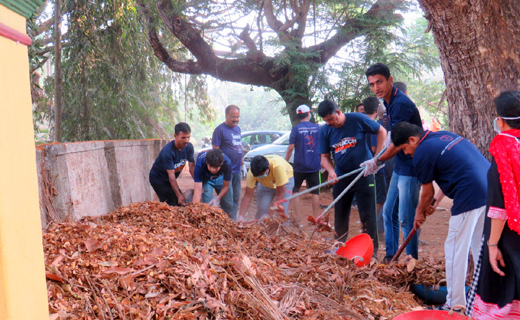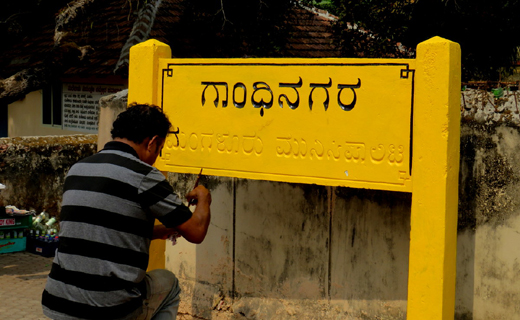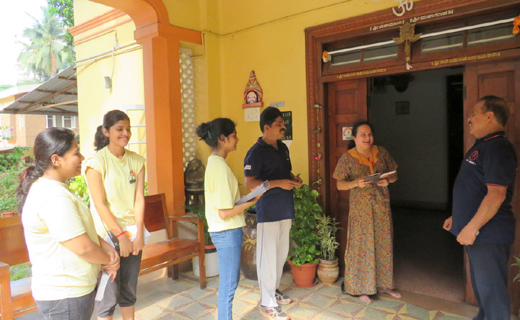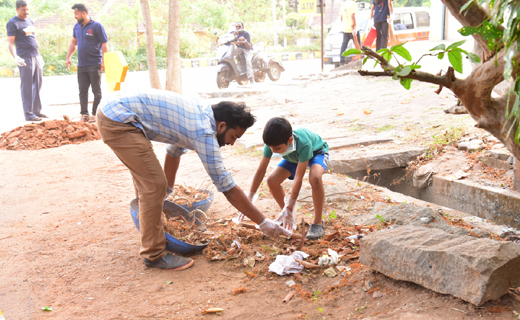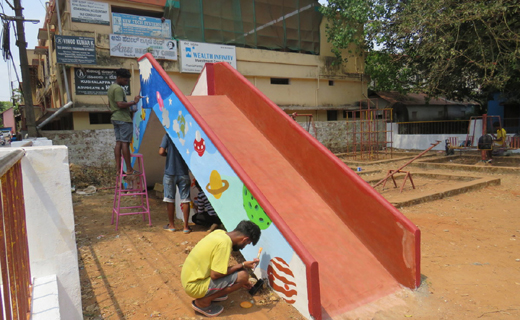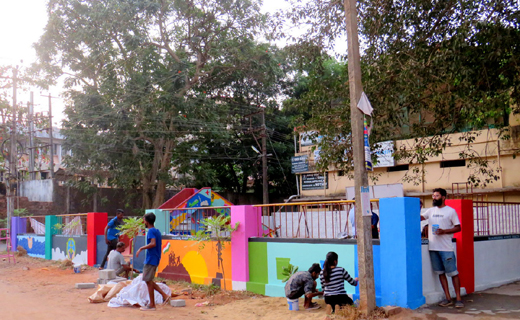 New Bride and Groom flag off: Shivu Puttur and Suma Kodikal have been participating as volunteers in RK Mission Swacchata Abhiyan for the past four years. It was a happy and special day for them as well as for others when they flagged off today's Abhiyan in the presence of Swami Ekagamyanandaji. It was a joyful sight to see them in their wedding attire. Speaking on this occasion, Suma Kodikal said, "Swacch Mangaluru is our dream.

If we have to realise that dream all our efforts are needed and we pray to the Almighty that its realised in due time. I feel proud to be part of this Abhiyan for the last four years. As we had never missed volunteering in this Abhiyan on any of the Sundays, we wished to participate in today's Abhiyan before proceeding for the marriage hall. We feel proud to flag off the Abhiyan today." There was happiness and deep emotion all around.

Captian Ganesh Karnik said, "Inaction of good people is more dangerous than bad actions of vile. Realising this, Ramakrishna Mission led a group of volunteers who were united with the same intense concern to do good to society who form a active volunteer group of this Abhyan. Ramakrishna Mission has set up an example for us all. The fact that volunteers do not want to miss volunteering in this Abhiyan even on their marriage day is a proof of their concern and commitment.
We are sure with such dedication, days are not far when our nation will be a world leader." Vrishnak Bhat, Editor, Vikrama weekly from Bangalore was the Special invitee. Dr Rajmohan Rao, Convener of Swacch Surathkal Abhiyan, Satish Sadananda, Srinivas Rao, Sudha Manjunath, Shashibhushan, Yogish Prabhu, Sunil Kumar Pandeshwar, Ramakrishna Kottara, Kudroli Ganesh and many others joined hands.

Cleanliness work: Bride and groom led the team of volunteers in cleaning the main road and sides of Urwa Main road - and the happiness was palpable. Later the volunteers were divided into 4 teams. Cleanliness was carried out in Gandhinagar 4 th Cross, in front of Gandhi Nagar Government School, Surroundings of Pentlandpet circle, Drains adjoining Urwa Main road, footpaths and road dividers. Umanath Kotekar led group of volunteers in removing accumulated dirt and garbage and heaps of sand, stones etc... by using JCB and tippers. Students of Nitte Physiotherapy college under Mehboob Khan cleaned the campus of Press Club in Urwa. Overgrown grass / weeds were cut using weed cutting machine. Heaps of garbage was cleared out in front of Gandhinagar Govt. School under the guidance of Kamalaksha Pai, Uday K P, Sowraj Mangalore, Satish Kenkanaje and other volunteers. They have placed pots with flower plants in the spot and volunteers will be guarding the place day and night and discourage people from littering further. Worn out direction boards near Press club, Gandhinagar Road, Gandhinagar board near Lady Hill Circle, Gandhinagar 7 th Cross board near Pentlandpet and Mathadakani Road boards were repainted.

Renovation of children's Park: Children's Park in Police Lane at Pandeshwara was in ruins and ignored for years together. This park was in dilapidated condition covered with over growth and garbage. Playing equipments in park were rusted beyond use and park had turned out to be a safe haven for anti socials. This park is getting renovated by Ramakrishna Mission. Now the whole park is cleared of dirt / garbage and the compound walls have been decorated with art work aimed at kids good.Outer walls of the compound have been painted with art work with a message for healthy society. New playing equipments will be installed, interlock tiles will be laid; planting of saplings will be done in coming days. MRPL is sponsoring these drives.

Swami Chidambarananda, Chief Convener, has provided reports. Contact – 9448353162 -Swami Ekagamyananda, convener, Ramakrishna Mission Swacchata Abhiyan..

Write Comment
|

E-Mail
|
Facebook
|

Twitter
|

Print