Week 20 Shramadan of 40 Weeks' 'Swacchata Abhiyan' in city energetically continues
Mangalore Today News Network
Mangaluru, Mar 20, 2018: Continuing the Swacchata Abhiyan drive of Ramakrishna Mission for the 20th Sunday, Bejai Kapikad area was cleaned on March 18. The drive was flagged off in front of Indian Oil Petrol Pump at Kapikad Bejai by Dr Dhanesh Kumar K U, Principal, Nitte College of Physiotherapy and World renowned magician Sri Kudroli Ganesh in the presence of Swami Jitakamanandaji.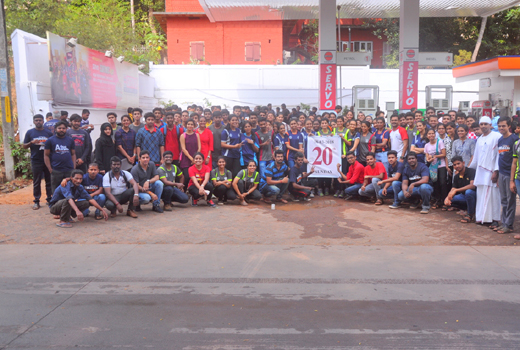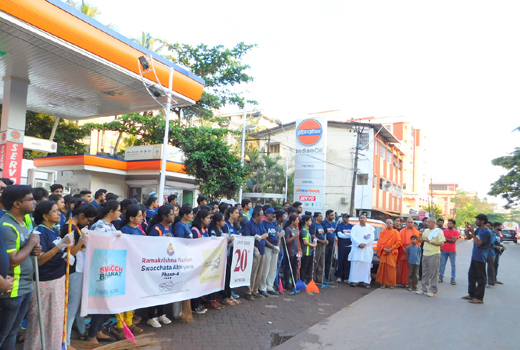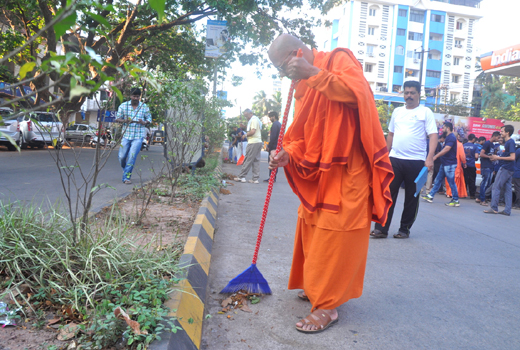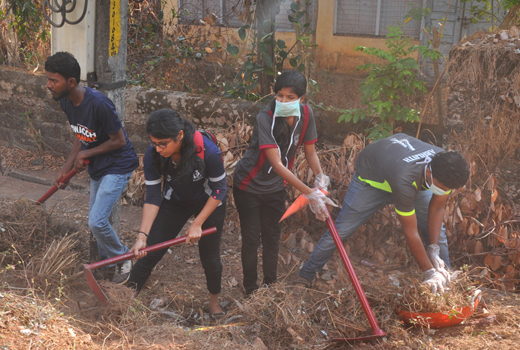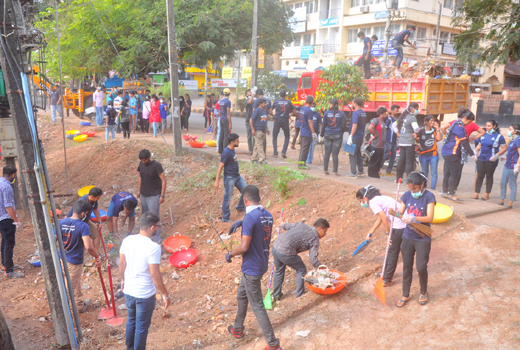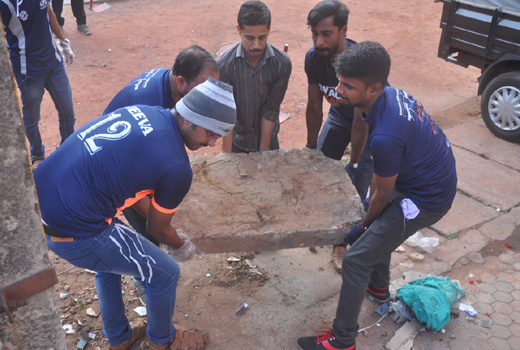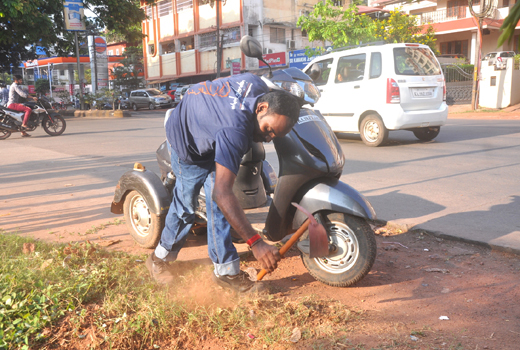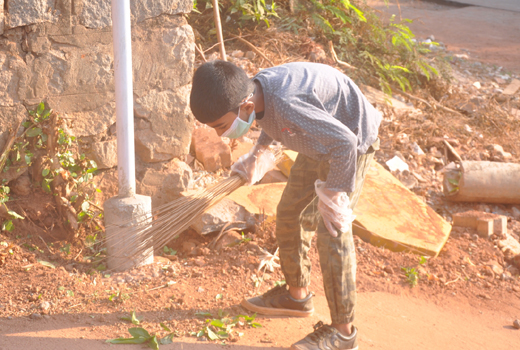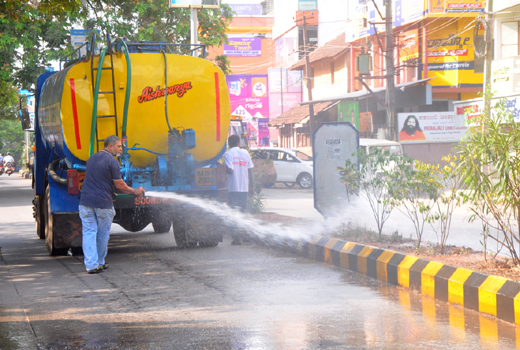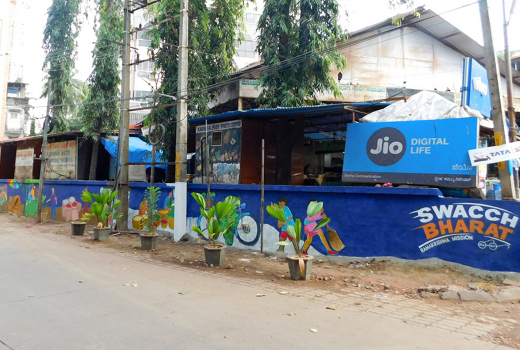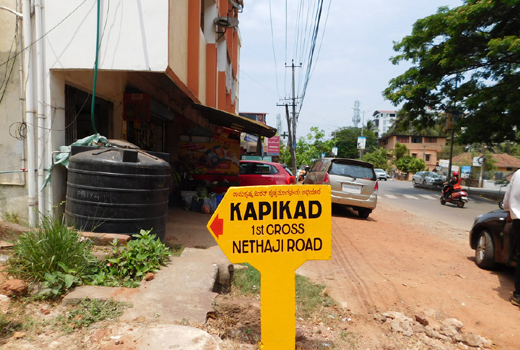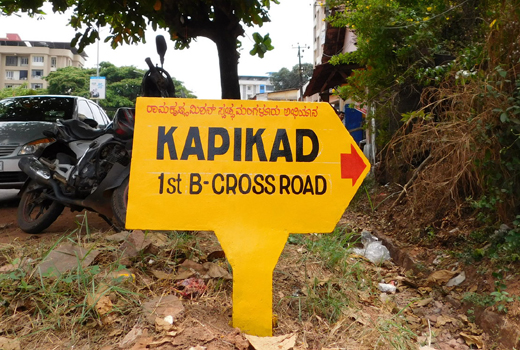 Speaking on the occasion Dr Dhanesh Kumar said, "Swacchata Abhiyan should not be for show, but should be of genuine concern. Efforts of Ramakrishna Mission in this regard are laudable and I urge each and every responsible citizen to join them." Balakrishna Bhat, Imtiyaj Shekh, Shantappa Babu, Preetham Mugila and others were present.

Cleanliness Drive: About 200 volunteers were divided into 6 groups, early morning. Roads leading from Kapikad petrol bunk were divided among the volunteers for cleaning. Both sides of the road from Kapikad to Bejai Bus stand were cleaned by 2 groups under Captain Ganesh Karnik. Two more team of volunteers took up cleanliness work in Anegundi road under Sri Vittaldas Prabhu and Umar Farooq K. Students of Nitte Physiotherapy college cleaned the road and adjoining drains in Kapikad by removing the plastic papers and sweeping the area. Volunteers under P N Bhat, Mehboob, Uday K P cleaned an area near petrol bunk which was littered with plastic waste. They also cleared a footpath which was covered with mud by using JCB thus helping pedestrians.

Repainting of 6 direction boards: To assist the public 6 direction boards depicting the names of the roads which were not readable and served no purpose were cleaned and repainted. Direction boards in Netaji Road in Bejai kapikad, Kirodian Lane, 1 st Cross, 2 nd Cross, 6 th cross were repainted.

Removal of Flex banners & posters: Illegal flex hoardings and banners have not only ruined the beauty of the city but are also leading to poster wars. Hence the volunteers of Swacch Mangaluru Abhiyan under Souraj Mangalore, Sudhir Vamanjoor, Prakash Garodi, Ganesh Prasad Shetty, Dilraj Alva and other youth removed several flex banners, hoardings in Jyothi, Kankanadi, PVS, Kodialbail, Hampankatta areas.

Distribution of awareness Literature: Students of St. Aloysius College under the guidance of lecturers, Prajna Jain and Metlida Veronika Pais visited houses and shops door to door, distributing awareness handbills and urging them to keep their areas clean. Prashanth Raj of Bhumika Water Suppliers volunteered to clean the roads swept by washing with water and watered the plants planted in the road dividers.

Wall Painting at Karnagalpady Market: Few weeks before, Karnagalpady Market area was littered with garbage and plastic waste. After our volunteers cleaned the area and urged the residents and users to cooperate in maintaining the area clean, it looked improved. This week the surrounding compound walls of Karangalpady Market were beautified with nice decorative thematic drawings and paintings by Vikram Shetty, Shailesh Kotian and members of Aditattwa team under the guidance of Ramakrishna Mission.

All the volunteers were given required refreshments. MRPL is sponsoring the drive Sunday after Sunday and the half way mark was reached on March 18, Sunday.

Contact – Swami Ekagamyanandaji, Convener, Ramakrishna Mission Swacchata Abhiyan at..9448353162 for details.


Write Comment
|

E-Mail
|
Facebook
|

Twitter
|

Print