Week 18 'Shramadan for Swacchata Abhiyan' spear headed by RK Mission on April 7
Mangalore Today News Network
Mangaluru, Apr 08, 2019: Ramakrishna(RK) Mission, Swacchata Abhiyan's 18 th week Shramadan was carried out in Kadri-Mallikatta area April 7, Sunday. The Shramadan was jointly flagged off early morning by Dr Shantharam Shetty, MD, Tejaswini Hospital, Mangalore and Dr K Bhaskar Shetty, MD, City Hospital, Mangalore in the august presence of Swami Prakashanandaji, President of Ramakrishna Vivekananda Ashrama at Ranebennur. Speaking on the occasion, Swami Prakashanandaji said, "Swacch Mangaluru Abhiyan has become a model movement today. Cleanliness is a virtue not only to be inculcated but also to be insisted on others to follow. Sister Nivedita, the foremost disciple of Swami Vivekananda initiated this movement in Kolkata a century ago. Today we appreciate the lead taken by Mangalore Ramakrishna Mission for its sustained efforts in creating awareness among the people. I congratulate all who participate in this Abhiyan."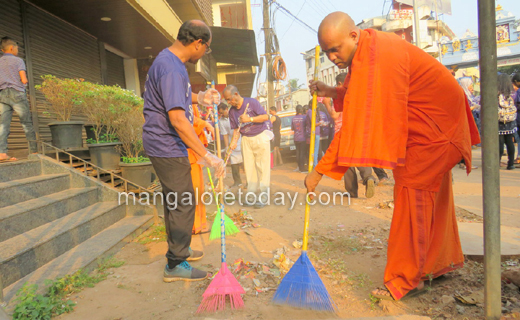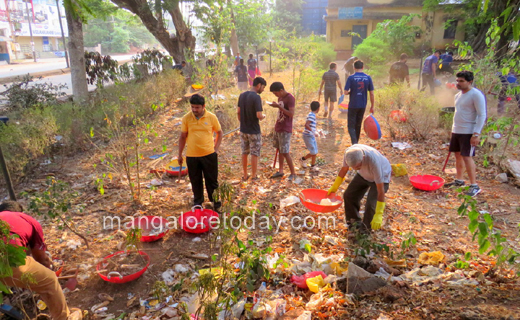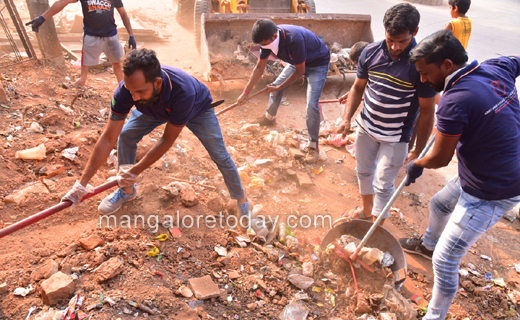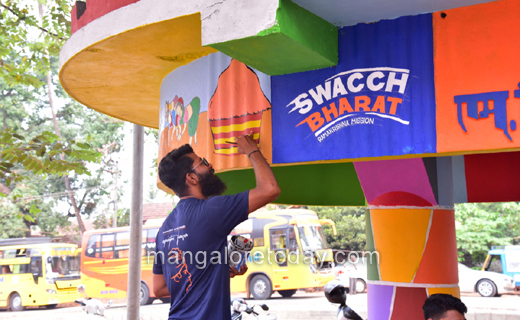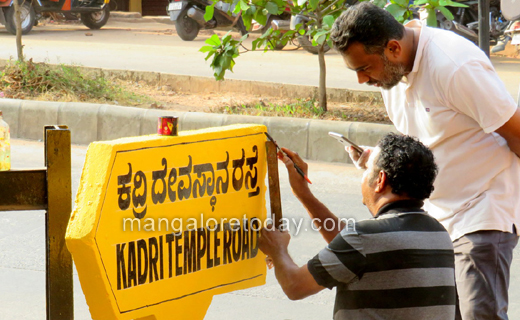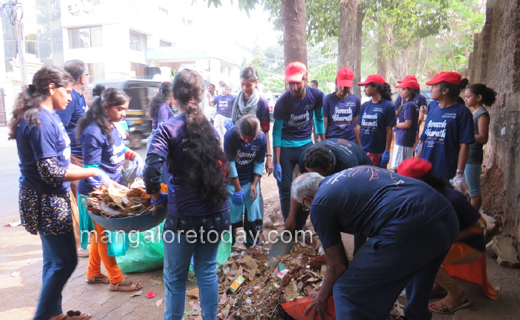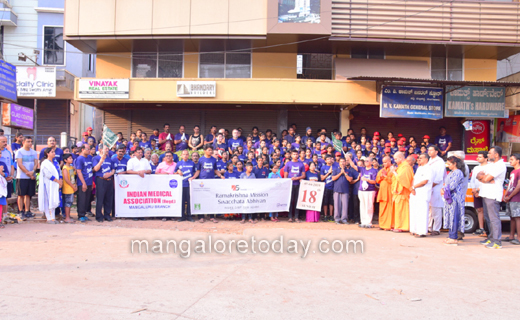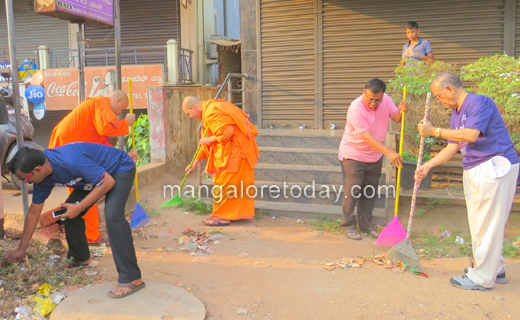 Dr Shantharam Shetty said, "This Abhiyan has touched the hearts of people. By touching their minds, a sense of identity and responsibility is being sown in the public by awakening them. If each and every one identifies with the mind set, a clealiness approach will result. Only then a Swacch Society can be created." Sri Pradeep Kumar Kalkur, President of Dakshina Kannada Sahitya Parishat spoke creating awareness among the assembled volunteers about voting in the ensuing election and that each and every one should exercise his right to vote. Dr Chandrashekar Kelgar, Somashekar Mundaragi, Kala Deepak, Gurudatt Shenoy, Vasanthi Nayak, Prof. Sheshappa, Mehboob were present on the occasion.

Cleanliness: Swami Ekagmaynandaji laid a blueprint about the day's cleanliness drive. Students of Tejaswini Nursing and Physiotherapy College under the guidance of Dr Shanathram Shetty cleaned the area from Kadri Temple Dwara to City Hospital, and front portion of Tejaswini Hospital and nearby footpaths. IMA Doctors cleaned the area from Kadri circle to Shivabagh. Students of City Hospital Physiotherapy College under the guidance of Vittaldas Prabhu cleaned the road leading towards Kadri Temple. Volunteers of Swacch Mangaluru cleaned the surroundings of Kadri Circle. The street boards of "Kadri Temple Road" and "Lobo Lane" were cleaned and repainted. Suresh Shetty led a team of volunteers in visiting nearly 200 shops distributing awareness handbills.

Special Work: A Bus shelter near Kadri Mallikatta was dilapidated due to negligence and was filled up with dirt and filth. It had become a den of illegal activities regularly haunted by drunkards. Hence volunteers of Swacch Mangauru under Artist Vikram Shetty and other artists of Aditattwa Arts cleaned the shelter and with beautiful drawings and paintings have given a much needed facelift. A park in front of library was strewn with bottles, plastic and dirt which was thoroughly cleaned by the volunteers. Heaps of garbage and debris near Kadri Temple entrance were removed using JCB tipper. The garbage lying in front of Sri Krishna Kalyana Mantapa was also cleaned and pots with
flower plants were placed to beautify the spot. The team of Swacchata Yodhas will see that people will not litter in those spots again.

Swacchata Seva by Doctors: On the occasion of World Health Day, several doctors of Indian Medical Association actively participated in the Shramadan today. Roads and dividers between Kadri Circle and Shivabagh circle were cleaned by them. President of IMA, Mangalore Dr Sacchidananda Rai led the team of doctors. Dr Prashanth Marla, Director of AJ Hospital, IMA Secretary Dr Sudhindra Rao, Dr Satish Rao, Dr Mohan Chandra Suvarna, Dr I V Bhat, Dr Vishnu Prabhu, Dr Annayya Kulal and many other doctors cleaned the spots using brooms and baskets. MRPL is sponsoring these drives. A few pictures can be viewed here. "Swacch Mangaluru Abhiyan" Chief Convener Swami Chidambarananda, has initiated report.

Contact – 9448353162 -Swami Ekagamyananda, convener, Ramakrishna Mission Swacchata Abhiyan.

Write Comment
|

E-Mail
|
Facebook
|

Twitter
|

Print