Water at the Thumbe dam may last 10 days, tankers to be mobilised
Mangalore Today News Network
Mangaluru, April 26, 2016: The lack of timely summer rains and extreme heat, has caused the Netravathi, the main source of water for drinking and industries in the city to dry up. MCC Mangaluru City Corporation has started action to supply water to its wards in lorry/tankers.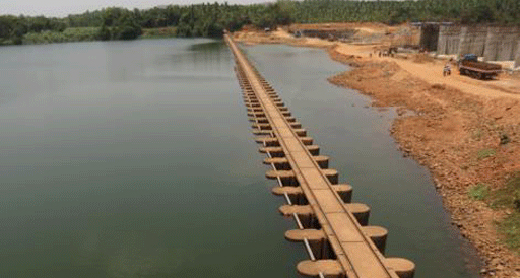 After visiting the vented dams across the river at Thumbe and Shambhoor Apr 25, Monday, Urban Development Minister Vinay Kumar Sorake told media that water storage in the Thumbe dam would be enough only for 10 days if pumping water is taken up on alternate days.

The Minister said that if the storage at Thumbe is exhausted, water would be supplied to 60 wards through 60 tankers. In addition, six tankers would standbyto meet emergency situations.

MLA J.R. Lobo, Mangaluru City South, said that if water at Thumbe completely dried up, then the 60 tankers would lift water from other water sources such as wells and tanks.

The Minister said that major industries such as MRPL and Mangaluru Special Economic Zone Ltd. (MSEZL) lefted water till Apr 25, Monday from the Netravathi. Now, the priority is for supplying water for human drinking and not industries.

If industries stopped pumping water from the river at the upstream of Shambhoor dam, water which would suffice for four days supply would be available. Hence, they have been directed to stop lifting water.

Minister Sorake said that eight bunds in the river course between Thumbe and Shamhoor have been cleared to make whatever water available to flow down to Thumbe dam. He maintained that on normal days, 160 MLD (million litres a day) of water was being pumped to the city from Thumbe dam.

Of that, 20 MLD of water was lost en route , though the villages in between the city and Thumbe required seven MLD of water. The corporation supplied 40 MLD of water to industries from Thumbe dam alone.

MLA Lobo said that about 35 per cent to 40 per cent of water was lost and wasted in the distribution process.

He added that the task force headed by the MLA in each Assembly segment has been empowered to take emergency decisions in case of urgency relating to water supply. It included taking decisions on drilling borewells, energising them and the like.

Write Comment
|

E-Mail
|
Facebook
|

Twitter
|

Print