Vishwa Konkani Alumni to host mega event 'Prerna'- a confluence of ideas and motivation
Mangalore Today News Network
Mangaluru, Feb 16,2017: Vishwa Konkani Alumni (VAA) the Alumni Association formed by the recipients of Vishwa Konkani Scholarships instituted by World Konkani Centre, Mangaluru, is organising a day long mega event called Prerna – A Confluence of Ideas and Motivation on 18th February 2017 at T.V.Raman Pai Convention Hall, Mangaluru. The conference is one of the initiatives as envisaged by VISION TVM of World Konkani Centre.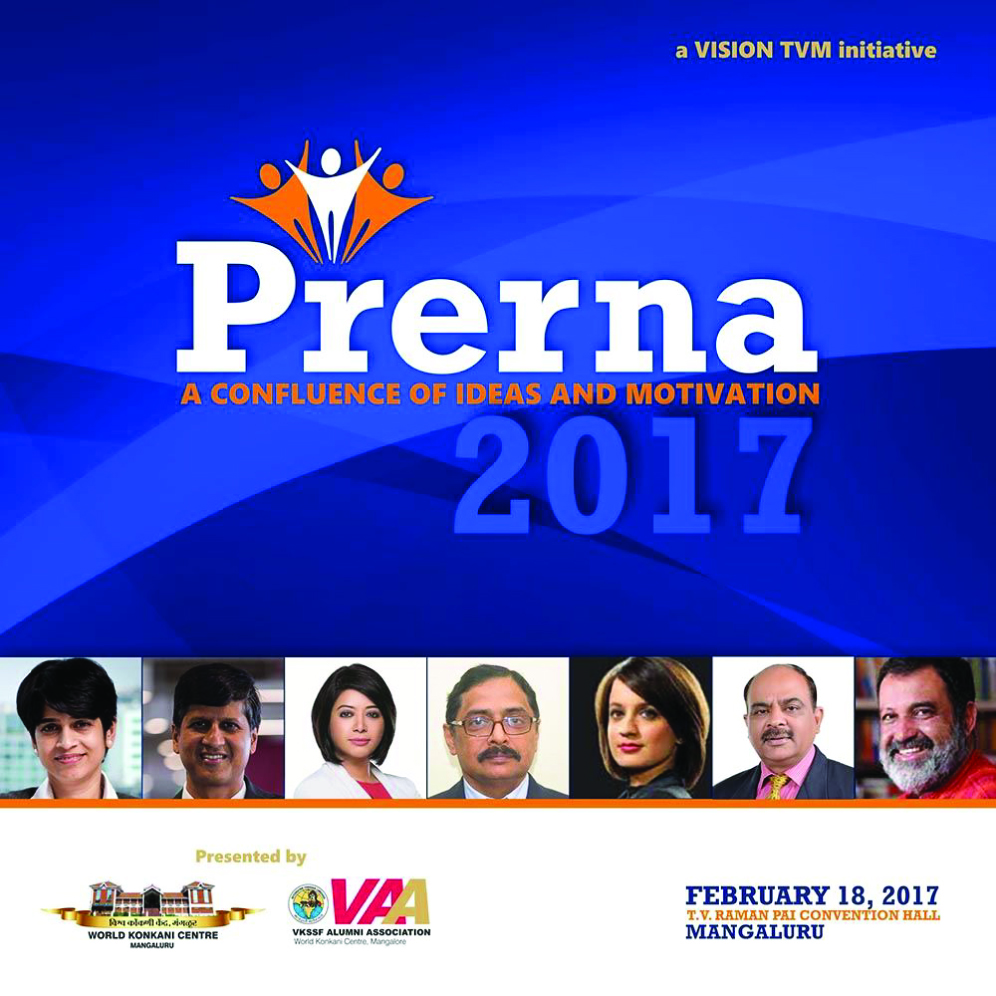 The event will be inaugurated by Brigadier C.M.F. Prabhu, in the gracious presence of, the guest of honour Shri. Venkatesh Kini, President, Coca-Cola India and South West Asia , Chief Guest of the day Ms. Sonia Shenoy, Editor and TV Anchor CNBC TV 18, Shri Basti Vaman Shenoy, President and Founder World Konkani Centre, Shri. Ramdas Kamath U, Chairman, Vishwa Konkani Student Scholarship Fund, Shri Sandeep Shenoy, Chief mentor, Prerna and Shri Pradeep G. Pai, Secretary, VKSSF. Mr. Dinesh K Pai, the president of VAA will deliver the welcome address.

'Prerna', an event graced by many wonderful personalities over the past two years, is here again with 7 speakers who have not only been an inspiration and role model for youth all over the country, professionally and personally, but have established strong foothold in every sphere of their life. Retired Officer of the Indian Army, Brigadier C.M.F. Prabhu; President of Coca-Cola India and southwest Asia, Shri. Venkatesh Kini; Managing Director of IMFR Capital, Ms. Kshama Fernandes; Co-founder of the Bharosa Club New Delhi, Shri. Prakash Pai; prominent TV Anchor at CNBC TV18, Ms. Sonia Shenoy; Editor at Magicbricks Now, Ms. Faye D'Souza; Head of Urlogy at AJ Hospital Mangaluru, Dr. Sunil Shenoy; Social Enterpreneur and Corporate Mentor, Shri T.V.Mohandas Pai, will be enthralling with their insights this year.

In our continued efforts to broad base the programme constantly and seek more participation, the event continues to be open to the entire student fraternity of the region. Students, desirous of participating may contact the organisers. While there is no entry fee, the seating capacity of the venue may restrict the attendance and hence it is a first come first serve opportunity. The event is organised by VKSSF ALUMNI ASSOCIATION and World Konkani Centre, Mangaluru.
VKSSF Alumni Association has been established to foster the ideals of giving back to society under the VISION TVM programme of the World Konkani Centre. Today, the members of VAA have spread across the world, occupying coveted positions in various corporations and organisations. As true bearers of the spirit of Konkani speaking people who have wholeheartedly contributed to the region's all round development, VAA is initiating a platform event where all the established alumni can interact with student population of the region, motivate and inspire them and foster creativity and innovation.

Brief introduction of the speakers:
1. Venkatesh Kini has over 24 years of sales, marketing and general management experience. After passing out from IIM Ahmedabad, he has travelled his corporate journey in organizations like Asian Paints and ITC. Presently, he is the President of The Coca-Cola Company's India and Southwest Asia business unit covering India, Bangladesh, Bhutan, Maldives, Nepal and Sri Lanka. He is also active in many of the business associations of the beverages Industry.

2. Prakash Pai has spent over 25 years in the Indian financial software systems and payment Industry and can be said to be its founding member. After his masters from IIT Delhi, he joined Nucleus Software which became an Industry leader for over a decade. Post that he launched the Indian mobile wallet operations of Nokia, which subsequently was sold off. Presently, he is now in a startup mode helming a new age robo advisory firm which aims to take financial services products to the masses.

3. Dr Sunil Shenoy studied in AFMC Pune (MBBS), PGIMER Chandigarh (MS) and AIIMS (MCh). After stints in KMC Manipal and Father Muller Hospital, he now heads Urology at AJ Hospital & AJIMS. Has spearheaded deceased donor renal transplant program in south canara and also started the MCh super-specialization course in Urology. He is active on lecture circuits in his field and is always striving to reduce cost of delivery of medical services to common citizens.

4. Faye D'Souza is the Editor of Magicbricks NOW India's first 24/7 urban and housing channel and also the Editor for the Personal Finance and real estate on ET NOW. Anchor of India's longest-running personal finance show (on ET NOW), she has over 14 years of experience as a journalist, presenter and investment advisor. A regular columnist for the TOI, she is passionate about investor rights and empowerment of Indian women through finance and is currently working on book on Finance for Indian women with Harper Collins.

5. Kshama Fernandes, after academics (B.Sc, MBA and Ph. D) started her career as Professor and became Head of Finance at Goa Institute of Management. After consulting for the IMF, CME, MoF, NSEIT etc., she became a part of the team which founded IFMR, an institution envisaged to play the role of a bridge between informal businesses and mainstream capital markets. IFMR, of which she is the MD, has till now facilitated USD5bn of disbursements and raised over USD100mn from marquee international investors.

6. Sonia Shenoy has been a familiar face for all business news watchers in India for over 7 Years. Being part of the business and financial news industry, she has been at the forefront of the efforts to present the appropriate interpretation and analysis to common investors. In addition to being a prime time anchor, she is also quite active in conducting investor awareness camps which aims to increase awareness of financial markets and deepen equity investment culture in India.

7. T.V.Mohandas Pai, Social Entrepreneur and Corporate Mentor: Well known for his efforts in Improving literacy, public infrastructure, public policy process and also for his active role in AKSHAYA PATRA, BPAC etc. T.V. Mohandas Pai is an advocate of start-up revolution in India. In his new avatar as a Social entrepreneur and enabler, he is of the firm belief that Indian youth can propel the country to be the start-up capital of the world, the outcome of which would not only set the growth engine but also create societal changes for good in our country.


Write Comment
|

E-Mail
|
Facebook
|

Twitter
|

Print