Virat Hindu Samajotsava at Udupi - Stress to uphold the ethos of Hinduism in India
Mangalore Today News Network
Udupi, Mar 10, 2015 : In an emotional address to a mammoth gathering of the Virat Hindu Samajotsav held at Mahatma Gandhi Memorial College grounds, on March 9, Pejavar Mutt Seer Vishweshatheertha Swami gave a foreceful call to free India from conversion, terrorism, cow slaughter, untouchability and corruption, for the well-being of Hinduism in India.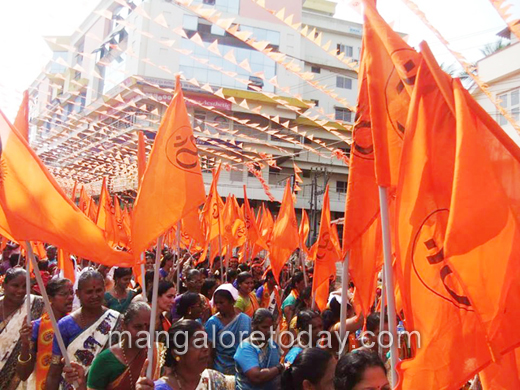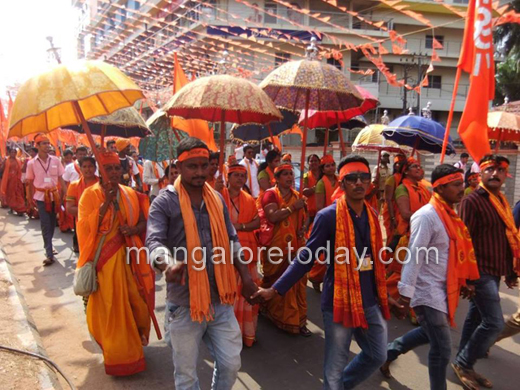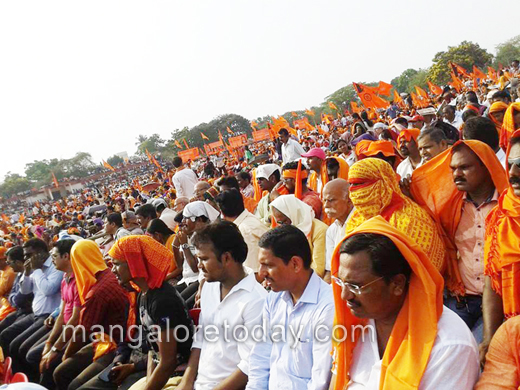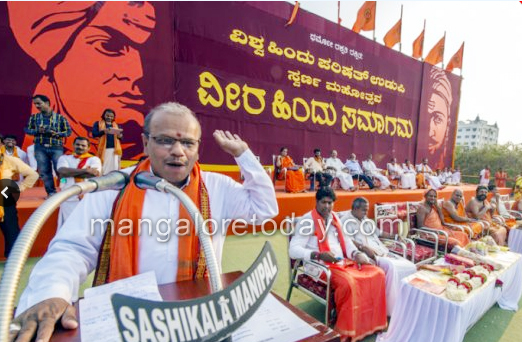 The seer stated conversion, terrorism, cow slaughter, untouchability and corruption are the evils holding back the ancient Hindu religion from better progress. He said the youth should strive harder to uplift the nation with ancient Hinduism and its values respected .

Pejavar Mutt Seer Vishweshatheertha Swami said youth should take up the challenge to protect the sanctity of Hinduism, which has its roots since thousands of years. Pointing out that conversion and terror are the major factors ruining Hinduism, the seer added that conversion and terrorism should be curtailed forthwith. He alleged that the minorities who are into conversion should understand that service oriented conversion does not serve any purpose. Luring people and converting them is totally unethical. He urged them to take up conversion and religious preaching within the precincts of their own religion. The seer stressed peace is only possible with the elimination of these evils.
He urged the people of other communities to stop extending support to terror activities. The tolerence of the Hindus has limits, he cautioned stressing on human feelings. Indicating that the State government was biased, the seer questioned the government's attitude to censure and restrict reconversion (Ghar Vapsi) as against the ongoing forceful conversion. He urged government to extend the facilities offered to the minorities to the majorities as well since they have rights too.

Pointing out that there is an urgent need to ban cow slaughter in Karnataka, the Swami said that the cattle hold a sacred place in the hearts of Hindus. The government should take all steps to ban cow slaughter. He urged people to stop practicing untouchability, untouchability is not practiced elsewhere. The social evil should be condemned, he stressed.

Delivering the key-note address, Vishwa Hindu Parishad International leader Prashanth Hartalkar said protection of Dharma is paramount at this hour. Hindus have to prove their commitment and capabilities by protecting the religion against evil influence. Holding the State government responsible for banning Praveen Togadia against delivering the keynote address, Hartalkar said that Congress in recent times has vanished from all States across the country.

Currently, Congress should reflect on its situation and not traumatise the majority community. The chief minister is inviting trouble by taking drastic measures against Hindu organisations.

A grand procession was held from Jodukatte to the venue depicting the culture and tradition of Hinduism prior to the Samajotsava attended by an unprecedented number in this temple town, renowned to the Lord Krishna.

Write Comment
|

E-Mail
|
Facebook
|

Twitter
|

Print