Veena Srinivas vows to popularise 'Kaavi Kale' an ancient art form
Mangalore Today News Network
Mangaluru, Jan 6, 2016: Veena Srinivas, a reputed artist of Mangaluru has taken up the task of popularizing 'Kaavi Kale' an ancient art form through an exhibition starting from January 8 to January 12, 2016 in Prasad Art Gallery, Lal Bagh, Mangaluru. The exhibition will be inaugurated by Ms. Lakshmi M. Kumaran, General Manager, (Corporate Communication) MRPL.

Veena has made an in-depth study on the art of Kaavi Kale, has a more twenty paintings to showcase. Kaavi Kale is a traditional art form of 16th century that is characteristic of the Saraswats of Goa and the Konkan coast of Karnataka said Veena.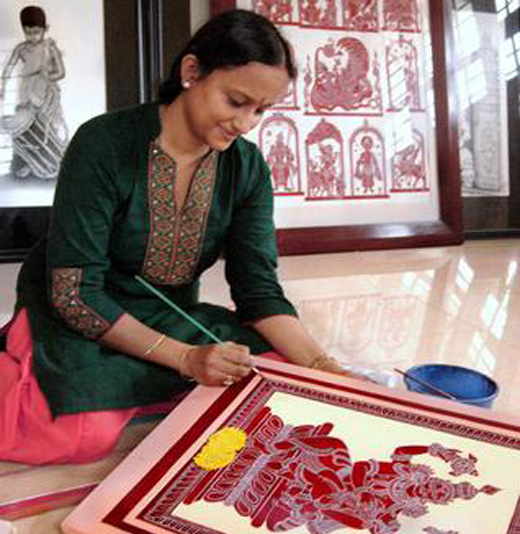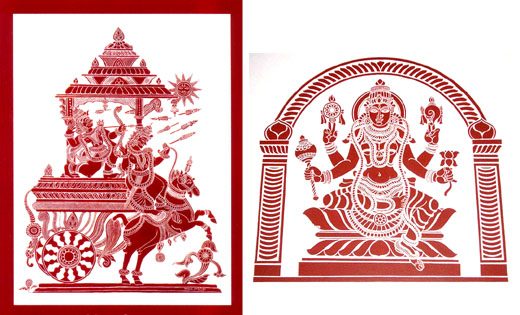 "A few specimens of Kaavi art, a unique form of painting once popular in temples in the these areas, can still be seen in parts of Goa, but renovation and reconstruction of these temples spell doom for the fast-disappearing art form and it is imperative that the future generations be made aware of this form if it is not to disappear fully. The speciality of this art form is the unique melding of epics, legend and culture along with the floral designs in a pleasing linear effect in red patterns on the inner and outer walls of the temples in beautiful reddish-brown murals," Veena said.

Veena has not only created works of art in Kaavi Kale, but also has made an in-depth study of the processes of painting, the themes woven into it, the spaces in which they exist and their present situation. She has also conducted workshops to provide hands-on experience to youngsters to bring in cultural awareness of this art form. Veena Srinivas has taken up themes from the Ramayana, Mahabharata and other epics as subjects of her Kaavi Kale paintings.

"These paintings are meant not only for exhibitions, but also to kindle interest in the art form in national and international forums. 'Kavee nayana' is my latest attempt to bring Kaavi art form into the public eye through exhibitions, publications and other forms so as to draw the attention of government bodies for preservation and propagation of the art form," Veena said and added that she hopes to make her efforts bear fruit and bring about a rejuvenation of the art form.

Elaborating on traditional method of making Kaavi murals, Veena said it is a monochromatic work. The term Kaavi is the local name for Indian Red. The Ferrous content in the soil gives it its rich reddish brown colour. This art form thrived along the coastal belt for two main reasons. Firstly, the availability of red soil 'urimanju' (uramanju) in abundance and secondly the climatic conditions of the coastal belt. The earlier or traditional process of creating Kaavi Kale withstood the torrential rainfall sustaining minimal damage, she said.


Write Comment
|

E-Mail
|
Facebook
|

Twitter
|

Print