Union Agriculture Minister Radha Mohan Singh releases Hangyo Vegan Delicacy at New Delhi
Mangalore Today News Network
Mangaluru, July 16, 2018: 16th July 2018 being 90th Foundation day of Indian Council of Agricultural Research (ICAR), Hon'ble Union Minister for Agriculture, Radha Mohan Singh released Hangyo Vegan Delicacy at AP Shinde, Auditorium, NASC Complex, New Delhi. Gajendra Singh Shekhawat, Hon'ble Minister of State for Agriculture & Farmers Welfare, Dr. Trilochan Mohapatra, Secretary, DARE&DG, ICAR, P Chowdappa, Director CPCRI, Nitin Kulkarni ( VP - Operations) and Manjunath S S (VP - Marketing) of Hangyo Ice Creams Private Limited were present at the occasion.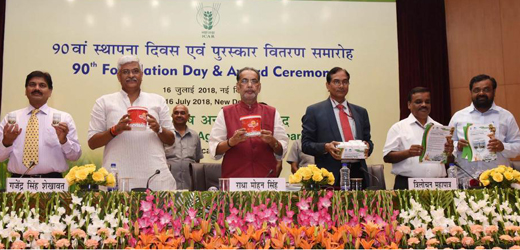 Hangyo Ice Creams Pvt.Ltd., had signed a Memorandum of Understanding (MoU) on 8 th July, 2017 with the premier research institute Central Plantation Crops Research Institute (CPCRI) established by ICAR in 1970 for Coconut, Arecanut and Cocoa Crops, and have developed the vegan delicacy in two varieties; Coconut delicacy and Choconut delicacy.

Mr. Pradeep G. Pai , Managing Director of Hangyo Ice creams Pvt Ltd, said "We have developed these products after working for almost a year with the full support and co-operation of Shri P. Chowdappa, Director CPCRI and his team and we have been successful in manufacturing and expanding a new product range to the Hangyo brand. This is made on the lines of the Prime Ministers slogan 'Make in India."

The delicacies developed are Vegan, healthy and nutritious. It is suitable for even lactose intolerance people and contains all the benefits of coconut milk, tender coconut pulp and water. When it comes to healthy part, the products are rich in medium chain fatty acids (lauric acid) which increases immunity and body metabolism (helps in digestion).

The vegan ice cream is Cholestrol free and rich in protein (glutamic acid, aspartic acid, and arginine) essential Vitamins (E and B6) vitamins, minerals (potassium, calcium, Magnesium, phosphorous iron, sodium and copper) and anitioxidants. According to research, the fatty acids (high oleic and lauric acid) in coconut milk are instrumental in preventing arteriosclerosis.

"In India, Ice-cream sector is growing, and we at Hangyo Ice Creams Pvt.Ltd., are constantly working to bring better and new products to our customers." Mr. Pradeep G Pai added.

Hangyo commenced its operations in February, 2003 and today is a leading ice-cream brand in the West Coast of Karnataka, Kerala and Goa also having presence in Tamil Nadu, Andhra Pradesh, Telangana and Maharashtra including Pune and Mumbai.


HANGYO: The journey in becoming a 'millennial' brand
Multitude of awards, a bastion of quality, a wide range of products, a hundred crore Company; a brand that turned into a legend in double-quick time. Hangyo- share a smile holds the pride of being a brand as iconic as ice cream.

20 years ago, in 1997 when Mr. Pradeep G Pai currently the Managing Director, Hangyo Ice Creams Pvt. Ltd with a dairy brand Srikrishna, tasted a kind of twist ice cream on his visit to Australia and having drawn inspiration from there embarked on the journey of realising the ice cream dream- Hangyo was born.

Hangyo's spectacular journey began with an independent ice cream outlet at Saibeen Complex on a Christmas Eve in the small town of Mangaluru, which first served the 'Softee' that was an overnight sensation and success capturing the imagination of the ice cream lovers though frozen delights and innovative flavours. The humble beginning gave the brand the confidence and today Hangyo touches 7 states taking many by surprise.

Like the 'Music for the heart and food for the soul', Hangyo presents a world of delight. This is fulfilled with notes of romance and symphony of taste represented by the waves in the logo. At Hangyo taste buds are nurtured to infinity as the waves lap one's tongue in 'fantasea' of myriad flavours.

As the ice cream business roared, there was no looking back for Hangyo. With state-of-the-art manufacturing plants spanning the undivided Dakshina Kannada District Hangyo has earned 162 channel partners, 1.5 million customers who vouch for the brand, 200 franchisee parlours, 60+ hangyo shoppee's in the last 15 years and looking for a positive future ahead.


"Life is never about destination, it's a journey. It's always about chasing that dream that makes your journey worthwhile. And here we are today serving people with quality ice cream." Says Mr. Pradeep G Pai.

Hangyo believes in delivering quality in line with the expectations of the consumers and for this the brand even goes an extra mile. It has taken a lot to bring this spectacular brand to what it is today. The penchant for the best taste will not fail to guide the very creative RnD team. A dynamic team and an efficient work force is the sole reason behind the success of the most sought after frozen delight-HANGYO.

"As a businessman, I always define myself as someone with a raging appetite for taking risks and for novel ideas and I believe it is evident through the success of our brand." Added Pradeep.

The affinity for experimenting and a positive spirit fits perfectly into the company's slogan "share a smile". The achievement has surely come from climbing onto lonely heights! Now having reached a formidable length, any competition seems like a distant figure on a long highway.

Hangyo has its taste relished in all Southern states of India, sharing smiles across towns and villages whose exotic names have been an inspiration. They also plan to streamline their products into areas which have not been ventured into by big players.

"It is the hard work of every single player on our team that has led us to becoming a ubiquitous name today. Our unmatched quality and our recognition will always be a proof to our excellence."Says Pradeep.

From the early beginnings to a 'hundred crore, brand, Hangyo's journey has come a long way and is becoming a national brand. The brand vouches for Purity, Perfection and Nutrition that forms the milky constellation. We created ripples on day one and today is not just any other day with millions of Indians lap up our sincerity. Hangyo is today a brand to reckon with. This long journey has been just as exciting and delightful as the Brand itself. Still is.

Write Comment
|

E-Mail
|
Facebook
|

Twitter
|

Print