Undeterred, cockfights still on in coastal Karnataka
Mangalore Today News Network
Mangaluru: July 23, 2015: Despite the ban imposed on cock fights, which is also a form of gambling popularly known as 'Kori Katta' in local Tulu language, the sport remains popular in the coastal region. It has remained a cat and mouse chase between police and gamblers.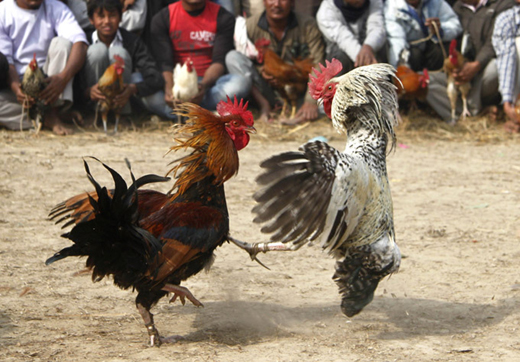 Despite constant raids, cockfight dens across Dakshina Kannada and Udupi continue to flourish.
In an incident reported in Padubidri police station limits, officials had organised the auctioning of roosters recently. This attracted a lot of people to the station, many of them allegedly wanting back their seized roosters. According to sources, the police had raided a den at Santoorkopla on Monday and organised the auction on Tuesday.
The Padubidri police said there were 36 roosters for auction. The court has fixed a minimum value of Rs 400 per rooster. "We were able to collect Rs 45,000. Such auctions are held only when the raids are conducted and roosters are seized. About 200 people had gathered at the station," said an official. While it is believed that the people representing the gamblers themselves participate in auction, the police said, "The public in general participates and bought the roosters."
Cockfight is a game where two owners place their roosters in the ring called cockpit to fight. These roosters fight until one of them dies or is severely injured. A sickle shaped knife is tied to the legs of the roosters.
According to Jayantha of Puttur, roosters are born fighters and no special training is required. However, a week before a major competition, roosters are allowed to fight among themselves. During these trial fights, no knife is tied to the leg. This is also done to ascertain the strength of the rooster.
The fighter cocks are generally local breeds or even bought from Tamil Nadu. Based on the colours of their feathers, popular names are — mypa, karbollle, kemaira, bolle, uriye and so on. The gamblers follow a 'kukutta panchanga' — the panchanga (book) provides information about which colour of rooster would suit a particular day.
The cost of a rooster can go up to Rs 25,000, and betting can cross Rs 1 lakh. Not just in rural areas, within Mangaluru city limits too, cock fights are popular. Cock fights are often practised after temple festivals or the next day of bootha kola.
On a daily basis, paddy is given to these roosters. Some also catch lizards for them. These days a few companies have launched nutrition food for roosters as well.

Write Comment
|

E-Mail
|
Facebook
|

Twitter
|

Print