Ujjire: Man travelling with own kid attacked as mob thought he was a kidnapper
Mangalore Today News Network
Ujjire, July 6, 2018 (TNM): A 30-year-old man was attacked by locals on Thursday in Ujjire after he was suspected to be a child abductor.

The man, Kaleed, was travelling in an auto with his two-year-old daughter on Thursday evening. Kaleed was scolding and hitting his daughter, who was crying. Two locals on a bike noticed the crying child and followed the auto and made them halt it, and then forced Kaleed to step outside.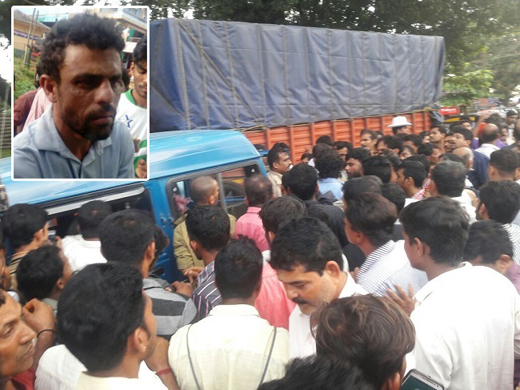 When they confronted him about the child, an annoyed Kaleed refused to tell them anything, which resulted in the two men branding him as a child abductor and began to beat him up.

Soon, a crowd gathered, and more people began to hit Kaleed, at which point he began to cry out that the child was his own.

The Ujjire police arrived at the scene fast enough to break up the crowd and free Kaleed. The police say that no one came forward when they questioned who started the attack. The police then took Kaleed and his daughter to the police station, with the locals following them claiming that Kaleed was indeed a child abductor.

At the station, police officials contacted Kaleed's wife Shameema, and were able to confirm that the child was, in fact, Kaleed's daughter, after which he was let go. An FIR has not been in filed.
The police then reportedly spoke to the locals and counselled them about not believing fake WhatsApp forwards. The Mangaluru police have been undertaking measures to spread awareness about fake forwards, by sending out people into the locality to tell them not to believe the false messages doing the rounds. However, the police state that many locals end up taking the law into their own hands anyhow.

Another WhatsApp forward doing the rounds says that people should not listen to police officers who claim that there are no child abductors and to be wary of strangers, which officials say is proving to be a hindrance.

The past few months have seen a spike in the number of mob lynchings where innocent people have been mistaken for child abductors and have been beaten up. The incidents in Bengaluru follow the pattern observed in Tamil Nadu and Telangana, where paranoid mobs brutally lynch people, who they assumed were child abductors.

Courtesy: The News Minute

Write Comment
|

E-Mail
|
Facebook
|

Twitter
|

Print