Ujire: PM Modi vows to protect nation, praises Digital India initiative
Mangalore Today News Network
Mangaluru, Oct 29, 2017 (TN): Prime Minister Narendra Modi launches cashless transactions for Self Help Groups and issues RuPay cards to beneficiaries of Jan Dhan Yojna at a public meeting of Shri Kshetra Dharmasthala Rural Development Project in Ujire near Dharmasthala on Sunday Oct 29, 2017.

He was welcomed with a roaring ovation after he greeted the crowd in Kanada. He spoke on several issues, apart from launching a few developmental schemes for the people in the region.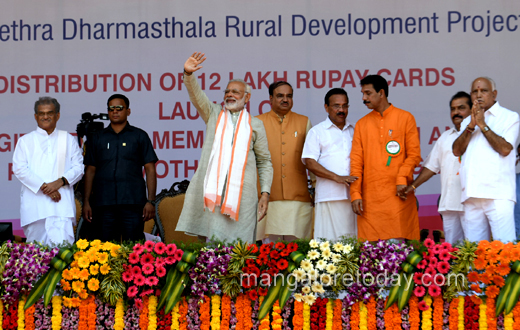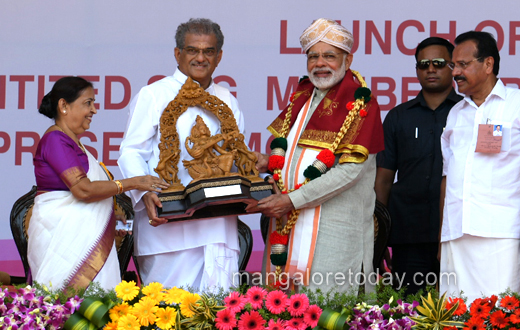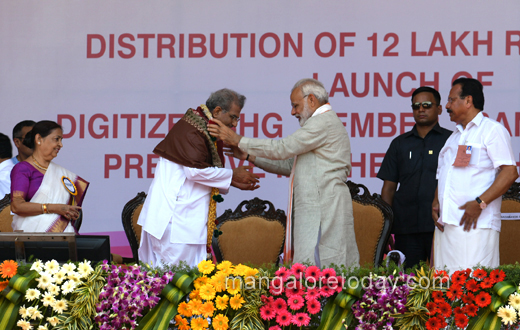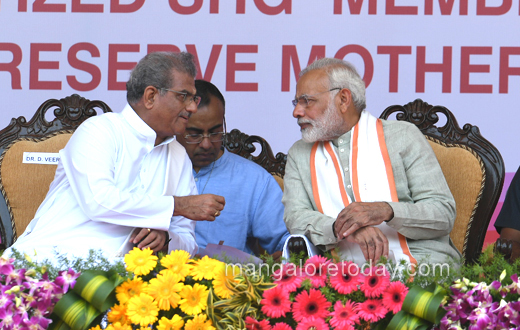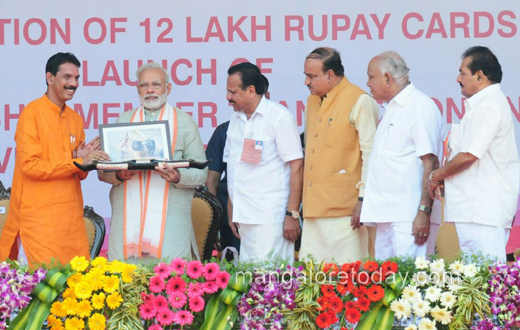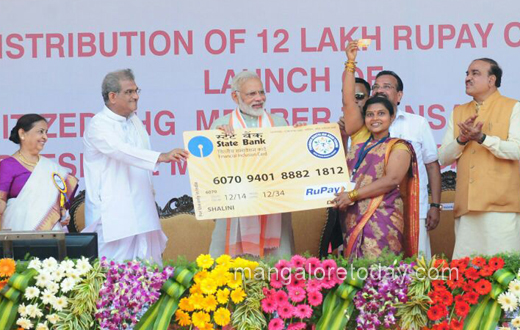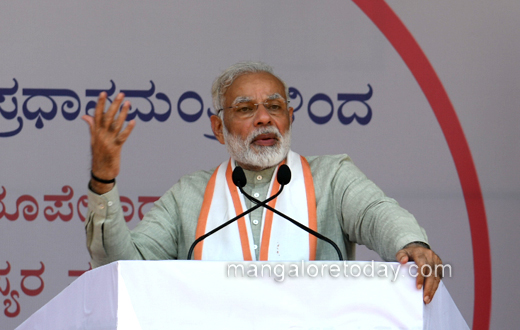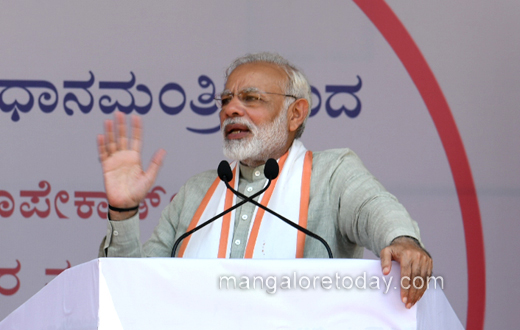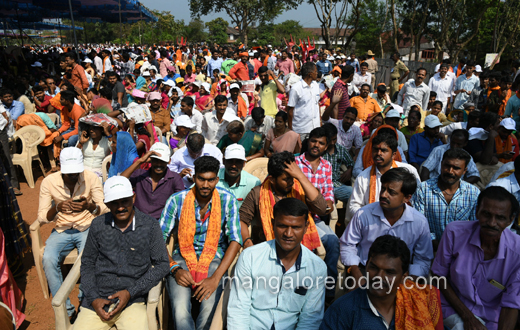 During his speech, Modi lauded the concept of digital India and said that the era of digital currency has begun. He went on to say that India should not lag behind in terms of matching other nations. Skills Development is a prime sector today explained the prime minister, adding that India has 800 million people below the age of 35 years who can efficiently contribute to the sector.

Praising Dr Heggade, Modi said he had envisaged the need of skill development much earlier. "A nation like India is youthful and hence, we must harness our demographic dividend," said PM Modi after highlighting the efficiency of the average Indian population. The era of digital currency has begun and Indian should not be late in adopting it, said PM Modi highlighting the advances made by the country in the field of digital transactions and payments.

He then invited the women of Self Help Groups and others to register on the government portal Government-e-Market (GeM) for easy procurement of goods.

Without naming Rajiv Gandhi, Modi recalled that a former Prime Minister had said that from every rupee sanctioned by the government, only 15 paise reached its beneficiary in a village. "One of the Prime Ministers had said every rupee is reduced to 15 paise when it reaches a village after getting sanctioned from Delhi. Which hand reduces the rupee?" he asked, in a sarcastic reference to the Congress election symbol. He said this was not the case with his government that was committed to devote every rupee and every resource for the welfare of Indians so that fruits of development reached the beneficiaries without any scope of corruption.

"We have decided that entire 100 paisa will reach in the hands of the people," he added.

Under the Direct Benefit Transfer scheme, Rs57,000 crore has reached to the people. "Now those middlemen don't get any money and therefore they do not like me, we will not let this country be ruined," says PM Modi.

Elucidating that every rupee or every resource from the Government of India should be devoted to the welfare of Indians, PM Modi said the administration os trying to ensure that the fruits of development reach the intended beneficiaries without any discrepancies.

PM Modi also urged people to become a part of the digital wave and adopt digital payment apps such as BHIM.

Laying stress on the issue of global warming, Modi urged the need for a sustainable plan, requestion people to be more responsible in utilising natural resources.

"Let us take a pledge on the 75th anniversary of Independence and by 2022 reduce the consumption of Urea in farming by 50 percent," PM Modi said.

PM Modi will take part in a reception organised for him by the state BJP workers at HAL airport in Mangaluru. He will then travel to Bengaluru, where he will address a gathering at the Dashamah Soundarya Lahari Parayanotsava Mahasarmapan at 3 PM.

The Prime Minister is also scheduled to travel to Mengaluru to take part in a reception organised for him by BJP workers, following which he will visit Bengaluru, where he will address a gathering at the Dashamah Soundarya Lahari Parayanotsava Mahasarmapane.

The Prime Minister had on Saturday tweeted, "The Soundarya Lahari is a set of shlokas composed by Adi Shankaracharya. The event has been organized for the mass chanting of these shlokas in unison."

Besides, he will also inaugurate the newly constructed 110-km-long Bidar-Kalaburgi railway line. According to reports, the new track will reduce the distance between Bengaluru and the national capital by over 350 km, thus reducing the travel time by almost six to eight hours.

Write Comment
|

E-Mail
|
Facebook
|

Twitter
|

Print