Udupi water supply scarcity becomes more critical
Mangalore Today News Network
Udupi, May 2, 2017: Reports have come in that the drinking water scarcity in Udupi is worsening with the water levels at the Baje Dam on the Swarna at Baje village, from where water is supplied to Udupi city and neighbouring gram panchayats, having reached dead storage.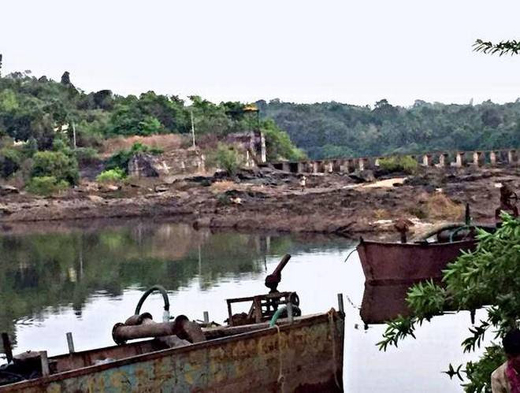 The city municipal council is now relying on eight big holes on the riverbed of the Swarna, which have water estimated to last the next 20 days. Water may be supplied only once in 3 days if the situation does not change.

At present, water is being supplied from the Mayagundi hole near Shiroor village. The water is being pumped from Mayagundi using three 110 hp motors mounted on three boats. This water is supplied to a place on the Swarna riverbed near Mane Bridge from where it is re-pumped with the help of five 110 hp motors to the Baje Dam (called the Swarna First Stage) to be purified and supplied to the city.

The municipal council has divided the 35 municipal wards into two parts and is now, supplying water on alternate days to these two parts of the city.

But the grim water situation is forcing the municipal council to re-think its strategy over water supply in the city. D. Manjunathaiah, municipal commissioner, told The Hindu that the municipal council was now contemplating supplying water once in three days.

"We will hold a meeting on Tuesday and decide from when this scheme should be implemented," he said. Besides Mayagundi, the municipal council is banking on seven other holes containing large stocks of water located at different places downstream the Shiroor Dam on the Swarna constructed at Shiroor village, called the Swarna Second Stage.

One hole is located near Shiroor Dam, while another is located at Bhandarybettu, two holes near Mane Bridge, one hole near Puttige Moola Mutt, and two holes on the Puttige downstream. But water evaporation from the river bed is a cause for concern. "The evaporation rate of water from the riverbed too is high owing to heat," said Assistant Engineer of the municipal council.

Meanwhile, the municipal council is supplying water through 15 tankers in water-scarce areas in the city. These water tankers have different capacities — 6,000 litres, 8,000 litres and 12,000 litres each. "These 15 tankers are doing 50 to 60 trips in the city per day," Mr. Ganesh said. However, these tankers provide water only to colonies and independent houses.

The apartments, multi-storeyed buildings and business establishments get water through tankers at their own cost. The situation is a cause for grave concern.

Write Comment
|

E-Mail
|
Facebook
|

Twitter
|

Print