Udupi: Thousands of devotees take part in colourful festivities
Mangalore Today News Network
Udupi, Sep 15 2017: The temple town witnessed the magnificent gala of cultural extravaganza immersed in the essence of spiritualism on the occasion of 'Krishna Leelothsava'. also called as 'Mosaru Kudike'/'Vittla Pindi', in the presence of thousands of devotees here on Thursday.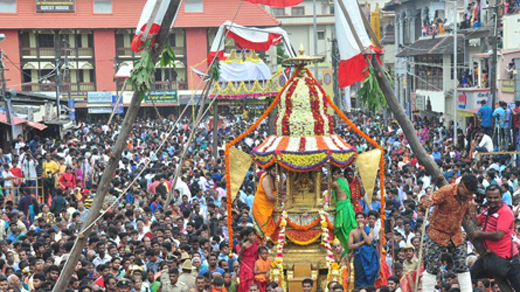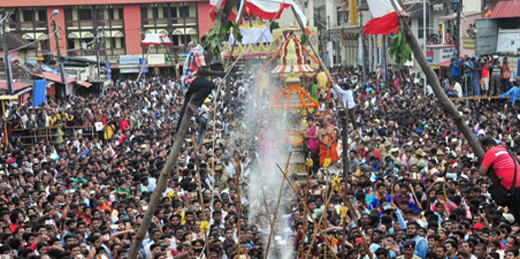 The celebrations of 'Krishna Jayanti' and 'Krishna Leelothsava' organised by Paryaya Pejawar Mutt marked glorious celebrations. 'Bhajans' and hymns of Lord Krishna echoed in every nook and corner of Car Street.Devotees gathered in large numbers to get the 'Darshan' of Lord Krishna who was adorned with a 'Vajra Kavacha'.

The clay idol of 'Balakrishna' was brought in a golden chariot in grand procession at around 3 pm. The procession was led by 'Huli Vesha' (tiger dance), 'Yaksha Vesha' and other cultural tableaux. 'Mahamangalarati' was performed to the idol by senior and junior seers of Pejawar, Sode Vadiraja and Krishnapur mutt seers on the occasion. Seers threw coconuts, fruits, and eatables like Laddoos, Chakkulis and coins as 'Prasadam' symbolically at the huge crowd assembled on Car Street to witness the events. A separate arrangement was made to distribute 'Prasadam' to the devotees.

The major attraction in the evening was 'Mosaru Kudike'. The devotees dressed as shepherds and also from shepherd community wearing husk dress broke the earthen pots filled with milk products and colour water with bamboo sticks erected at 13 different places around Car Street.

'Navarathna' and 'Kanaka Ratha' was pulled on the occasion, wherein the clay idols of Lord 'Anantheshwara' and 'Chandramouleshwara' and the clay idol of Lord Krishna was carried. The clay idol of Lord Krishna was later immersed in 'Madhwa Sarovara'. The seers and devotees took holy dip at the holy pond. Cultural programmes like folk dance, 'Maragalu Spardhe', and other competitions were organised all through the day.

The spectators were enthralled by the 'Calibo' style of cultural fancy dress worn by the Manipal Institute of Technology student Vijayakrishna Acharya representing the culture of Philippines. He told DH that he was keen to promote the folk culture of other countries. He said he has spent nearly Rs 5,000 for this and people were with his fancy dress can donate money through Paytm. He added that he has used thermocol for his attire.

Two little kids studying in Anganavadi and first standard wearing Maragalu were another attraction. Pratheeksha and Prithvi were very happy with the response as people rushing to them to take selfies.

Paryaya Pejawar Mutt pontiff Sri Vishwesha Theerta gave 'Arghya' to Lord Sri Krishna at 12.34 am. 'Anna Santharpane' (mass feeding) was organised on the occasion. The Paryaya mutt had prepared lakhs of 'Chakkulis' and 'Laddoos' for the devotees. Various rituals, besides routine pujas, were held throughout the day.

Spiritual discourses and other cultural programmes were also held.
Courtesy: DHNS

Write Comment
|

E-Mail
|
Facebook
|

Twitter
|

Print