Udupi: Seer will ascend Paryaya Peetha for record 5th time
Mangalore Today News Network
Udupi, Jan 3, 2015: Preparations are in place and the stage is all set for the 'Pura Pravesha' or ceremonial entry of Vishvesha Tirtha Swami of Pejawar Mutt. The event will be held on Jan 4, Monday.

Vishvesha Tirtha Swami would be ascending the Paryaya Peetha, also known as the Sarvajna Peetha at the 800-year-old Sri Krishna Mutt, for a record fifth time. No seer of the eight mutts of Udupi has ever ascended the Paryaya Peetha for over four times ever since the biennial Paryaya system came into existence in 1522.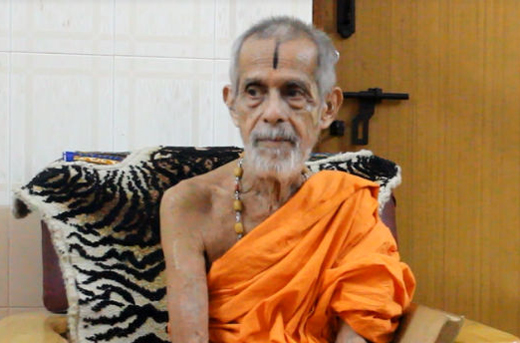 The 'Pura Pravesha' is held to welcome the incoming Paryaya seer on his return from pre-Paryaya tours to various pilgrim centres. Arches welcoming the seer have been installed at various locations in the city.

Addressing media, Ratna Kumar, general secretary of the Paryaya Reception Committee, said that the seer and the junior seer Vishwaprasanna Tirtha would arrive from Palimar village to Udupi with about 600 motorcycles accompanying them.

Route : A mega procession would begin from Jodu Katte here at 4 p.m. Instead of taking the traditional Old Post Office Road-Tenkepete Road, the procession would go through Diana Circle, Kavi Muddanna Marg and Kanakadasa Road and culminate at Car Street at 6.30 p.m.

A large number of cultural troupes would participate in the procession. They teams include, Chande team, Tatiraya, Keelukudre, Yakshagana – Badagu and Tenku, Dolu Kunita, Aatikalinja, Gorvara Kunita, Somana Kunita, Kerala Devara Vesha, Halakki Kunita, Dudi Kunita, Veerabhadrana Kunita, Puja Kunita, Bendara Kunita, Chilipili Gombe, Lambani team, Theyam, Duff team, Jaggalika Mela, Mahila Chande team, Kaladka Gombe, Veeragase, Hagalu Vesha, Dollu Kunita, Kundapur Dollu, Nagari, Kamsale, Tulunadu Vadya, Konchadi Chande, Navilu Nritya and Kerala Panchavadya.

Also a team of 300 students holding flags, a team of Sri Lankan artistes, 300 farmers, members of the scouts and gudies, rangers, NSS and Seva Dal volunteers, Honnavar, Nahsik and Chitradurga and Bantwal bands, a team of colourful umbrella holders, a skating team, teams of saxophonists and conch blowers, tableaux of Putani and dragon, and various bhajan teams would participate in the procession.

Udupi Civic Reception: A civic reception will be accorded by the Udupi City Municipal Council (CMC) to the Pejawar seer at the Poornaprajna Mantapa on Car Street at 7.30 p.m. Vinay Kumar Sorake, Urban Development Minister, Pramod Madhwaraj, MLA, Shobha Karandlaje MP and Yuvaraj, CMC President, would be the guests.

Vidyadheesha Tirtha Swami of Palimar Mutt will deliver the felicitation address, while Vidyavallabha Tirtha Swami of Kaniyur Mutt will preside over the functions.

Road to be named after 'Vishvesha Tirtha Swami of Pejawar'.
As per a resolution, the road connecting Kalsanka to Vadiraja Road in Udupi will be named after Vishvesha Tirtha Swami of Pejawar Math. An official announcement will be made during the civic reception for the seer by the Udupi City Municipal Council (CMC) at Car Street at 7 p.m. on Jan 4, Monday.

The 'Horekanike' procession, where devotees donate foodgrains, pulses, coconuts and vegetables for the Paryaya festival, will be held from January 5 to 16. This time, devotees from north Karnataka also will be offering 'Horekanike' on January 13. The donations will be brought to a mega-store and a separate store is being set up to store coconuts.

Behind this store, the Adhokshaja Mantapa, which will host cultural programmes, is being constructed.

Next to the Adhokshaja Mantapa, the construction of a big kitchen is underway. On the Paryaya festival day (January 18) nearly 1 lakh people are expected to have lunch. Besides this, 35 commercial stalls are being constructed near the Adhokshaja Mantapa. The construction of the Ananda Tirtha Mantapa, the main venue, where the 'Paryaya Durbar' function would be held is also going on at a fast pace.

Write Comment
|

E-Mail
|
Facebook
|

Twitter
|

Print