Udupi Schools set to reopen today after summer holidays
Mangalore Today News Network
Mangaluru, May 30, 2016: After April and May summer holidays, schools in Udupi district are all set to welcome students for the start of the new academic year today, Monday May 30. There are 197 primary and high schools in the district. These schools have 1.59 lakh students. Of these students, 59,000 study in government schools.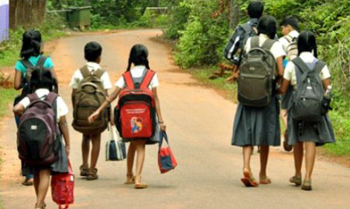 This year, textbooks will be distributed to students on the first day. At least 80 per cent of textbooks have been supplied to schools through the BEO, Block Education Offices. Studies will start on the first day itself as students will be eager now, after vacation and in their new classes. H. Diwaker Shetty, DDPI Deputy Director of Public Instruction, said. Serious classes will be held on May 30 and 31. But schools will be conducting a bridge course for students from VI to IX standards June 1 to 25.

Since the students were out of school study for two months, a pre-test will be conducted on June 1 and 2 to gauge how much of the previous year's teaching have the students retained and how much they have forgotten. After gauging their ability to retain studies from the previous year's syllabus, supplementary teaching or bridge course and actual portions will be conducted side by side. "During the odd periods, the actual portions of the class would be held, while supplementary teaching will be done during the even periods till June 25," DDPI Shetty said. Besides, the welcome during the Prarambotsava (opening festival), students will also be served sweets during the mid-day meals on the first day of the academic year. Payasa or shira or some other sweet dish will be served during mid-day meals today.

Shoes for students in government schools would be distributed on May 30, while distribution of uniforms would take about a month. The meeting of School Development and Management Committees too would be held. Headmistress of Volakadu Government Composite High School, said that though the school will re-open at 9.30 a.m., the Prarambotsava will be held at 11 a.m. Textbooks will be distributed to the students, she added.

Philanthropists, mostly alumni of the schools, will be donating notebooks to 200 poor students, and a dictionary each to 200 students of Class 8 on the occasion. "We will be serving payasa to students during mid-day meals," she said.
Let schools reopen after June 15, MLC tells govt....; MLC Ganesh Karnik, has urged the government to reopen schools in Dakshina Kannada and Udupi after June 15 owing to water scarcity in the twin districts. He has written to the Chief Minister Siddaramaiah and Minister for Primary and Secondary Education Kimmane Ratnakar. The letter said that according to the weather forecast, rain is expected to lash coastal Karnataka after June 9 and currently no school has been able to combat the water crisis. Holidays can be compensated by conducting full day classes on Saturdays. If required schools could be opened in the entire State after June 15, he added.

Write Comment
|

E-Mail
|
Facebook
|

Twitter
|

Print