Udupi: Sand issue - Varamaballi GP members on dharna
Mangalore Today News Network
Udupi, September 17, 2015: The full strength of 18 members of the Varamballi Gram Panchayat (GP) sat on a day-long dharna at the Uppinakote Junction here Sept 16, to protest against reckless sand extraction.

Speaking to the protestors, Birti Rajesh Shetty, member of Varamballi Gram Panchayat, said that sand extraction had become a big business. Sand was now being extracted by contractors on a large scale employing workers from other states. Almost all the sand extracted in Udupi district was being transported to other districts.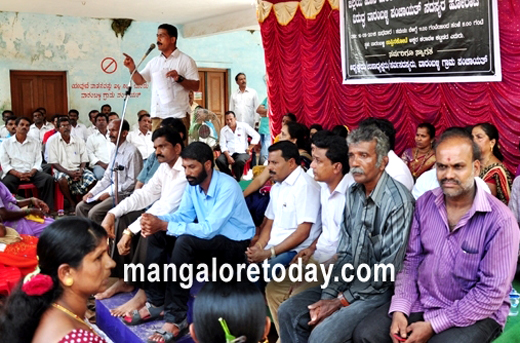 Nearly 300 trucks were transporting about 15-20 tonnes of sand daily. Due to massive extraction, bad quality sand mixed with dirt was being transported. Since these were being transported on big trucks, the narrow roads in the villages had suffered damages. Moreover, it had become difficult for senior citizens, women and children to walk on the roads due to the movement of the trucks. Presently, the sand extracting contractors did not need any permission from the gram panchayats concerned. It was enough for them if they got the nod from the Department of Mines and Geology.

This rule should be changed and a 'No Objection Certificate' (NOC) from Gram Panchayats should be made mandatory for the contractors. It was only then that the movement of the trucks could be regulated.

The reckless extraction was leading to erosion of river banks and affecting the trees and structures nearby. Sand extraction should be banned from June to October as this was the period when the fish lays egg. If extraction was allowed from September, as was done now, it would bring down the fish catch.

The continuous extraction of sand near river banks had made the river deep. It was difficult for fishermen, women and children to cross the river due to the depth and led to accidents. Already this matter was brought to the notice of Rural Development and Panchayat Raj Minister H.K. Patil.

Bhujanga Shetty, former president of Zilla Panchayat, said that since most of the sand extracted was being transported to other districts, this had created a severe shortage of sand in Udupi district. This shortage had made it difficult for the poor people to build houses as they could not afford to buy sand at steepprices. Even developmental activities such as construction of government building and roads had been hit due to shortage of sand. The government should review its sand policy immediately.

Write Comment
|

E-Mail
|
Facebook
|

Twitter
|

Print