Udupi Rajangana renovation to complete in 2 months
Mangalore Today News Network
Udupi, Sep 27, 2017: Udupi Rajangana is the fulcrum of cultural activities as it hosts cultural programmes daily. Till recently, even the important Paryaya Durbar programme used to be held at Rajangana. The hall can accommodate nearly 1,000 people.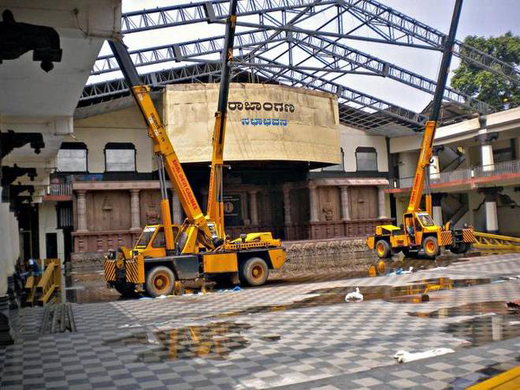 By mid-November, cultural programmes at the renovated Rajangana Hall are to commence. The hall's renovation began about a fortnight ago and is one of the ambitious projects undertaken by Vishwesha Tirtha Swami of Paryaya Pejawar, who is in his historic fifth Paryaya.

Presently, Rajangana Hall is being renovated at an estimated cost of Rs. 3 crore. It might be recalled that Rajangana Hall had been previously renovated during the fourth Paryaya of Vishwesha Tirtha (2000-02) and was inaugurated by the then Prime Minister Atal Bihari Vajpayee on January 18, 2001.

Under the present renovation, a new hall will come above the present hall. Raghuram Acharya, Dewan of Pejawar Mutt, told The Hindu the renovation had become essential during the monsoon as the sound of rains disturbed cultural programmes because of the tin sheet. The new hall would have better acoustics, he said.

Hence, Rajangana would have one more floor above it. A roof of precast concrete slab would come over the existing hall. New pillars would be put near the existing pillars to hold the hall above.

This practice had to be given a go-by in 2016 as more people were expected to participate at the Paryaya Durbar as it was the historic fifth Paryaya ascension of Viswesha Tirtha and the Paryaya Durbar was held at a makeshift hall at the parking spot behind Rajangana Hall. Till 2016, no seer had ascended the Paryaya Peetha at the 800-year-old Sri Krishna Mutt/Temple here for a fifth time since the biennial Paryaya system began in 1522.

The renovation would be completed by October-end, and by mid-November the renovated hall would be ready. "The first floor of the hall too will accommodate about 1,000 persons as the one below. We will use it for holding functions or feeding the devotees or as a dormitory," Acharya said. Meanwhile, cultural programmes are presently being held in a makeshift hall, also called Rajangana, at the parking spot.

Write Comment
|

E-Mail
|
Facebook
|

Twitter
|

Print