Udupi : Police solve rowdy Praveen Kulal, Santosh Nayak murder cases ; 12 arrested
Mangalore Today News Network
Udupi, Jan 11, 2017: Udupi police have succeeded in solving he rowdy sheeter Varwady Praveen Kulal and Santosh Nayak murder cases and have arrested as many as 12 accused.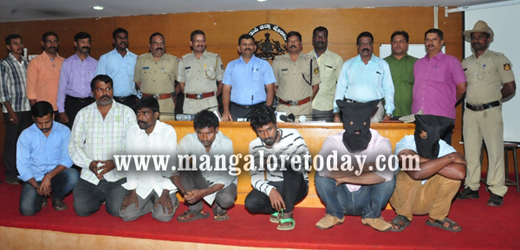 This was informed to the media here on January 11, Wednesday by Udupi District Superintendent of Police K T Balakrishna. The SP informed that Santosh Ram alias Puthige Santhu, Santosh Madivala alias Mambettu Santhu, both from Hiriadka, Santosh Poojary alias Santhu, Latesh Poojary from Palimar, and Sujeeth Pinto from Santhekatte here, have been arrested and are presently in judicial custody. The Police have seized two swords, a sickle, a Maruti Ritz car, a motor bike and Rs 1.25 lakh from the accused.

The SP informed that the Praveen Kulal's plan to murder Santosh Poojary who is currently in Hindalaga prison, came to the notice of the latter through Mambettu Santosh. Santosh Ram, Santosh Madivala and Latesh Poojary later reportedly met Santosh Poojary at Belagavi jail where the murder plot was hatched. The SP said a sum of Rs 1.5 lakh was reportedly handed over to Santosh Madiwala by Sujeeth Pinto to execute the murder plot.

As per the plan, Praveen was invited to Diya Bar at Kotanakatte in Hiriadka by Santosh on December 19. When Praveen arrived there Santosh Ram and Latesh too reached the place with swords . When Praveen tried to flee they chased him and finally hacked him to death, informed the SP.

8 arrested in Santosh Nayak case : The SP informed that eight persons namely Prasad (23) from Yarlapady, Dayanand (37) from Krishnapura, Wilfred Arthur (40) from Udupi, Jayant Pai (55) from Hiriadka, Krishna (33) from Pernankila, Mahesh Achary (23) from Marne, Ramesh (35) from Pernankila and Prakash were arrested in connection with the case of alleged kidnap and murder of Santosh Nayak from Parkala Sannakkibettu last December. Of the accused Jayanth is already behind bars in another case and was not produced before the media.

If Santosh had gone missing on December 2, his wife Sumitra had lodged a complaint at Hiriadka on January 4 alleging that the Praveen Kulal who was killed on December 19 was behind the murder of her husband. Meanwhile, the police probe into the Kulal murder case also shed light on Santosh Nayak case. Investigations revealed that Santosh who had borrowed Rs 40 lakhs from Wilfred Arthur, Nityanand and Jayanth Pai was troubling them without repaying it since several years. It is said they had approached Praveen to help them. The SP said Praveen had reportedly kidnapped Santosh on December 2 from his in-laws' house and forced him to repay the loan. It is said that Santosh had died due to the torture.

Meanwhile, the accused had barged into the house of Santosh and had vandalised it in search of cash and valuables and even dug the pooja room hoping to find wealth. They later abducted Santosh's wife Sumitra, mother, brother, sister-in-law and their children and tried to elicit information regarding the wealth which the family had. Ultimately they robbed all the jewels which the family members were wearing and dropped them home. In the meantime, they chopped Santosh's body, filled the pieces in a gunny bag and dumped it in an abandoned well in a forest at Pernankila.

The SP said the remains of Santosh's were yet to be recovered.

Write Comment
|

E-Mail
|
Facebook
|

Twitter
|

Print