Udupi Government hospital facing acute shortage of staff; patients safety at risk.
Mangalore Today News Network
Udupi: September 25, 2015: Though it has been 18 years since Udupi became a district headquarters, the government hospital here is yet to be upgraded to a district hospital.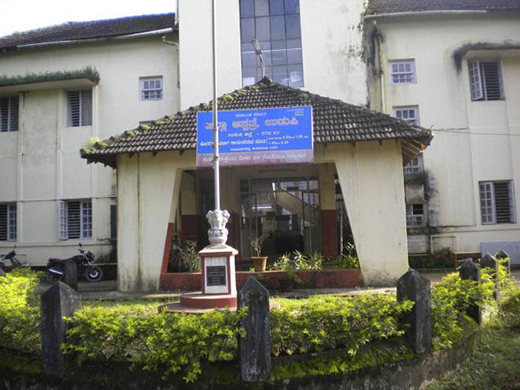 Despite the board outside calling it a district hospital, it remains a taluk-level hospital. The hospital also suffers from a severe shortage of staff.

The hospital was functioning as a taluk hospital till 1997 with 124 beds in the main wing and 70 beds in the maternity wing.

After Udupi became a full-fledged district on August 25, 1997, the government decided to double the bed-strength of the main wing of the hospital to 250 in 2001. But there was no action on this announcement.

On an average, the hospital treats over 12,000 outpatients and about 3,000 inpatients in a month. The shortage of specialists, nurses and Group 'D' employees has hit the functioning of the hospital.

A taluk-level hospital should have a total of 25 doctors, but it has 18 of them. In the place of 77 nurses, it has only 30.

There are only 32 Group 'D' workers, though 81 are required. As many as 20 persons have been appointed on contract basis for Group 'D' work.

In the place of three MD (General Medicine) doctors, it has only one. As per Indian Public Health Standards (IPHS), there should be three general surgeons, two orthopaedists, four paediatricians, and two ophthalmologists in a district government hospital. But the hospital here has only one surgeon, one ophthalmologist, one paediatrician and one orthopaedist. The building of the hospital also leaks in some places.

R. Mahendra, District Surgeon, told The Hindu on Thursday that if the sanctioned strength of staff was provided, it would increase efficiency.

As per the IPHS, though eight gynaecologists are required in the maternity wing, only three are working.

Nearly 200 deliveries and about 80 caesarean section operations were taking place at the maternity wing in a month.

"The gynaecologists are working under tremendous pressure. The shortage of nurses is also a big problem," said a doctor at the hospital.

Proposal submitted

Pramod Madhwaraj, MLA, said that he had given a proposal to upgrade both the general and maternity wings of the hospital to the government. "The upgrading will also solve the problem of staff shortage. We are trying to upgrade the maternity wing to 100 beds under the National Rural Health Mission," he said.

Write Comment
|

E-Mail
|
Facebook
|

Twitter
|

Print