Udupi: Basavanna's exemplary preaching ever valuable - Twin celebrations
Mangalore Today News Network
Udupi, April 22, 2015 : Speaking at the birth celebrations of Basavanna 'Basava Jayanti,' here on April 21, Urban Development Minister Vinay Kumar Sorake said the preaching of the great literary and spiritual legend Basavanna is ever relevant; he added that the teachings and spiritual Vachanas of Basavanna lead towards the virtues of humanity and compassion.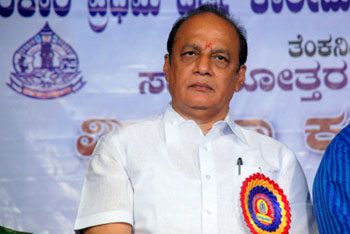 He said although Basavanna lived 8 centuries ago, in the 12th century, his preaching and principles are relevant even to this day.
Basavanna tried to introduce innovative ideas through his preaching in the society.

He tried eradicating social evils like inequality, blind beliefs , atrocities against women and caste system through his Vachanas.

Basavanna stressed on unity among humans and he always led the human kind through the pedestals of humanity. He added that Basavanna was instrumental in upholding the values of respecting women.

The special talk by Tenkanidiyur Pre-University College Principal Dr Nikethana said Basavanna is a revolutionary. He reached out to the people through his simple preaching and simple language. He was a spiritual messenger and simultaneously carried out his job through revolutionary ideas. He never imposed his ideas on people, the followers were impressed with the simple preachings of Basavanna.

Basavanna a visionary who always stressed on equality and called upon people to see God in all humans. He never differentiated by occupation and always preached that even the poorest of the poor also have the right to live a respectful life. He struggled to eliminate the caste system and urged his followers to treat all humans equal irrespective of their caste, religion and creed.

Write Comment
|

E-Mail
|
Facebook
|

Twitter
|

Print