Udupi: 170 cases booked against various school buses for over loading
www.mangaloretoday.com
Mangaluru, June 26, 2016: A decision taken by Udupi SP Annamalai in the aftermath of the accident involving a private bus and a Maruti Omni carrying schoolchildren at Muwadi in Kundapur, which resulted in the death of eight schoolchildren. Police have registered at least 170 cases against school buses for carrying far more children than permitted.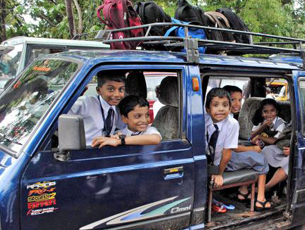 SP said that the drive to seize such vehicles would continue until a concrete decision was taken in the meeting of the stakeholders to be held on July 2.

It is stated letters are written to schools and colleges to follow the Supreme Court guidelines regarding carrying only permitted number of children. The RTO guidelines will also be implemented strictly all over the district. The guidelines say that the board of the school bus should be prominently displayed on the back and the front of the vehicles. If the vehicle is hired, write-ups like 'on school duty' should be specifically mentioned on the vehicles. There should be no carrying of the children excess to the permitted limit. The windows must be fitted with grills.

SP Annamalai also indicated that an extinguisher in every school vehicle in a must. The telephone numbers of the schools should be written on the vehicles. Besides, the doors should be fitted with reliable locks and every driver must have a minimum of five years of driving experience, especially heavy vehicles. He must not have any previous record of traffic offences. There should also be an escort from the school in each vehicle, better a teacher to ensure safety of the students.

SP said school managements may face difficulties to adhere to the guidelines, but it is not impossible to find ways and means. Police and authorities have to implement the law and act on violations. Many school vehicles violate the rule by carrying excess number of children, far above the limit. SP warned that the RTO would cancel the licences of such vehicles.

Write Comment
|

E-Mail
|
Facebook
|

Twitter
|

Print