Two tapes of talk between Karthik's mother and Mythriya surface
Mangalore Today News Network
Bangalore, Sep 6, 2014: Barely 24 hours after Union Railway Minister Sadananda Gowda's wife, Datty, was questioned by the police based on actress Mythriya Gowda's allegations that the latter was in the know of her relationship with Karthik, two more audio tapes of conversations between Datty and Mythriya were leaked to the media on Friday.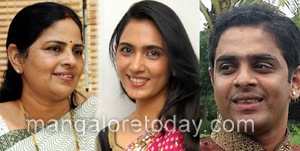 Meanwhile, after arguments were heard from both the defendant and plaintiff in a sessions court earlier this week, the judgment on Karthik's anticipatory bail plea has been reserved for Saturday, even as a warrant for his arrest was issued by the VIII additional chief metropolitan magistrate on Thursday. The warrant came in the aftermath of Karthik failing to respond to two no tices sent to him by RT Nagar police after the incident came to light.

When contacted, city police commissioner M N Reddi told Media, "Karthik is still absconding. There is no political pressure on us; we are doing our duty correctly. The profile of the accused does not matter to us. We will conduct the investigations as per procedure and handle this like we would any other case."

Indicating that the actress should have approached the police first, another senior officer who is part of the investigations said, "Instead of filing a complaint at the earliest, the victim went to the police station accompanied by mediapersons, thus allowing news of her alleged rape to be spread quickly. This gave the accused a window of ten golden hours to escape."

The subsequent shocker on Friday of two more audio tapes containing conversations between Datty and Mythriya have revealed that the actress introduced herself to Karthik's mother a few months ago. In the first conversation, she talks to Datty for the first time and says she wishes to meet and speak with her. When questioned why she called her, Mythriya first says she tried to reach Karthik, but that his phone was unreachable. She then asks if Datty can give the phone to Karthik, but is told the latter is busy speaking to someone else.

Datty then asks what the matter is, to which the actress responds nonchalantly, saying it is about Karthik in general. Datty tells her she is away at her hometown and will only return the following day, to which Mythriya seeks permission to visit her at their home the next day. The conversation lasts 2 minutes, 22 seconds.

The second conversation - lasting 6 minutes and 3 seconds takes place the very next day, when Mythriya calls Datty in the morning to confirm at what time she can come. The tone of the chat becomes terse when Datty asks the actress exactly who she is and what she wants.Claiming to have known Karthik for about 2-3 months, Mythriya attempts to persuade Datty into meeting and speaking with her about Karthik, but the latter is unable to understand what the issue is.

Mythriya then announces that Karthik has been `chasing' her and has fallen for her, to which Datty asks how she believed Karthik so quickly.Datty claims that Karthik has been mentally unwell and suffers from periodic memory loss for the past 5-6 years, and that she and her husband have been pained as a result. Mythriya insists that she wants to meet Datty at their house and the two finally agree to meet at 1 pm to discuss the issue further.
Courtesy: Bangalore Mirror


Write Comment
|

E-Mail
|
Facebook
|

Twitter
|

Print